Each week, 49ers.com has been diving into each position group as we get closer to the season. In this installment of the 2022 Roster Breakdown, we will take a look at the team's quarterbacks.
What is a Quarterback?
A quarterback (QB) is the leader of a team's offense. They get the ball at the start of the play and can choose to throw, hand off or run with the ball.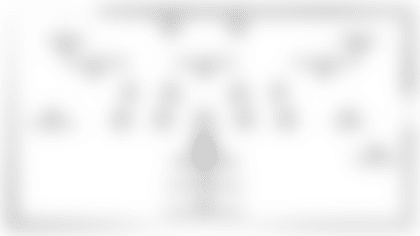 Which Stats are Relevant to a Quarterback?
Passing yards
Yards per attempt
Completion percentage
Passer rating
First downs
Touchdown passes
Position Outlook
Just before the first day of 49ers training camp, head coach Kyle Shanahan made it clear who would be starting under center as the team enters the new season.
"I can't tell you how appreciative I have been of Jimmy Garoppolo and him being here," Shanahan said. "I'm so appreciative of what he did for us last year. I think Jimmy knew and we knew what move we made the year before on that. Jimmy did a helluva job coming to camp and winning that job and taking us real close to the Super Bowl, but we have moved on to Trey Lance. We're starting camp out this way."
From Lance's perspective, Shanahan's pre-training camp statement didn't serve as an "aha" moment due to the fact that he's been keeping a starting-role mindset since being drafted by San Francisco in 2021.
"I've been excited, I've been prepared, I've been preparing to play since the day I got here," Lance said. "I'm obviously excited for this year, but nothing's really changed this whole offseason."
Position Breakdown
Jimmy Garoppolo (9th Season)
Trey Lance (2nd Season)
Brock Purdy (1st Season)
Nate Sudfeld (6th Season)
2021 Recap
Since being drafted third-overall in the 2021 NFL Draft, Trey Lance leaned on veteran quarterback Jimmy Garoppolo not only in his development, but also in the spirit of being a professional football player. Garoppolo guided Lance with advice and leadership and served as a mentor on how he carries himself both on and off the field.
"I'm just thankful for the opportunity to have him be in front of me," Lance said. "I learned a lot about myself as far as what I have to continue to work on. Obviously, the leaders in this locker room are guys that inspire me every day."
The 49ers relied on Garoppolo to take the team as far as they could go while allowing Lance the time to develop his skill set. In the six games when Lance did see the field, the rookie completed 41 passes for 603 yards and five touchdowns. Yet, his most important role took place behind the scenes, on the scout team.
Lance took full advantage of the opportunities he was presented with, and each week he was tasked with simulating the team's opposing quarterback for the 49ers defense during practices. During this time, he meticulously studied quarterbacks such as Matthew Stafford, Kyler Murray and Russell Wilson in order to emulate their performance to best prepare the team's defense for the upcoming week.
"I learned a lot on scout team," Lance said. "Being able to play different playing styles that aren't necessarily my own, I gained a lot from it. From playing guys who typically stay in the pocket and then going to guys like Jalen Hurts and Justin Fields, those guys who can play off schedule at a really high level– I developed as a player."
Garoppolo boasts a 31-14 record as a starter with San Francisco, leading his team to two NFC Championship games and a Super Bowl appearance. His career .702 winning percentage as a starting QB is the fourth-highest among active NFL quarterbacks.
He became one of six quarterbacks in the Super Bowl era to win at least 20 of his first 25 starts. He's notched 10 career games with 300-or-more passing yards as a member of the 49ers, the fourth-most in franchise history. Among 49ers quarterbacks with 500 passing attempts, Garoppolo ranks first in completion percentage (67.7) and second in passer rating (98.3) behind Steve Young (101.4).
In 46 games played with the 49ers (45 starts), Garoppolo has completed 897 of 1,324 passing attempts for 11,162 yards and 66 touchdowns. His 11,162 passing yards are the eighth-most in franchise history.
As Lance prepares for his first season as an NFL starter, he has the advantage of going up against one of the league's best defenses day in and day out. In 2021, San Francisco's defensive unit finished third in total defense, allowing just 310 yards per game.
"Trey has been Trey. He's a big-time playmaker," defensive coordinator DeMeco Ryans said during Day 2 of training camp. "He was playing at a high level in training camp last year and I think it's the same thing this year. Trey has done an excellent job these first two days."
Strengthening his skills ahead of the new season, the second-year quarterback continues to take every opportunity he has to continue to master Kyle Shanahan's complex offensive scheme. Lance often asks for feedback on the field from the head coach in addition to the guidance he receives in team meetings. This year, Lance hopes to improve upon the 41 completed passes for 603 yards and five touchdowns he notched from starting in just two games last year.
Purdy was selected by the 49ers in the seventh round (262nd overall) of this year's NFL Draft out of Iowa State. Between 2018-2021, the quarterback completed 993 of 1,467 attempts for 12,170 yards and 81 touchdowns. Purdy also added 365 carries for 1,117 yards and 19 touchdowns on the ground as a Cyclone.
Sudfeld was originally drafted by the Washington Commanders in the sixth-round (187th overall) of the 2016 NFL Draft. He was eventually waived by Washington in 2017 and later signed to play on the Philadelphia Eagles practice squad. Sudfeld spent four seasons with Philadelphia (2017-20), where he appeared in four games and completed 25 of 37 passing attempts for 188 yards and one touchdown.
Sudfeld signed with the 49ers as a free agent in April last year. He spent the majority of the season on the team's practice squad and was a gameday activation four times throughout the year. In March of this year, San Francisco signed Sudfeld to a Reserve/Future contract for the 2022 season.