Every day leading up to the start of training camp, 49ers.com will assess the team's roster as we get closer to the season. In this installment of the 2022 Roster Breakdown, we will take a look at the linebacker position and how the unit can continue progressing this season.
What is a Linebacker?
A linebacker plays on the defense of a team. Linebacker's responsibilities range from stopping the run, rushing the quarterback and covering wide receivers. There are three different types of linebackers: inside linebacker (ILB), middle linebacker (MLB) and outside linebacker (OLB). Inside linebackers can stop running plays through the middle and cover against the pass. Middle linebackers are typically the leader of the defense. Outside linebackers have the ability to chase down the quarterback, tackle running backs and cover the quarterback's pass.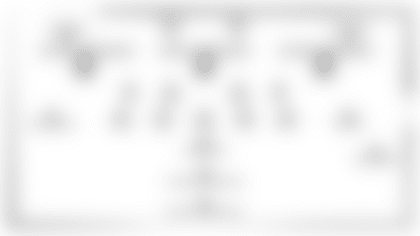 Which Stats are Relevant to a Linebacker?
Tackles
Tackles for loss
Sacks
Quarterback hurries
Quarterback hits
Pass breakups
Interceptions
Forced fumbles
Fumble recoveries
Position Outlook
Pro Football Focus ranked the San Francisco 49ers as the NFL's No. 1 linebacker unit entering the 2022 season. With the team's All-Pro athlete Fred Warner headlining the ranking, the analysis highlighted Warner's impact on the 49ers defense in their run to the NFC Championship.
Warner stands in good company with Azeez Al-Shaair and Dre Greenlaw at outside linebacker, who both have proven to play at an elite level. Throughout the offseason, San Francisco has also added free agents such as Oren Burks, Jeremiah Gemmel, Marcelino McCrary-Ball and Segun Olubi to help bolster their depth chart.
2021 Recap
The 49ers linebacker unit was shaken up when Greenlaw injured his groin returning an interception for a touchdown in Week 1 against the Detroit Lions.
Al-Shaair stepped up in place of Greenlaw, starting 13 games and recording 102 tackles, 9 of which went for losses (most amongst the entire unit).
Warner continued to put up good numbers in 2021 following his Pro Bowl and All-Pro campaign in 2020. He led the 49ers with 137 tackles, one forced fumble and three fumble recoveries.
Al-Shaair stepped up for the team when he was thrusted into a starting role after Greenlaw suffered a groin injury in Week 1 against the Lions.
With 13 starts last season, Al-Shaair recorded 102 total tackles, 1.5 sacks, five pass breakups, an interception, a forced fumble, two fumble recoveries and nine tackles for a loss.
Originally drafted by the Green Bay Packers in the third round (88th overall) of the 2018 NFL Draft, Burks appeared in 59 games (seven starts), registered 59 defensive tackles, two forced fumbles, one fumble recovery and 0.5 sack within four years.
Burks' best performances with the Packers came on special teams. The linebacker notched a total of 33 tackles on special teams in his career, the most on the team from 2018-2021. Last season, Burks finished second on the Packers with the most special teams tackles (10) during the regular season.
In March, the 49ers signed Flannigan-Fowles to a one-year extension through the 2022 season.
Last year, he appeared in all 17 games (two starts) and registered 20 tackles. Flannigan-Fowles flourished in his special-teams role during his two seasons on the team, missing just two tackles across both seasons.
In 2021, Gemmel started in all 13 games at North Carolina, earning Third-Team All-ACC. He finished second on his team with 75 tackles, recorded a team-leading seven hurries, 5.5 tackles for loss, 1.5 sacks, three pass breakups, one interception and one forced fumble.
In May, Gemmel agreed to terms with the 49ers to become an undrafted free agent.
Greenlaw enters the 2022 season having only played three games last year due to injury.
However, he didn't miss a tackle from Week 18 through the postseason per PFF. When targeting Greenlaw, opposing quarterbacks posted a passer rating of just 60.2 last season.
As a team captain for Indiana University, McCrary-Ball recorded 40 tackles (24 solo), with 1.0 sack, one interception and four pass breakups.
In May, McCrary-Ball agreed to terms with the 49ers to become an undrafted free agent.
As a team captain for San Diego State, Olubi began his career as a walk-on. In 2021, he recorded 53 tackles (29 solo), 2.0 sacks, 3.5 tackles for loss, two forced fumbles and 10 quarterback hurries in 14 games (seven starts).
In May, Olubi agreed to terms with the 49ers to become an undrafted free agent.
In December 2021, the 49ers signed Robinson to the team's practice squad ahead of their Week 14 matchup against the Cincinnati Bengals.
Robinson originally entered the NFL after signing with the Denver Broncos as an undrafted free agent on May 14, 2021. Since joining the 49ers, he has played in three games and notched one tackle.
With 158 total tackles, 66 assists, two forced fumbles, three fumble recoveries, 10 tackles for loss, three quarterback hits and 0.5 sacks last season (including playoffs), Warner has contributed a massive part to the team's top-seven defense by DVOA ranking.