Every day leading up to the start of training camp, 49ers.com will assess the team's roster as we get closer to the season. In this installment of the 2022 Roster Breakdown, we will address the cornerback position and how the unit has grown since the 2021 season finale.
What is a Cornerback?
There are typically two cornerbacks on the field for a team's defense. The cornerback's responsibilities are to cover wide receivers and stop them from catching passes.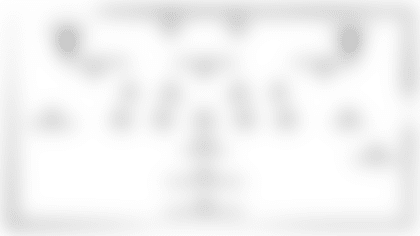 Which Stats are Relevant to Cornerbacks?
Tackles
Tackles for loss
Passes defended
Interceptions
Forced fumbles
Fumble recoveries
Position Outlook
This offseason, one of San Francisco's biggest goals was to add an elite cornerback that can match up with the league's top receivers. The team's goal was met with the signing of Charvarius Ward.
"Our guys have a chance to be really good," defensive coordinator DeMeco Ryans said during the 49ers mandatory minicamp practices.
"I like where we are... It's going to be great to see those guys coming into (training) camp when it's real football and time to take off," Ryans added of his cornerbacks. "I'm excited for where they are and they can still improve. It's going to be exciting to watch."
2021 Recap
After Verrett sustained a torn ACL in the fourth quarter of Week 1 matchup against the Detroit Lions, Moseley stepped up and emerged as a top-notch starting corner, allowing only 31 catches on 55 targets (56.3%) and a 65.6 quarterback rating. He also recorded 11 pass breakups and one interception.
San Francisco's pass defense ranked top 10 in the NFL, allowing an average of 213.1 passing yards per game. The unit amassed nine interceptions, two for touchdowns, 55 passes defended and 22 forced fumbles. Collectively, San Francisco's cornerbacks contributed to a 49ers secondary that allowed the sixth-lowest yards per reception average in 2021 (9.5) and aided a defense that finished the regular season third in the NFL in yards allowed per game (310).
Castro-Fields was the third sixth-round draft pick (221st overall) selected by the 49ers in this year's draft. In his 51 collegiate-game appearances at Penn State, Castro-Fields tallied 138 tackles, 10.0 tackles for loss, 28 passes defended, three interceptions and one forced fumble.
Dennard was originally drafted by the Cincinnati Bengals with the 24th-overall pick of the 2014 NFL Draft. Throughout his eight-year career with the Bengals (2014-19), Atlanta Falcons (2020), New York Giants (2021) and 49ers (2021), he has appeared in 87 games (30 starts) and registered 288 tackles, 27 passes defensed, four interceptions (one returned for a touchdown), two forced fumbles and one fumble recovery.
In 2021, Dennard spent time on the Indianapolis Colts and Giants practice squads and appeared in one game with New York prior to being released from the team in December. He then signed to the 49ers practice squad on January 4, 2022 and later appeared in the team's Week 18 must-win contest against the Los Angeles Rams.
Originally entering the NFL as the Green Bay Packers sixth-round draft pick in 2019, Hollman signed to a reserve/future contract with the 49ers in February after spending the 2021 season with both the New Orleans Saints and Giants.
In 2020, Hollman saw action in 14 games and played 108 defensive snaps with the Packers. The cornerback was credited with allowing only seven completions on 17 targets for just 63 total yards.
In 2021, Johnson appeared in 16 games (three starts) with the 49ers and finished with 22 tackles, two passes defensed, two fumble recoveries and the first forced fumble of his career. He also added nine tackles on special teams.
In March, the 49ers re-signed Johnson to a one-year deal.
Knight was a starter at nickel back in all 12 games at UCLA, leading the team in tackles and tackles for loss in 2021. He earned a Second-Team All-Pac-12 selection, Third-Team All-Conference choice by Phil Steele and was chosen to participate in the NFLPA Collegiate Bowl.
In May, Knight agreed to terms with the 49ers to become an undrafted free agent.
Starting in eight games at left corner for the 49ers, Moseley didn't allow a single touchdown in 2021. The corner also recorded 11 pass breakups and one interception. Entering the final season of his two-year contract, the team anticipates another top-notch season in 2022.
"E-man has done a really great job this entire offseason," said Ryans.
Entering his sophomore campaign, Thomas finished his 2021 rookie season strong. He started the final five games of the regular season and was put to the test in Week 18 where he made a game-winning overtime interception in the playoff-clinching finale in Los Angeles.
"A.T., he earned that opportunity (against the Rams) as he kept coming through the season," defensive backs coach Cory Undlin said. "Once he got up to speed and was playing fast enough, and then to play in big games, that was more important than anything for his growth. We definitely feel he's on the rise."
After suffering an ACL injury in his right knee in last year's opening win at Detroit, Verrett has been rehabbing throughout the offseason and during the team's OTAs.
He started in 13 games for the 49ers in 2020 where he notched 60 total tackles and two interceptions.
Signed by the Dallas Cowboys as an undrafted free agent in 2018, Ward was traded to the Kansas City Chiefs ahead of the regular season and went on to appear in 13 games and made two starts. Over his career, Ward has posted 222 total tackles, three for loss, 1.0 sack, three quarterback hits, four interceptions, 29 passes defended and one forced fumble.
With a breakout season in 2021, Ward became just the second player to force a higher tight window target rate (46.3%) than the catch rate he allowed (44.8%) since 2018, according to Next Gen Stats.
"I've got experience doing everything," Ward said. "I've been in the NFL for four years. I've covered inside, outside, I've blitzed a little bit. Whatever this coaching staff wants me to do, I'm going to promise you I'll do it to the best of my ability and they won't be disappointed. Nor will the fans."
Womack III was selected by the 49ers in the fifth round (172nd overall) of this year's NFL Draft out of Toledo. Between 2017-2021, he tallied 128 tackles, 45 passes defended, five interceptions, 0.5 sacks, one forced fumble and one fumble recovery.