Each week leading up to the regular season, a different member of the San Francisco 49ers 2020 draft class will document his first NFL training camp. In the third of five entries, offensive lineman Colton McKivitz discusses navigating his first year in the NFL against one of the league's top defenses and the 49ers O-line being a valuable resource in the process.
The first time it really hit me that I was in the NFL was when I went into our facility to sign my NFL contract. It wasn't the fact that I was signing my contract, it just so happened to be the same day Trent Williams stopped by to sign his contract. (I'm sure our contracts look MUCH different, but can you imagine seeing Trent Williams walking by you?)
The best part of that day, Trent came up to congratulate me on being drafted by the team. All I could think about was how monster of a guy he is. You don't realize it when you see him in pictures, but man, seeing him in person is unreal.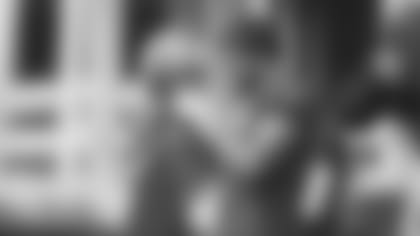 The same went for seeing guys like Richard Sherman, who was always on ESPN when I was growing up. Same with Nick Bosa. He's only in his second year, but you see what he's done and it's crazy to actually meet them. I used to watch them on TV and now I'm in the same locker room as them.
My first day at the team facility was what you'd expect: overwhelming. It was definitely nerve-wrecking to be in a new situation and trying to figure your way around. I started my day at 7:30 am. We took a shuttle from the hotel to our team facility. Due to COVID, we didn't get to do much our first day on site, but it was so cool to see the stadium up close. Just another step closer to my NFL dreams.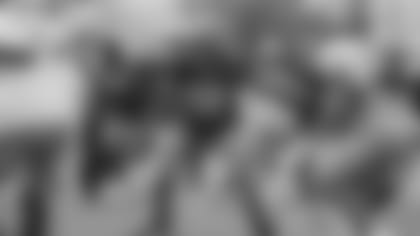 Our sixth-round pick, Charlie Woerner and I have built a pretty good relationship. We play cards together back at the team hotel and we used one another to navigate our way around the facility, once we passed our series of tests.
Outside of Charlie, I really enjoy hanging around Daniel Brunskill. He's a big outdoors guy, like me. Being around him is pretty cool. He's teaching me the ropes, too.
Speaking of Brunskill, the O-line group is a blast. They've definitely made me come out of my comfort zone a few times. Since I'm the rookie, I'm usually the one who has to tell jokes or do something outrageous anytime we have a break in our meetings. I've also had my time being a part of the "rookie hype machine" during camp, hyping up the imaginary fans in attendance. (Man, I wish you guys could be here.) But so far, I think I'm doing alright. It's such a fun group and I love being a part of it.
I'm really proud of that, but I still have a very long way to go.
But let's talk about practice. People say the NFL is faster, and they're 100 percent right. You have to be ready and you have to be able to adjust on the run. As camp progresses, the reps are picking up. Looking across the ball and seeing the guys we have on defense can make you nervous. We have some super athletic and talented guys. You look at guys like Javon Kinlaw, he's just a monster of a human. Solomon Thomas' quickness is pretty wild too. He's got me a few times during our 1-on-1 drills. I was nervous to line up across from Arik Armstead. Man, he's impressive too. I've managed to hold my own in a few 1-on-1 reps. I'm really proud of that, but I still have a very long way to go.
Film sessions can be kind of rough as a rookie. But it's a part of the process of getting better. I'm just taking it day-by-day and finding the things I can continue to improve on. Thankfully for me, I have a pretty awesome group of veterans to help me along the way. But no word just yet on our first karaoke outing. I guess you've got to stay tuned.