Each week leading up to the regular season, a different member of the San Francisco 49ers 2020 draft class will document his first NFL training camp. In the second of five entries, tight end Charlie Woerner shares a first-person account of his rookie experiences. Below is his blog entry detailing his transition to the NFL, leaning on George Kittle to help navigate the uncertainties of the season and planning a wedding in a challenging offseason.
It's crazy to think that during my college years, I would put on tape and watch George Kittle plays from his first three seasons with the 49ers. Fast forward and here I am. He's my teammate and I'm getting to learn from him.
My first interaction with George came during our team Zoom calls. He was working out in his gym in his garage during the start of our call. It was definitely an interesting interaction, but his work ethic is probably what has made him so successful in the league.
We got a chance to meet face-to-face over the summer as I worked out with him in Nashville. He's a normal guy. Everyone knows he's very upbeat and he's got a wild side to him, but he's a really good dude. When you watch someone for so long in the NFL, you might think it's hard to relate to them. But I promise you, he's just a normal person like you and I. I'm happy to have met him and to be able to learn from him.
When I wasn't on Zoom calls, I was working out, studying plays on my iPad and planning a wedding. Yep, planning a wedding.
That was insane. My wife Sydney and I didn't think it was going to work out with so many changes happening due to COVID. Planning was super stressful. But in the end, it was very clear that God had a plan for me and my wife to have an awesome wedding day. Looking back I was like, "Why did we even worry?" because it was all in his hands. It was the most joyous day I've ever been a part of.
I went straight from wedding bliss to training camp focused. My first day at the facility was pretty hectic, as you could imagine. Not only was I adjusting to a brand-new facility, but I was also adjusting to the new testing protocols. I couldn't wait to be able to finally get in the building and get going. Once I was cleared, we got to work.
But let's talk about my first NFL practice. Have you heard of the "Rookie Hype Show?" I was told it's taken very seriously around here. Each training camp practice, a first-year player has to hype up the fans in the crowd in his own unique way. I've heard in the past some guys do flips, some guys run into the stands and other guys break out in dance. Unfortunately, because of COVID, we can't have fans at practice, but I knew I had to go all out. I got some "Brand New Man" by Brooks & Dunn - a good old classic country song rolling, and I knew I had to do something stupid and crazy to get the "fans" pumped up. That, and also, get the approval of my teammates. So, I ran over to the fake crowd and got crazy. I did a front tuck and I slid and did my air guitar. It was fun to do that. I think everyone approved of my performance. I maybe almost took it too serious.
But on to practice. Our first full day of practice against the 49ers defense was so cool. It was like, "Whoa, this is the NFL." These guys are legit, and they don't play around. They get after it on the field. I'm definitely not in college anymore. But I like it because it gets you right. It's like, you've got to bring it every day out here.
I think this defense is one of the best in the league, honestly. And I think that's why the offense here is so good, too. You know how the saying goes: iron sharpens iron. When you have a really good offense and a really good defense, you only get better. But it's definitely a blessing to be going against some of the best in the league. Going up against these guys will definitely help me adjust to the NFL.
These guys are legit, and they don't play around. They get after it on the field.
I've gotten a few reps catching passes in full-team drills. I remember talking to Coach Jon Embree after the Combine before going into the draft. I just remember he liked the physicality I brought to the game – especially in the run game and my blocking. I didn't catch a ton of balls at Georgia, but I think they see potential there.
The NFL is a lot different than college, that's for sure. It's tough. The game's fast, the playbook's big, but the culture seems really great here. Thankfully, the closeness of this tight end group has made my transition to the NFL much smoother. From George and Ross Dwelley, to Chase Harrell to Jordan Reed and Coach Embree, it's a really good room.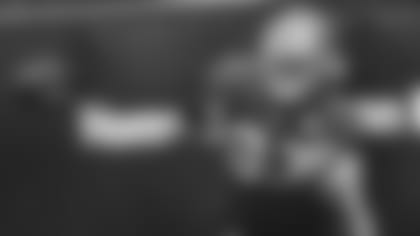 Coming off the Super Bowl last year, everyone in the building wants to get back there. So, everyone's helping the younger guys out. I'm enjoying it so far. It's different. It's more on the player. No one's really holding your hand in the NFL, so it's on you to do what you need to do.
Now, midway through training camp, we're keeping that momentum going. We're just a few weeks away from our first game of the season. I just want to continue to perfect my craft and get better at whatever Coach Embree needs me to improve on. I'm a big team guy. I want to win a lot of ball games and do whatever I need to do to help this team accomplish that – and that starts with getting better in practice.