Each week leading up to the regular season, a different member of the San Francisco 49ers 2020 draft class will document his first NFL training camp. In the fourth of five entries, wide receiver Jauan Jennings discusses preparing for his first NFL season from home, the challenges of practicing against the 49ers top-rated defense and joining receivers coach Wes Welker in San Francisco.
For other rookie blogs, check out:
Going into the NFL brought me back to being a freshman in high school. You have to start all over from the beginning. You're learning which classes are yours. You're learning your way around a new facility. You're building new friendships outside of the ones from your old school. You're forced to figure it all out. Imagine doing all of this in the middle of a pandemic.
Thankfully, my teammates and the atmosphere here with the 49ers are making this transition a whole lot easier.
Let's start at Day 1. I hopped onto our full-team Zoom call and the first thing I did was scroll across the series of screens to see who all was on this call. I saw Jimmy Garoppolo – my quarterback (Just think about that for a second). Jet's in the house – running back Jerick McKinnon is logged on. Deebo Samuel was on there. This is the squad right here! I'm a part of a team with these guys. Guys who just went to the Super Bowl. It was unbelievable to be on a call with all of these players and to realize I have the potential to be joining them on the field.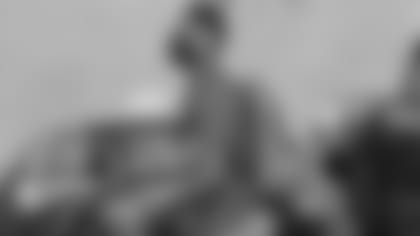 In preparation for the NFL season, I woke up and biked every day. It's so different when you're not able to go into a facility and train. So, I had to make the best of what I had, and I was determined to stay ready. After biking, I would lift weights at home back in Tennessee. Thankfully, I had family members with a bench set who brought it over so I could create my own workout routine from home. I did a bunch of sit-ups – and I mean a BUNCH. I would hit a field nearby to run routes. Sometimes, my brother Tony would come over and throw to me.
During quarantine, you've got to get creative with your preparation, so I had to make it happen at the house. That included my diet. I started spending more time and effort on my diet to see the results that I wanted to see. You don't realize the importance of diet as much when you're in college. I've learned it's just as important as your training. If you're hurt, you can't play. And if you can't go, you're putting yourself at a disadvantage. I took that to heart and tried to find ways to maximize my full potential with my diet. It was a must for me to come to camp as prepared as possible, because I heard the NFL is no joke.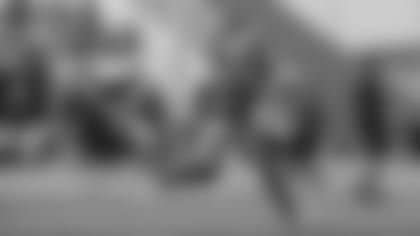 So, back to my first day at the facility. It was just a humbling moment. To come into this environment, I was like, "man, I'm here. I am walking inside of Levi's® Stadium." I had to go check out the field, just to see how green the grass was. It was unbelievable to see a field I could possibly be playing on. Coming from the University of Tennessee, that's a huge stadium as well. But to walk into this stadium – the same stadium of the team that was just in the Super Bowl, I am here practicing with this team, getting ready to go out and play on this same field right here. It's the craziest experience.
There was a lot of excitement going through my body. But I had pull myself back to reality, that this is only Day 1. I was reminding myself to take this one day at a time and one step after another. I can't wait to contribute in any fashion that I can.
After completing a series of COVID tests over the course of a week, I was one step closer to finally touching the field. It was really cool to have everyone finally together. I'm not really in to "big" names. Of course, it was awesome meeting guys like Richard Sherman. Coming off of the season they just had, they're all superstars to me in my mind. But I was most excited to see coach Wes Welker. Man, when I tell you I was hyped, I was through the roof excited that he's now my coach. I remember meeting him for the first time at the Combine. He was sitting off to the side and I was staring from afar like, "is that THE Wes Welker?" I googled photos of him on my phone just to be sure, so I wasn't looking like a crazy person when I approached him. But it was him – Wes Welker. I remember watching him growing up – an undrafted Pro Bowl, All-Pro slot receiver who broke a ton of records throughout his 12-year NFL career. So, I walked over to him and said, "what's up?" I had to.
Take this one day at a time and one step after another.
And fast forward, he's now my receivers coach. I really enjoy being around him and picking his brain. I feel super lucky to be able to learn from one of the best to do it. I definitely have learned to rely on him while we're facing this 49ers defense. Man, they're ultracompetitive. Even the walkthroughs are competitive. There's a mindset in this building that you instantly feel in this locker room. Although they know how to have fun, they take this very seriously. It makes it even more fun to go out there and know that the person across from you is going to give their all.
So far, the NFL is a lot faster than I thought it was going to be. But I'm definitely having to learn the playbook every day, and then every night, studying to make sure that I'm on top of things for the next practice.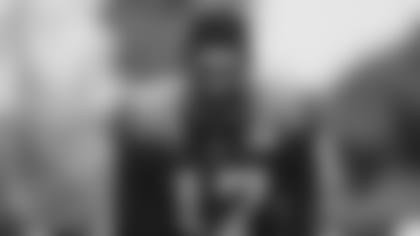 Of course, it has been different. Usually we would have already had our preseason games right now. So, I think a lot of people are using this time and these practices to really get the best that they can out of themselves. And I'm doing the same.
I'm just excited to keep going and continue to grow and learn in this offense. I'm not worried about my own personal accolades. I just want to do what the coaches ask of me and succeed in doing it. My goal is to do what's needed from me to help this team get back to the Super Bowl. You're talking about dreams. That is what I've dreamed about since I was kid.
I've just been having a blast and I'm going to continue to do the best I can do as an individual to help this team. It's been fun, for real.