It's time to break down the San Francisco 49ers Week 2 matchup against the Pittsburgh Steelers.
A trio of 49ers.com writers return with four topics to preview the Week 2 contest. Feel free to share your thoughts in the comments section of this post.
1st Down: Steelers player besides Antonio Brown the 49ers need to be aware of... @Joe_Fann: Bud Dupree
The 22nd overall pick in the 2015 NFL draft recorded his first career sack in Week 1. Dupree specializes as an edge rusher and lines up as the Steelers left outside linebacker in the team's 3-4 defensive scheme. The former Kentucky Wildcat played in 43 percent of Pittsburgh's defensive snaps against the New England Patriots and that number will only increase as he continues to get comfortable in his new surroundings. Dupree will matchup primarily with 49ers right tackle Erik Pears. The offensive lineman played admirably in his debut with San Francisco, and he'll look to help keep Colin Kaepernick upright in Week 2.
@TylerEmerick: DeAngelo Williams
Without the services of All-Pro running back Le'Veon Bell due to suspension, Williams stepped in as Pittsburgh's featured 'back and ran for 127 yards on 21 carries in the team's Week 1 loss to the Patriots. That total marked Williams' best outing since the final game of the 2012 season. Bell will be sidelined again on Sunday, so the 10th-year veteran will try for an encore performance against the 49ers. Although he's 32 years old, Williams shed 15 pounds this offseason and appears to have regained some of the explosiveness that led him to 1,000-yard seasons in 2008 and 2009. San Francisco successfully held Adrian Peterson in check in Week 1, can the team do the same on Sunday?
@TaylorPrice: Heath Miller
The veteran tight end continues to be a favorite target of Ben Roethlisberger. Miller opened his 11th NFL season, all with the Steelers, with an eight-catch, 84-yard performance against the Patriots. Miller was targeted 11 times, tying Brown for the most of any Steelers receiver in Week 1. The 6-foot-5, 256-pound tight end is solid as a run-blocker, and he's a reliable weapon in the passing game. Miller caught 66 balls last season for 761 yards and three touchdowns. It appears as though he's continuing his decade-long presence in Pittsburgh's offense. The 49ers must account for him at all times, especially on third downs and in the red zone.
2nd Down: An under-the-radar 49ers player for Week 2 is... @Joe_Fann: Aaron Lynch
It's hard to call a guy under-the-radar when he has a sack in seven of his last 11 games, but I'm going with Lynch anyways. San Francisco's second-year linebacker tallied his first sack of the 2015 season as one of five 49ers defenders to bring down Teddy Bridgewater in the backfield. The Steelers allowed three sacks in Week 1 against the Patriots. Roethlisberger was hit a total of five times. San Francisco's defense registered eight total quarterback hits against the Vikings, which would lead me to believe there will be opportunities to put up a similar effort against Pittsburgh. Lynch will be a central part of that effort.
@TylerEmerick: Garrett Celek
An undrafted free agent in his fourth NFL season, Celek played a career-high 51 snaps on Monday night as the 49ers relied heavily on formations with three tight ends. Moreover, Celek showed that he has built some chemistry with Kaepernick by hauling in a career-best three catches for 40 yards, including a long of 20 yards. The Steelers surrendered three touchdowns to Patriots tight end Rob Gronkowski in their season opener, so maybe the 49ers will try to attack in a similar fashion. Celek had a terrific offseason program, and after watching him excel in Week 1, it looks like the tight end is poised for a career year.
@TaylorPrice: Jaquiski Tartt
The rookie out of Samford introduced himself to Bridgewater on Monday night, knifing through the line of scrimmage on an inside blitz to record his first NFL sack. Besides his memorable third-down moment in the first half, the safety also made a positive first impression in a key sub-package role. Tartt totaled four tackles and finished his first game tied with Kenneth Acker for the third-most among the 49ers defense. Tartt's role in Eric Mangini's defense will be one to watch for the remainder of the season. The 6-foot-1, 221-pound defensive back has the size to support the run, and he possesses the change-of-direction skills to cover receivers and tight ends. In the NFL's weekly chess matches between opposing coordinators, Tartt's presence gives the 49ers a number of ways to match up against the strengths of Pittsburgh's defense.
3rd Down: The 49ers position group that is key to the game is... @Joe_Fann: 49ers Secondary
I don't want to over-simplify the game, but it's no secret that without Bell and wide receiver Martavis Bryant (suspended), "Big Ben" will rely heavily on Brown. That poses a significant challenge for San Francisco's secondary. Brown has at least five catches for 50 yards in his last 34 games including playoffs. What's most important is that the 49ers don't let Brown take over the game with chunk plays. Tramaine Brock and Co. will work to keep the talented pass catcher in front of them and keep his yards after the catch to a minimum. It will certainly take a team effort to accomplish this goal.
@TylerEmerick: Defensive line
Is there a quarterback more difficult to bring down than Roethlisberger? At 6-foot-5, 240 pounds, the veteran signal-caller is a handful based on his size alone. Throw in his pocket presence and deceivingly-agile feet and Roethlisberger presents a beast of a challenge for a 49ers defensive line coming off a five-sack outing versus Bridgewater and the Vikings. San Francisco can't allow the two-time Super Bowl champ to extend plays. Getting pressure on Roethlisberger is one thing, but sacking him is a whole different challenge.
@TaylorPrice: Offensive line
After giving up one sack against Minnesota's defense, San Francisco's maulers will get a familiar look this week. The linemen will face a 3-4 defensive front, unlike the 4-3 alignment they competed against in Week 1. The Steelers recorded a pair of sacks in Week 1, but none of them were recorded by defensive linemen or edge-rushing outside linebackers. Cornerback Will Allen and inside linebacker Ryan Shazier were responsible for the sacks on Tom Brady. This means the 49ers will have to be sound against creative blitzes from Pittsburgh defensive coordinator Keith Butler. In addition, maintaining last week's run-blocking effort for Pierre Garçon will be paramount. If San Francisco can give Kaepernick time to throw and room for Hyde to run, a road victory becomes that much more attainable in Pittsburgh.
4th Down: If they 49ers win, what's the final score and your gut feeling on the game... @Joe_Fann: 49ers 27 - Steelers 20
I can't fully decide what kind of game will play out on Sunday. Ultimately, my gut says the Steelers will put up points, and so it will be on Kaepernick and the 49ers offense to answer. Kap will have the ability to do just that. Pittsburgh's "Steel Curtain" defensive moniker has to be earned by this year's team. They've still got talented pieces don't get me wrong, but it's worth mentioning that Brady was surgical as he dissected the Steelers in Week 1, posting a quarterback rating of 143.8. Does Kap have a similar type of performance in Week 2? I think that the 49ers offense could very well find similar success.
@TylerEmerick: 49ers 20 – Steelers 17
Without Bell and Bryant to alleviate some of the pressure, Roethlisberger will have to deal with a swarming San Francisco defense mostly by himself. Expect the 49ers to force the Steelers beat them with someone other than Brown. Pittsburgh doesn't appear to have the firepower right now to make Mangini back off his aggressive play-calling. If the 49ers can force a couple turnovers and put the offense in favorable field position, that will go a long way in helping the team improve to 2-0 on the year.
@TaylorPrice: 49ers 27 – Steelers 24
Jim Tomsula's Pittsburgh homecoming figures to pit two hard-nosed squads against one another right in his childhood backyard. One team is tried and true in its steel-city roots. The other, led by San Francisco's first-year head coach, is working on developing its identity on the road. The 10 a.m. PT kick will be a challenge for the West Coast team, but I see the 49ers eager to slug it out with a Pittsburgh team missing three key offensive contributors: Center Maurkice Pouncey (ankle injury), Bell (suspension) and  Bryant (suspension). San Francisco enters this game looking to make a statement. Pittsburgh needs to even its record and not fall behind in an always competitive AFC North. With so much on the line, this one figures to be close. Give me a Phil Dawson go-ahead field goal and a happy flight home for the 49ers. That's my gut feeling on this one.
49ers RB Jarryd Hayne Looks to Build on Week 1 Experience
3.       Chryst suggested that if Bush is unable to play (he said sure, but he might have been agreeing with the phrasing of the question and not answering it, I can explain)
-30-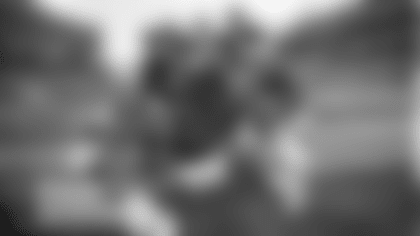 news
Four Downs: Best Moments of the 2022 Season 
49ers.com breaks down the biggest storylines of the 2022 season and what to look forward to in 2023.