Los San Francisco 49ers viajan al Soldier Field para enfrentar a los Chicago Bears a las 10:00 am PT el domingo 11 de septiembre. Aquí están todas las formas de seguir el partido.
DONDE PUEDES VER EL PARTIDO
Mira el Partido en la Televisión
FOX | 10:00 am PT
Locutores: Joe Davis (Play-by-Play), Daryl Johnston (Analista de Color) and Pam Oliver (Sideline Reporter)
Ve dónde estará disponible el enfrentamiento entre 49ers y Bears a través de las estaciones locales de FOX, cortesía de 506sports.com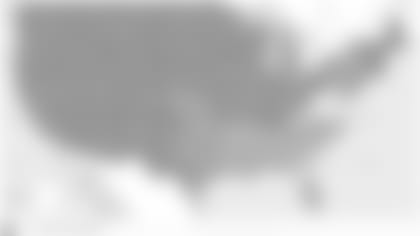 En Español: Puedes ver el partido por Fox Sports México
NFL+: Ve juegos de pretemporada en vivo fuera del mercado, juegos en vivo de temporada regular y postemporada locales y en horario estelar en tu teléfono o tableta, repeticiones de juegos y más.
Game Pass International: Mira cada partido en vivo y on-demand, además de RedZone y el NFL Network.
Para ver más maneras de ver, haz clic aquí.
U.S. Bank 49ers Radio Network
Las estaciones insignia de los 49ers incluyen KNBR 680 y KNBR 104.5. Además de la cobertura completa del día del juego que incluye un programa completo en vivo de tres horas antes del juego cada semana y una cobertura completa después del juego después de cada transmisión, KNBR 680 y KNBR 104.5 The Bone transmitirán una cobertura sin precedentes de una semana de los 49ers desde el campamento de entrenamiento hasta los playoffs de la NFL para proporcionar la cobertura más extensa al minuto en el área.
El juego también será transmitido en vivo por Compass Media Networks con el comentarista de jugada-por-jugada Mike Morgan y el analista de color Chad Brown.
La transmisión del juego en vivo será distruibuido sin costo exclusivamente en 49ers.com/esp/ y por Radio Fórmula con las narraciónes de Jesús Zárate y Carlos Yustis. Para ver todo el contenido español del equipo por favor haga clic aquí.
SÍGUENOS EN EL BLOG EN VIVO
Blog en Vivo de los San Francisco 49ers
Blog en Vivo: Pueden seguir el juego a través del blog en vivo de los 49ers para obtener actualizaciones, aspectos destacados, estadísticas y análisis durante el partido de la Semana 1 contra los Chicago Bears. Sea parte de la acción chateando en el blog en vivo para compartir sus reacciones en vivo, interactuar con fanáticos de todo el mundo y obtener respuestas a sus preguntas sobre el juego por la Coordinadora de Medios Digitales de los 49ers, Briana McDonald.
DATOS SOBRE EL ENFRENTAMIENTO
Número de Veces los 49ers Han Empezado la Temporada Regular Contra Chicago: 4
Récord de la Serie: 49ers lideran la serie 35-32-1
Récord de Visitante de los 49ers Contra los Bears: Chicago lidera la serie 6-7