The entire San Francisco 49ers roster kicked off the 2023 season supporting Bay Area youth with the 49ers Foundation.
Players, head coach Kyle Shanahan, general manager John Lynch and 49ers ownership, executives and legends celebrated the sixth-annual "Kickoff­: Players for a Purpose" presented by SAP on Monday, August 28th.
The Faithful joined in on the back-to-school-night fun with a dinner at the 49ers SAP Performance Facility. All of the event proceeds supported the 49ers Foundation's mission to educate and empower Bay Area youth through 49ers EDU presented by Chevron and 49ers PREP presented by U.S. Bank programs and legacy nonprofit partners.
The evening started with a wine tasting, tours of the 49ers weight room and photo opportunities with the team's five Super Bowl trophies, the 49ers Gold Rush and Sourdough Sam.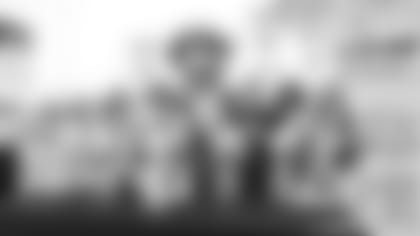 49ers PREP athlete and starting quarterback of the Galileo High girls flag football team, Sariyah Duong, was the keynote speaker of the night. In eight games last year, she threw for 17 touchdown passes and 977 yards with a passer rating of 107.1. Duong led her team to the playoffs where she threw the game-winning touchdown in a double overtime thriller to crown the Galileo Lionesses the 2023 champions of the CIF San Francisco Section.
"As my teammates and I know firsthand, the power of football and sports goes far beyond the field," defensive lineman Arik Armstead said. "Sports have the power to change lives, foster unity, teach life skills and open the door for countless opportunities. That's why it's so important we ensure football is accessible to everyone, regardless of gender, race, identity or socio-economic background."
To honor the student athlete's accomplishments, 49ers co-chairman Dr. John York and Shanahan presented Duong with a commemorative game ball honoring her victory on the field and the impact it will have on many young female athletes for years to come. The 49ers are also recognizing the Galileo Lionesses on the 49ers Foundation's Red & Gold Society wall at Levi's® Stadium for all the Faithful to see at every 49ers home game.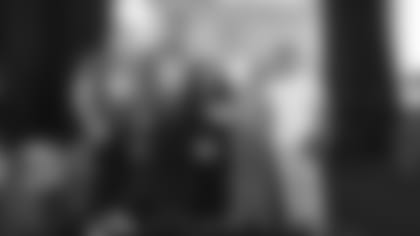 The teams went head-to-head answering 49ers-themed trivia questions that went through subjects such as history, math, science, music and spelling.
Both teams brought their A-game and the score was tied for the majority of the contest. The competition came down to fifth grade spelling, where team defense was tasked with spelling seven-time Pro Bowl fullback Kyle Juszczyk's last name. Team defense submitted their answer as "Juice," and team offense took the win.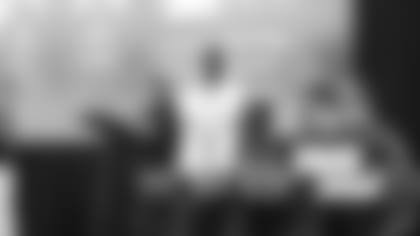 By the end of the night, the 49ers Foundation's season kickoff event raised a record-breaking $850,000 for Bay Area youth.
Check out more photos from the evening here:
Recap some of the best moments from the 49ers Foundation's sixth annual Kickoff: Players for a Purpose event presented by SAP.