The 10-1 San Francisco 49ers are set to take on the 9-2 Baltimore Ravens in a clash between two of the top teams in the NFL. The game will feature plenty of intriguing head-to-head battles. Here are five key matchups that could decide Sunday's contest.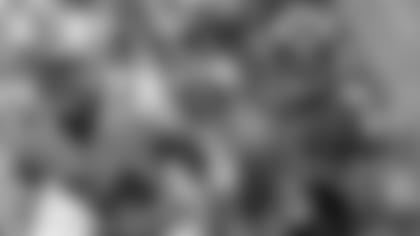 Fred Warner has put together an outstanding sophomore campaign in 2019, leading the team in tackles with 81 to go along with four passes defensed, three forced fumbles and 3.0 sacks. The second-year pro is one of only two linebackers (Cleveland Browns linebacker Joe Schobert) in the NFL with at least 75 tackles, four passes defensed, 2.0 sacks and two forced fumbles on the season. Warner has posted 10-plus tackles and at least one tackle for loss in each of the 49ers last three contests. The linebacker's elevated second year of play has been a huge key for the 49ers defense.
"That's what you expect out of a guy in his second year, especially with how much he played his first year," Kyle Shanahan said of Warner. "But, it doesn't always go that way. Sometimes, guys have a real good first year and they relax a little bit thinking they figured it out and then you get extremely humbled the second year. Fred got to play a ton and exceeded expectations, I think, with everyone his first year. Then he was just even more hungry, came back like a 10-year vet and came back better mentally, better physically and I think it's shown to everyone in every game."
The 49ers linebacker and the defense will have their hands full on Sunday with the task of slowing down quarterback Lamar Jackson. Jackson has amassed 2,427 passing yards, 876 rushing yards and 36 total touchdowns. The dual-threat quarterback is the only signal caller in NFL history to produce at least 2,000 passing yards and 800 rushing yards through a season's first 11 games. His dynamic play has been the driving force behind the Ravens No. 1 ranked offense.
"He's just different in that he's a running back when he has the ball," Shanahan said. "You know, the other two guys, they can make a lot of plays with their legs and stuff, but eventually, they are going to slide and things like that. This guy, he's a running back out there, and a quarterback when he's throwing, but he can run hard. You've got to bring him down. He can take the hits and he also can deliver them."
The Week 12 NFC Defensive Player of the Week and the 49ers defense will be looking to contain Jackson's abilities on Sunday. In the team's past three games, Jackson and the Ravens offense have only ended three drives with punts.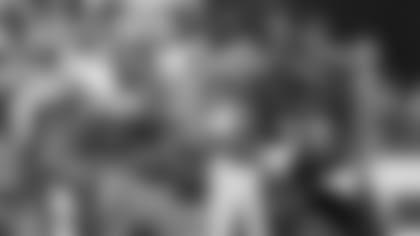 Nick Bosa continues to build on an impressive rookie season, notching 35 tackles, 8.0 sacks, one interception, two fumble recoveries and one forced fumble. Bosa leads all rookies in quarterback hits with 16 and is tied for first in sacks with Jacksonville Jaguars linebacker Josh Allen with 8.0 on the season. Even when he's not getting to the quarterback for a sack, Bosa is making his presence felt. The rookie has a pressure rate of 19.5 and a pass rush production of 11.9 per Pro Football Focus. Both are the top marks in the NFL among defensive linemen. Standing in his path on Sunday will be veteran tackle Ronnie Stanley. The third-year tackle has yet to give up a sack on the season in his 741 snaps.
"The guy has a motor that goes and goes and goes," Ravens offensive coordinator Greg Roman said of Bosa. "He's a buzzsaw."
Welcome back George Kittle. The 49ers versatile tight end returned to action in Week 12 after missing two weeks due to an ankle and knee injury and provided an immediate impact. Kittle hauled in all six of his targets for 129 yards and one touchdown. The tight end has scored a touchdown in each of his last two contests. Kittle is one of two tight ends since 2018 to record over 2,000 yards receiving (Kansas City Chiefs tight end Travis Kelce). One of the Ravens defenders tasked with slowing down Kittle will be a familiar face in safety Earl Thomas III. The 10-year pro joined the Ravens this offseason after spending his first nine as a member of the Seattle Seahawks. In his career against the 49ers, Thomas III has posted 74 total tackles, three tackles for loss, one interception and three passes defensed. In his first year donning purple and black, Thomas III has registered 31 total tackles, two interceptions, four passes defensed and one fumble recovery.
"I think you've got generational players that play the game at an incredibly high level," Richard Sherman said of Thomas. "He'll get a gold jacket at the end of his playing days, so that will be great. He's one of the best safeties to ever play this game. It's going to be a fun matchup."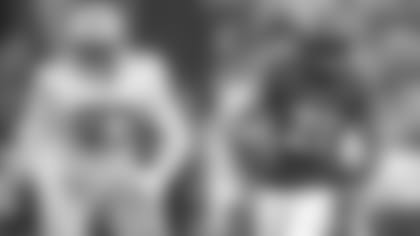 D.J. Jones has become a quiet disruptor for the 49ers stout front. The third-year defensive lineman has put together his best year as a pro, notching 20 total tackles, four tackles for loss and 2.0 sacks. His ability to blow up running plays and keep offensive linemen engaged will be pivotal on Sunday against the Ravens top-ranked rushing attack.
"D.J. is a stud, he plays very well," Shanahan said. "I think a lot of you guys notice him because he makes a ton of plays. I still think he can get a lot better. The more D.J. can stay healthy, the more he can stay in shape by staying healthy, the more he can do that play in and play out. When he goes, and he's fresh, I know how our O-linemen feel about him. He's as tough as anyone to block as there is in this league."
It's not only Jackson the 49ers need to be weary of in the run game. Veteran running back Mark Ingram II has put together an impressive first year as a Raven, rushing for 778 yards, hauling in 18 passes for 169 yards and 12 total touchdowns. After spending his first eight seasons with the New Orleans Saints, Ingram has helped take the Ravens ground game to the next level with Jackson pulling the strings.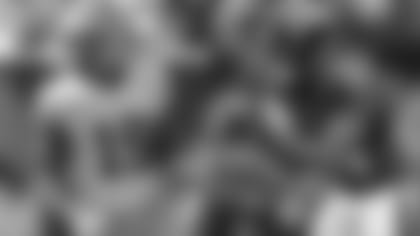 Deebo Samuel is starting to find his groove as a professional. Over the last three games, the South Carolina product has caught 18-of-23 targets for 296 yards and one score. On the season, Samuel has hauled in 40 receptions for 523 yards. His 40 receptions are tied for the most by a rookie in 2019 with Washington Redskins wide receiver Terry McLaurin.
"Deebo's a fighter, man," Jimmy Garoppolo said. "It's week after week. This guy, he shows up in big moments. He's unbelievable. For a rookie to be so mature like that, it's awesome."
Facing off with the rookie will be another familiar foe in Marcus Peters, who faced the 49ers earlier this season as a member of the Los Angeles Rams. In the Week 6 contest, Peters had four total tackles and one interception (while covering Samuel in the end zone). Since joining the Ravens in Week 7, Peters has registered 26 total tackles, three interceptions, five passes defensed and two touchdowns in Baltimore.