It all comes down to this. The San Francisco 49ers and Kansas City Chiefs are set to meet on Sunday, Feb. 2 at Hard Rock Stadium in Miami, Fla. for Super Bowl LIV. Both teams handled business at home and will try to jump over the final hurdle of the season. Here are five key matchups that could decide which franchise will lift the Lombardi Trophy on Sunday night.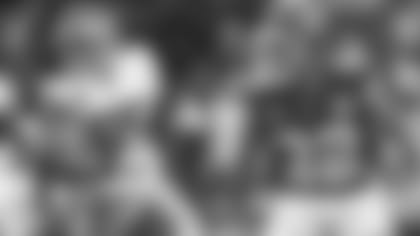 George Kittle and the 49ers passing offense has not been called upon much so far in the playoffs with the ground game stealing the show, but Kittle is still a major factor in helping the 49ers offensive machine. The tight end has hauled in only four passes for 35 yards in the playoffs, but in the regular season Kittle led the 49ers in receptions (85) and receiving yards (1,053). The All-Pro tight end has helped set up the 49ers potent rushing attack, paving the way with the offensive line to open up lanes for Tevin Coleman, Raheem Mostert and Matt Breida who collectively have averaged 235.5 rushing yards per game in the playoffs. Kittle will have a favorable matchup against a Chiefs defense who have allowed the 28th-most yards to tight ends this season. Another area Kittle can exploit is yards after catch. The tight end has registered 599 yards after the catch, leading all tight ends, and the Chiefs defense has allowed the 29th-most yards after catch this season.
One of the players who will be assigned to slow down Kittle will be Chiefs safety Tyrann Mathieu. The seventh-year safety has had a fantastic first season in Kansas City, notching 75 tackles, three tackles for loss, two quarterback hits, four interceptions and 12 passes defended. Mathieu is coming off of a fantastic AFC Championship performance, leading the team with nine tackles, adding a tackle for loss and a pass defended.
"He is an exceptional talent," Mathieu said of Kittle. "They move him around. He runs routes from really all three positions. They bunch him up. They stack him up. They try to get him free releases. They put him in the backfield. He is a big part of what they do, concept-wise. It will be important for us to identify where he is. If it's man-to-man, really compete at the highest level against him."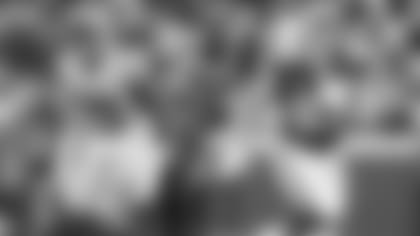 Jaquiski Tartt has been a key piece for the 49ers secondary this season. The veteran safety tallied 44 total tackles, one tackle for loss, 0.5 sack, two passes defended, one forced fumble and two fumble recoveries. Tartt missed the team's final four games with a rib injury and it took a toll on the defense. Since returning to the lineup in the postseason, the 49ers defense has allowed an average of 249 passing yards per game and a total of four touchdowns (three passing, one rushing). On the season, the 49ers have allowed the fewest yards to opposing tight ends which will be put to the test come Super Bowl Sunday against Travis Kelce. The tight end has been a major key to the Chiefs offensive success, hauling in 97 passes for 1,229 yards and six touchdowns. Kelce has continued to play at a high level in the postseason, posting 164 receiving yards and three touchdowns in the Chiefs two come-from-behind wins in the playoffs. A major key to slowing down the Chiefs offense will be to take away one of Mahomes' favorite targets.
"The dude is a receiving threat for sure," 49ers linebacker Fred Warner said about Kelce. "They like to put him in a lot of different positions to get him to catch the ball, and he knows what to do with it after he catches it. So I mean, he's a mismatch for sure. You don't really know who to put on him. You put a safety on him, he's a bigger body. You put a linebacker on him, he's shifty, he's fast. So he's going to be a challenge for us for sure."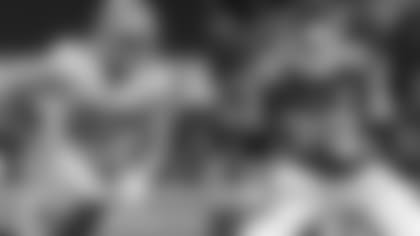 Nick Bosa has looked right at home in his first NFL playoff run. The rookie has notched 3.0 sacks, making him the first 49ers rookie to register 3.0-or-more sacks in a postseason. In the regular season, Bosa tallied 47 total tackles, 16 tackles for loss, 9.0 sacks, one interception, two passes defended, one forced fumble and two fumble recoveries. The rookie also led the 2019 rookie class in quarterback hits with 25. Bosa and the rest of the 49ers defensive line will have a tall task to put pressure on Mahomes and force him into uncomfortable situations. Tackle Eric Fisher will be lined up opposite Bosa on the outside and will try to protect his quarterback from the stout rookie. The former-first overall pick has only allowed one sack this season.
"Yeah, we're back playing a mobile quarterback and one who could throw better than any we've faced," Bosa said of Mahomes. "One of the biggest things is trying to keep him in the pocket and not let him escape when he wants to escape and make him uncomfortable."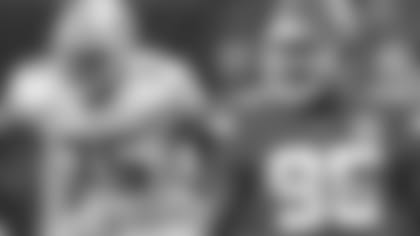 Laken Tomlinson has been a stalwart presence on the 49ers offensive line in 2019. The fifth-year offensive lineman has been a key piece in opening running lanes for the 49ers leading rushing offense in the postseason. Paired with Joe Staley on the left side of the offensive line, Tomlinson has kept his quarterback clean, allowing only three sacks on the season. Tomlinson will be focused on slowing down one of the best defensive tackles in the NFL on Sunday in Chris Jones. The fourth-year defensive lineman led the Chiefs in sacks in the regular season with 9.0, while adding 36 tackles, eight tackles for loss, 20 quarterback hits, four passes defended, one forced fumble and one fumble recovery. After missing the AFC Divisional Round victory over the Houston Texans with a calf injury, Jones returned to action in the AFC Championship and notched two tackles and one quarterback hit. With another two weeks to get healthy, expect Jones to be prepped for action on Super Bowl Sunday.
"Then you look at the offense," Jones said of the matchup against the 49ers. "Jimmy Garoppolo and the speed they create around him. One of the best tight ends in the league, George Kittle. They have a lot of weapons and they're very dynamic. Good team. Great team. You know with the scheme (Kyle) Shanahan is running over there, it's very pivotal. We've got to study film and dial in to whatever we can do to affect those guys."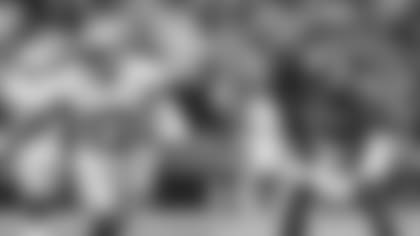 As soon as Emmanuel Sanders joined the 49ers in Week 8, he quickly became a veteran presence that the offense would lean on. That leadership will be vital on Sunday as Sanders is one of eight 49ers with past Super Bowl experience. In his two previous Super Bowls, Sanders hauled in eight passes for 100 yards. Since becoming a member of the 49ers, Sanders has registered 36 receptions for 502 yards and three touchdowns.
"I think it's a mindset," Sanders said of the 49ers skill players being involved in other areas of the offense. "At the end of the day, we've got a lot of guys who aren't 'me' guys, it's about let's get the job done and let's win. It's more about 'we' than 'me.' And I'm one of those guys as well. And I think everybody is a part of it. You even look at (TE George) Kittle. Kittle is one of the best tight ends in the league, but everybody wants to talk about his blocking as well. So, I think it's contagious around the building in terms of going out and doing your job. When you look at your best players and they're doing it, I feel like everybody else will hop on board as well. So, it's contagious."
Trying to slow down Sanders and the 49ers air attack will be Bashaud Breeland. The sixth-year NFL veteran has been a welcome addition to the Chiefs defense after joining the team this past offseason. Breeland has started 17 of the team's 18 games and notched 48 tackles, one tackle for loss, two interceptions, eight passes defended and two fumble recoveries. Breeland, along with the entire Chiefs secondary, have allowed the fewest yards to wide receivers in the league.
Bonus Matchup: The Faithful vs. Chiefs Kingdom
Who's going to bring more noise at Hard Rock Stadium on Super Bowl Sunday?