NFL players often inspire the sports world and its fans with their incredible feats on the field. But what truly sets some athletes apart is their unwavering commitment to making a difference off the field.
San Francisco 49ers star George Kittle, known as "The People's Tight End," has a rich history of supporting cancer patients. His journey to championing the fight against cancer has become a beacon of hope and strength for countless cancer warriors and their families.
Kittle understands cancer's impact all too well. He and his wife, Claire, have seen friends and family members endure the hardships that come with a cancer diagnosis. These personal experiences have ignited a passion within him to make a difference in the lives of those affected by cancer.
"Cancer affects all of us," Kittle said. "No matter what, it's impacted us one way or another. It's definitely impacted both mine and my wife's side, family members and friends."
The tight end's dedication dates back to his college days at University of Iowa. The Hawkeyes are known for their gameday tradition of having thousands of fans, players and coaches turn to wave at the University of Iowa Stead Family Children's Hospital, which overlooks Kinnick Stadium.
Kittle's connection to the UI Stead Family Children's Hospital goes beyond the football field. In 2020, the tight end auctioned off a National Tight Ends Day championship belt signed by several NFL tight ends, with all of the funds benefiting the UI Stead Family Children's Hospital.
Just before the 2023 season started, Kittle returned to the UI Stead Family Children's Hospital to bring joy and inspiration to the patients and their families. During his visit, he played video games, signed autographs and spent quality time with the children. His presence brought smiles and hope to the young kids facing challenging times.
"You know, I go outside and I get to play a children's sport," Kittle said. "That's been my dream since I was a kid. All the kids in pediatric hospitals all over the world, they're not doing exactly what they want to be doing. But they're dealing with it and they have such positive mindsets. It's very cool to be around them and to feel that positivity, given their circumstances. It's very eye opening. It makes me really appreciate my life every single day."
One of the most touching moments during the season occurred on the tight end's one day off from football. He joined the 49ers Crucial Catch art therapy session presented by Dignity Health with a young cancer warrior named Chloe Fender. They forged a remarkable connection painting sunflowers together, a symbol of strength and resilience.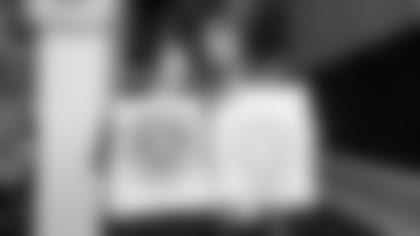 Kittle, who has a sunflower tattoo dedicated to his mother, found common ground with Fender, whose mother also had a sunflower tattoo. Inspired by her time bonding and painting with Kittle, Fender planned to get a sunflower tattoo of her own.
"The fact that we got paired together, we ended up drawing sunflowers and having that experience together, it was awesome," Kittle said. "Chloe's positivity was definitely really fun to be around. If I can inspire people to get tattoos, it makes me really happy because I like it when people express themselves."