San Francisco 49ers rookie linebacker Dre Greenlaw has agreed to document his first NFL training camp leading up until his first NFL game. This month, Greenlaw is sharing a first-person account of his experiences. Below is his fourth blog entry detailing his final opportunity in the 49ers preseason finale, making the 49ers 53-man roster and preparing for his first regular season game against the Tampa Bay Buccaneers. Be sure to check out his first, second and third blog entries in case you've missed them!
Where do I start? Well, coming off of our final preseason game against the Los Angeles Chargers I just remember being so nervous. I think a lot of us were nervous. It's our final opportunity before roster cuts. A lot of us are leaving it all on the field with the hopes that we've impressed the coaches enough to earn a spot.
I got to see my former teammate at Arkansas, Chargers tight end Hunter Henry. I played with him in college and we also played against each other in high school. Although he didn't have to play in the game, seeing him on the field put a lot of things into perspective for me. A lot of people from where we're from didn't make it to where we are now. And looking at guys like Hunter, he was the number one player at Arkansas and the number two tight end in the nation. He ended up being a second round pick, and he deserved it. It's great watching all of his hard work paying off. Talking to him made me feel good. It was a walking testament to how I want to continue to improve in the NFL.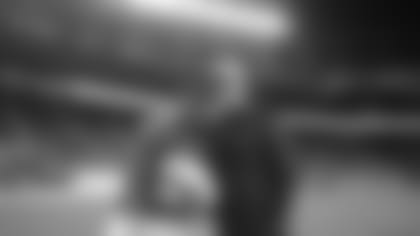 I didn't feel great about my game on Thursday night because I made a few mistakes. Of course I'm hard on myself because I want to be great. But I got good feedback from the coaches. Just based off their energy, I felt like they know I have the potential to keep getting better and keep improving – and that's what I want. Every game is about the details. I want to continue to correct any mistakes and get better. I think coach DeMeco Ryans saw that and that made me feel good to know that he sees my potential.
People don't remember what you did in the preseason. They remember what you did when it counts.
I had a good offseason and training camp, but that's not the game. People don't remember what you did in the preseason. They remember what you did when it counts. I feel like I've got the right coaches and teammates around me to push me to keep getting better. I sent Coach Ryans a text before roster cuts just to tell him "I want to be great." I didn't want anything from him. I just want him to keep pushing me to be a great football player. My main focus is to be the best football player I can be. It's not even about people remembering my name. That would be cool too. But doing my job on and off the field is what continues to drive me.
Man, on Saturday, I had to turn off my phone. I couldn't allow myself to keep waiting for a phone call to determine if I would still be a member of the San Francisco 49ers. I didn't look at the internet, or go on social media. I was nervous. I knew I'd have the opportunity to play football, but I wanted that opportunity to be here. I played Fortnite at my new apartment to pass the time (Oh yeah, Tim Harris and I finally moved in together this week!). My girlfriend came down here on Saturday so that helped a lot with stress and taking my mind off of things.
They said roster cuts would be done at 1 p.m.. I kept my phone off until then. When I finally turned it on, I didn't have any messages. That was the biggest sigh of relief. I can't tell you how happy I was to find out this team believes in me. I made the roster!
But now, I've got to focus. It's time for my first real NFL game. You know the motto. I've got to "do my job and do my assignment." I've got to go out there and beat the other guy across from me. Those are the actions I've got to take in order to even get to Week 2. That's the mindset I have going into Sunday's game. I think the rest will take care of itself after that.
I've got to go out there and beat the other guy across from me.
I have faith that any of the 53 men in our locker room are going to go out there and lay it all out against the Buccaneers. We're all excited for who we've got on this team. We're all ready to play ball and do better than we did last year. I think everybody is ready to get rid of that sour taste from last year.
Everybody is pretty hyped, especially Kwon Alexander. Having just come from the Bucs, he's fired up. He and I have both talked about different formations and what to look out for against Tampa Bay. He told me to "be ready." Kwon is going to go hard so he tells me to be ready to go hard, too.
I'm looking forward to lining up across from Jameis Winston. When he was coming out of college, I was coming in. We never got to face each other in school, but just being able to play against him in the league will be pretty sweet.
It's been great letting you in on what's been going on over the last month. My rookie blog feels like Twitter, but I can say more than 140 characters and tell you what it really is versus telling you the summarized version. It's been fun for you to get to know me a little bit more. And hopefully we're going to be doing a lot more together in the future. Stay tuned.