San Francisco 49ers rookie linebacker Dre Greenlaw has agreed to document his first NFL training camp. Over the course of the next month, Greenlaw will share a first-person account of his experiences. Below is his first blog entry regarding the time leading up to camp, report day and his first week of training camp practice.
You know that feeling you get in your stomach when you're dreading saying a goodbye? That's exactly how I felt in the days leading up to training camp.
I spent my entire summer back home in Arkansas until the day before report day. I hate to be away from my friends and family. I knew it was time to go and that I would be gone for a while. But I also knew that I was coming back to Santa Clara and things were going to get serious. The roster will soon be cut in half, intensity is going up and things are going to be a big step up from OTAs.
I pulled up to the facility on report day like "alright, here it goes." I felt nervous and overwhelmed. I almost wondered if the coaches and staff still remembered who I was. But once I got into our meetings and heard the calls from the spring and during rookie camp, I was like "okay. I know this, it can't be that bad."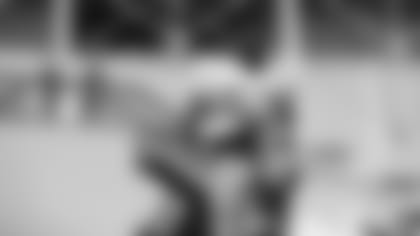 It was good to see my teammates for the first time in five weeks. Since I've only been in the Bay Area for two months, I don't have many friends yet and none of my family lives on the West Coast. When I was away for the summer, rookie cornerback Tim Harris would call me a few times or I would call him.
That's kind of how we started building a relationship. Tim is my dog. We're camp roommates. We met during rookie minicamp and instantly became friends. He reminds me a lot of myself. Tim and I sit there after practice and we get straight in our playbooks. I look over to the side and he's in his playbook and I'm in my playbook. We're just chilling and talking about the process of everything and how our day was and what we need to improve on. We try to give each other help. You'll be amazed at what the guys in the secondary can help a linebacker with, and me as a linebacker helping them. So we definitely try to give each other pointers and help each other out. We've actually talked about being roommates hopefully during the season once everything is said and done.
But for now, we're currently staying at the team hotel. It's different. It definitely becomes redundant. It's been about three months of hotel living since rookie minicamp. I don't have a stove. I haven't been able to make any eggs or anything so it's been tough. But you're in there with guys that are going through the same thing as you which helps build camaraderie and relationships.
We had our first training camp practice on Saturday. Unfortunately, we weren't hitting yet. I'll be honest, I was ready to start tackling right out of the gate, but obviously we can't just yet. I had to prepare myself for that. But our first two unpadded practices gave us a couple of days to get acclimated to the weather and wearing a helmet and moving around. It was a normal practice.
I got first-team reps my first few days out at practice. Going out there with the vets, things were a lot faster than rookie camp. Rookie camp was already pretty fast for me because they had me at MIKE linebacker. I've never played MIKE. I've always been a WILL or SAM linebacker. At MIKE, you have to make the calls. During rookie camp, I was kind of confused with it all. But once OTAs came around, I had a little bit of an understanding of the plays so I felt a little more comfortable. It was fast. Tempo was fast. I just had to settle myself down and listen to the coaches and my teammates and do my job.
Transitioning to camp was a challenge. I talked to Coach DeMeco Ryans about missing home. He definitely made me feel a lot better about it. He told me that this team is now my extended family, and my teammates are my boys. Everyone's got my back. Now I've just got to get comfortable and go play football. It was reassuring to hear that.
He told me that this team is now my extended family, and my teammates are my boys. Everyone's got my back. Now I've just got to get comfortable and go play football. Greenlaw on Coach Ryans
Having Coach Ryans around helps me understand what I'm supposed to do and how I'm supposed to do it. He teaches things to you in a way where it's simplified. It just clicks. He played the game for 10 years, so he understands it. Kwon Alexander is another guy who has really been helping me. I'm playing behind him at WILL. Whether it's with my hands or my feet, he's the first one to come and say you did good but this is what you could do better. To get feedback and pointers from someone like him that understands the game is unbelievable. He's also a guy that understands being away from home, so that's another bonus. And then there's Malcolm Smith. I'm playing behind him at the SAM position. He's been doing it for a long time. I sit right next to him during meetings. Whenever I don't understand something, I look to him and ask him questions. I've definitely got some great leaders and great veterans in the linebackers room that I can count on and they're there to help.
To have that support around me, and a coach having the trust in me to have me out on the field, it's an unbelievable feeling. But then again, I feel like I really have to prove to everybody - the organization and even to myself, that I belong here. My first thoughts during my first practice were, "I'm out here now. Why look back and why look to the side. I'm going forward. The only thing I can do is put my head down and keep working and keep understanding the play book. And the rest will come."
We finally got to put on pads. I'm not going to lie, I was pretty hyped.
So on Monday, we finally got to put on pads. I'm not going to lie, I was pretty hyped because everybody was saying it's easier when there aren't pads. So, people don't really know what you're going to bring to the table just yet. But in my head, I just can't wait. This is what I do. I was so excited and ready to go. On the first play, coach told me "go out there and play." I was like "Oh yeah! It's time to set the tempo." Whenever I get to put the pads on, I say to myself "I'm in the NFL, and I've got to take advantage of this opportunity." Putting the pads on and really being able to play ball, that is right in my ballpark.
I was pulled out of Tuesday's practice. I really didn't notice what happened. There was one play where I think a few of us got tangled up. I looked down and saw it. I had a hand laceration. It was a really deep cut. The training staff took care of me from there. I had to get seven stitches. But on a brighter note, I was able to practice the next day. So it was fine.
I'm really enjoying practice. My next focus is to work on my precision. The NFL is about being precise. I feel like I do some really good things on the field, but Coach Ryans harps on that extra "inch" in football. Something as small as an inch can be the difference between fourth down or a fresh set of downs. I feel like the more precise you are as a linebacker and the less wasted movements you have, then you put yourself in a better position to do your assignment and make a play on the ball. I finally get to show the coaches, my teammates and my family what I can do. We have our first preseason game against the Dallas Cowboys next Saturday. I'm really looking forward to getting on the field and tackling someone. I can't wait to tell you all about it. Stay tuned.