San Francisco 49ers rookie linebacker Dre Greenlaw has agreed to document his first NFL training camp and preseason. This month, Greenlaw is sharing a first-person account of his experiences. Below is his third blog entry detailing his first joint practice and the "Monday Night Football" matchup against the Denver Broncos. Be sure to check out his first and second blog entries in case you've missed them!
After our first practice following the preseason opener against the Dallas Cowboys, I got a really bad stinger. I've had stingers before but the medical staff decided to be careful with me and put me in the blue non-contact jersey for practice. Thankfully by the next practice, I was feeling much better. That was a relief because we had joint practices with the Denver Broncos coming up.
I was kind of confused going into our joint practices. We were about to practice against the Broncos, then we were going to play against them. I didn't understand how that could work - I imagined they were going to know our plays, and we were going to know theirs. My initial thoughts were "this isn't going to be any fun." I was definitely wrong.
Once we got out there, I was ready to compete and show what I've got.
It was a different feeling than being at Levi's® Stadium. This is home. I feel more comfortable at our training facility. When we arrived at the Broncos practice fields, I didn't know where to go. There were three or four different fields and we had to figure out which to practice on. But once we got out there, I was ready to compete and show what I've got.
The defense came out hyped Day 1. Our energy was seriously unmatched. That's how we want to come out every practice and every game. We want to set the tempo. We broke up passes. Guys were getting into the backfield. Malcolm Smith and Tarvarius Moore both came down with interceptions. We were jacked up and brought the fire.

I told you last week that I was anxious to face my former college teammate, Broncos running back Dave Williams. Obviously, I was ready to do my job and hit him. But at the same time I was really happy that I got to see him doing well with the Broncos. I was excited for him, but still couldn't wait to hit him. He was going to have to wait another week to turn up in the backfield. It wasn't going to happen against me. 😉
He was going to have to wait another week to turn up in the backfield. It wasn't going to happen against me.
Day 2 was a little different. We knew they were going to come out hot. They did a really good job with game planning. They opened up their playbook a little more on our second practice together, so we were able to see some different looks. But altogether, I think we did a really good job of making plays and being physical. I honestly felt like we came out stronger as a team following our joint practices.
We had a day off ahead of Monday night's game. A lot of people went out to explore the city, some went to dinner or took a trip to the mall. I spent the majority of my free time in my hotel room. I tried to stay off of my feet a little bit and relax my mind. This was so much different than in college. We had free time to get our bodies right. I really enjoyed that and thought that was really good for us.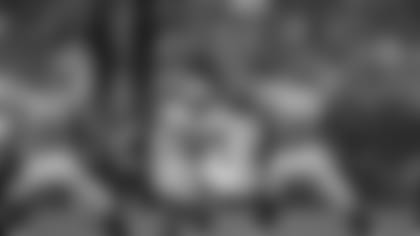 I felt more comfortable once we got on the field on game day against Denver. I felt like I knew what I was doing. Coach DeMeco Ryans continues to stress doing our jobs and knowing our assignments, and I felt like I took a step forward against the Broncos. In my first preseason game, there were a few over routes that got me because I was playing so aggressive and downhill. And in this game, he told me to make sure I played more laterally so that I could read my keys better and to make sure I'm doing my assignment. I knew the game and I understood everything. I felt really good about how the defense executed together.
I felt like we came out stronger as a team.
The best part about our time in Denver was coming home with a win. Although it's preseason and doesn't count, it still matters when it comes to helping this team get better. But the worst part about the trip was making it back home to San Francisco so late following the "Monday Night Football" game. We got back around 2:00 in the morning. That also is definitely different from college.
So far, I've played against the Dallas Cowboys "ones" and the Broncos "ones." Now I get to switch gears and get my feet wet against Kansas City's offense. The third week of the preseason is known as the "dress rehearsal," so we'll get an extended look at their starters. Everyone knows about the Chiefs weapons on offense, and I'm looking forward to playing against those guys.
This won't be my first time playing against Patrick Mahomes. We faced each other my freshman year at Arkansas when he was a junior at Texas Tech. I actually got my first start that game as a freshman. It's crazy how I get to face him in the NFL now. I'm definitely looking forward to playing in the "loudest stadium" against a playoff caliber team. Stay tuned.