San Francisco 49ers rookie linebacker Dre Greenlaw has agreed to document his first NFL training camp. Over the course of the next month, Greenlaw will share a first-person account of his experiences. Below is his second blog entry detailing his first NFL preseason game. Be sure to check out his first blog entry in case you've missed it!
I now know exactly what people mean when they call it "camp grind." Last week's practices were the toughest so far! Mentally, you've been through camp for a whole two weeks, then you've got to get ready for a game on Saturday. My body was finally starting to feel the effects of training camp. That's "the camp grind." But overall, my second week of training camp practices went really well. I did some good things. I made some plays. I made a few mental errors. But that's what training camp is for. It's all a part of the learning process.
Playing in my first NFL game made everything worth it.
Playing in my first NFL game made everything worth it. It didn't really hit me until I put on the uniform and looked in the mirror. I can't even describe the feeling. The vibe of an NFL game is different than going out to practice. When I put those pads on, it was "go" time. There was no more talking. It was time for action.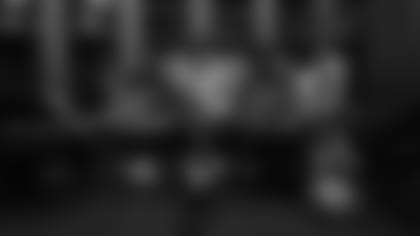 Thankful, eager, anxious, angry, happy. Everything you can think of, that's what I was. Coach DeMeco Ryans asked me what I wanted to listen to before the game. I was like "Coach, I can't listen to anything right now." There was no music or anything that could motivate me any more than I already was. As soon as that ball goes down, I'm ready to go.
I was eager to just release all of my emotions. I had been holding it all in the days leading up to the game and I think I did a pretty good job of it. Well, that was until Kwon Alexander kept hyping me up. He would tell me the day before the game "you've got to go out there and hit someone." I told him it's too early. I wanted to keep my mind at peace and not get too anxious before it was game time. I knew Saturday was going to be a long day. I had to make sure my energy lasted throughout the whole game. I started thinking to myself, "I need to calm down, but when it's time to go out there, just go."
There was no more talking. It was time for action.
The first thing I do when I walk into a stadium is take a jog around the field. I always stop at the goal post to pray and thank God for allowing me to play this game and make sure that I continue to enjoy this game that I love. I was just so thankful.
Remember my hand laceration? I hadn't been using my hand too much at practice. I've been tackling with one hand and having a club around it to protect my stitches. But the last couple of days, I've been bringing a little more "pop" into my play. I told myself if I couldn't practice on Thursday, I couldn't play Saturday. I was able to use my hands a lot more on Thursday and it felt good, so I was ready to play. On my first play of the game, I didn't use my hand at all off of instinct because I haven't used it in so long. I realized, I can't do that in the game, I've got to go. Coach Ryans even noticed I didn't use my hand. But on the second play, I finally used my hands and struck the guy. I was like "okay, I can let it loose now."
I got to play against my friend Tony Pollard, who is a running back for the Cowboys. I think that's another reason why I was so eager to get after them. We played on the same team at the Senior Bowl and have been good friends ever since.
Whenever I'm on the field, whenever I run out of that tunnel, it's just a proud moment.
In the second quarter, I had a tackle for loss. I was happy with how fast I read the play. It's just a proud moment whenever I'm out there just playing – whenever I'm on the field, whenever I run out of that tunnel, it's just a proud moment. But of course there are moments I wish I could have back too. I missed a couple plays where I was supposed to be in man coverage and instead of getting my man, I got after the quarterback. Thankfully, they didn't throw my man the ball, but what if they did? Just plays like that. I'm learning to be more aware of those mistakes and being on my job.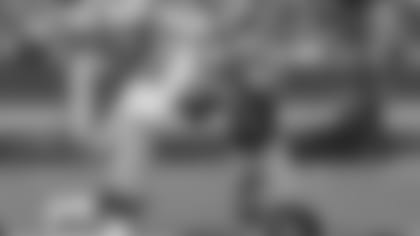 All I could think of during the game is what the coaches continue to emphasize: "Do your job. Do your assignment. Go play football." I didn't find out until after the game I had four straight tackles during our first drive. I didn't even realize it. I was just going out there and playing football. At that point in time, it was about not letting them score.
After the game, just about my entire family called me. My mom, my dad, my aunt, my grandma – all just telling me how good of a job I did. I had my godparents come down for the game to support me. I got a lot of love. It was a bunch of people. My phone was blowing up!
I can actually say that I've played in my first NFL game.
It's crazy that I can actually say that I've played in my first NFL game. But now, it's already time to shift our focus to Denver. I'm excited to have joint practices against the Broncos this week. It will be fun practicing against someone who isn't on your team. I'm excited to go against my former Arkansas teammate, Broncos running back Dave Williams. It makes practice more interesting. It's me versus them. Somebody's going to win and somebody's not. I don't like to lose and they know that.
Stay tuned for my next blog entry after joint practices. I'll let you know how it goes.