In the San Francisco 49ers Week 4 contest against the Arizona Cardinals, the team will recognize the NFL's Crucial Catch initiative and raise awareness around cancer detection and risk reduction.
The league, the NFL Players Association and the American Cancer Society are committed to providing individuals with the tools they need to help them better understand early detection and ways to reduce their cancer risk. Each year, every NFL team raises awareness during a game, featuring on-field and in-stadium Crucial Catch elements. Crucial Catch games also present a special opportunity to honor cancer survivors and those currently battling cancer.
Here's what to look for during the 49ers Crucial Catch game presented by Dignity Health:
Personal Connection
San Francisco 49ers star George Kittle, known as "The People's Tight End," has a rich history of supporting cancer patients. His journey to championing the fight against cancer has become a beacon of hope and strength for countless cancer warriors and their families.
Kittle understands cancer's impact all too well. He and his wife, Claire, have seen friends and family members endure the hardships that come with a cancer diagnosis. These personal experiences have ignited a passion within him to make a difference in the lives of those affected by cancer.
"Cancer affects all of us," Kittle said. "No matter what, it's impacted us one way or another. It's definitely impacted both mine and my wife's side, family members and friends."
Click here to learn more about Kittle's work in the fight against cancer.
Arrivals
In the 49ers first community outreach event of the season, players partnered with cancer warriors to paint on canvases what strength means to them. The artwork created on the canvases will be transferred onto denim jackets generously donated by Levi's®. The players and cancer warriors will proudly don their personalized jackets in their arrival outfits to the Week 4 Crucial Catch contest against the Cardinals.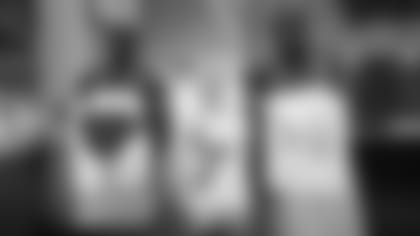 National Anthem
The national anthem will be performed by Edward Schrank. Schrank served on active duty in the Marine Corps from 1996 to 2012 and is an eight-time cancer survivor from exposure to jet fuel while on active duty. His fifth battle with cancer threatened to remove his jaw and ability to speak, so he decided to work with the best singers in the world to become a national anthem performer. His first performance ever was in San Francisco and the 49ers are proud to welcome him back to the Bay Area in what is a full circle moment for him.
Fog Horn
A staple tradition carried out at Levi's® Stadium ahead of every 49ers home game is the sounding of the fog horn. 49ers special guests, players and alumni pull the fog horn before kickoff to get the team and the Faithful energized for the game. Faith Holland, the wife of linebackers coach and cancer warrior Johnny Holland and Amy Kocurek, a cancer warrior and wife of defensive line coach Kris Kocurek, will have the honor of pulling the fog horn ahead of the Week 4 contest. Other cancer warriors from the American Cancer Society and Okizu will pull the fog horn to kick off the second half.
Halftime
This Sunday's halftime show will be performed by Caly Bevier. After fighting Stage 3 ovarian cancer at 15, Bevier started a music-driven journey in Los Angeles. She strives to include messages of being unapologetically herself in her music, so that her listeners can feel comfortable in their own skin and feel less alone in whatever they're going through. Bevier was a semifinalist on "America's Got Talent" and her music is influenced by a myriad of genres.
Join the 49ers on October 1 for their Crucial Catch game presented by Dignity Health against the Arizona Cardinals. Get your tickets here.