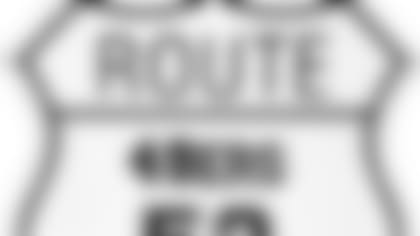 80 players are allowed to be on NFL rosters at the start of training camp (81 for the 49ers since they have an international player), and the goal for everyone is to earn their way onto the final 53.
Throughout training camp, 49ers.com will highlight some of our newcomers and their Route to the 53.
Here's the latest installment of Route 53 with 49ers linebacker Dennis Haley.
---
Entering his fourth year in the National Football League, 49ers linebacker Dennis Haley has been fortunate enough to have played with two of the best players at the middle linebacker position in Ray Lewis of the Ravens and his current teammate with the 49ers, Joe Staley.
Besides having the opportunity to absorb information from Lewis in first three seasons in the NFL, Haley has been impressed with what he's seen from Willis up close.
"With Pat being so relentless, its fun watching him run around out there and make plays," Haley said.
As an undrafted rookie from the University of Virginia, Haley began his career with the New York Jets, but was let go after he spent the first two weeks of the season on the practice squad. The Ravens picked Haley up during the 2005 season and used him primarily on special teams and as a backup on defense.
Haley said it was a great opportunity to play behind Lewis.
"I looked up to him while I was there and he became a good friend of mine," Haley said. "It was great just to have the opportunity to learn from one of the best to play the game."
A major reason for Haley coming to the San Francisco 49ers as a free agent this past January was to learn from another one of the best linebackers to ever play the game in assistant head coach, and Hall of Fame linebacker Mike Singletary.
"Being here with Mike Singletary is a great opportunity for me as a player," Haley said. "Coach Singletary is always preaching about being patient and not being in a hurry to get where you're going."
Another welcoming feature the 49ers offered Haley were the familiar faces in the locker room in the form of former teammates from his days with the Ravens. Linebacker Rod Green, defensive linemen Atiyyah Ellison and Aubrayo Franklin have made the transition easier for Haley.
"Coming from Baltimore, there were a lot of guys here that I knew," Haley said. "The scheme and the defensive system was pretty much identical. It seemed like a good fit. It's good to come in and have somebody who knows you. You don't feel like the new guy."
In his early playing days at Salem High School in Virginia, everyone knew Haley as a physical running back. He scored 63 touchdowns in his high school career and was recruited to the University of Virginia to carry the ball. But, it only took a matter of time before Cavalier head coach George Welsh suggested Haley play linebacker if he wanted to play in the NFL.
Without hesitation Haley agreed to try the position change, foregoing his dreams of being "The next Eddie George."
Once he got accustomed to making the hits instead of avoiding them, Haley adjusted to his role nicely. He started in every game as a senior and posted 64 tackles.
After his career ended, Haley's days of contributions the Virginia communities were far from being over. In 2007 he created the Elite Performance Camp for kids in his hometown of Salem.
"That's real important to go back to Salem, Virginia and have a camp. I just finished up in June for my second year. It was nice just to have the opportunity to be giving back to the kids and giving them the opportunity to learn from professional athletes is just great. My first year I had Bart Scott of the Baltimore Ravens at my camp, and this past year we had Musa Smith from the New York Jets."
With his hometown already taken care of, Haley plans on giving the people of the Bay Area something to look forward to, starting tonight when the 49ers travel to Oakland to play the Raiders in the first preseason game of the 2008 season.
"I'm looking forward to it," he said. "We're going out there to win this game, and get better as a team."
Haley also sees the game as a valuable time to improve his play on the field.
"Having the opportunity to go against different competition lets you know what you need to work on," he said. "I know that I need to stay focused and continue to learn where I need to be at the right time."
Playing a highly competitive position for the 49ers makes the upcoming preseason games crucial for Haley's quest to make the final roster. He's well aware that this Friday's game will be one of the most important games in his life. Considering that he hasn't played in an NFL game since he was released by the Ravens after two games last season, Haley is extremely excited to show the coaching staff what he's capable of doing.
"Friday is coming around, it'll be here before we know it," Haley said. "It's going to be a different pace than what we've seen in practice – I'm looking forward to it."