In the spirit of Halloween time, San Francisco 49ers players hosted a festive fall celebration at Spina Farms Pumpkin Patch where guests with intellectual and developmental disabilities from Best Buddies, Special Olympics, Camp for the Stars and Stanford Autism/DD Research Program enjoyed a fun afternoon of Halloween activities.
49ers ownership, Jenna York and Mara York, along with defensive lineman Arik Armstead, offensive linemen Jake Brendel, Daniel Brunskill, Spencer Burford, Jason Poe and Nick Zakelj, fullback Kyle Juszczyk, linebackers Oren Burks and Marcelino McCrary-Ball and quarterback Brock Purdy were in attendance for the festive celebration in Morgan Hill. When guests arrived, they were welcomed with a dessert table that included bowls filled with Halloween candy. The group was also surprised with another special guest, the 49ers team mascot Sourdough Sam.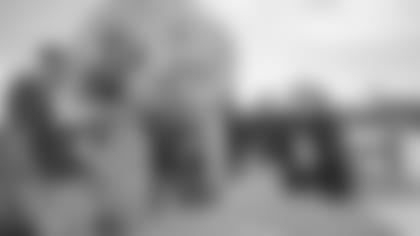 Together, players and guests took group photos by the farm's pumpkin pyramids and hay bales. Guests arrived in their Halloween costumes and players even took part in dressing up, wearing superhero masks and capes with their jerseys.
Following photos and lunch, their afternoon included fun fall activities such as a hayride, walking through a corn maze, firing off Spina's famous pumpkin blasters and more.
"It was so fun hanging out with the kids," Burks said. "The pumpkin blasters was probably one of the highlights, just launching pumpkins across the field, you can't beat that. That was a lot of fun. Trying to hit the targets, they were way better than I was. I wasn't able to hit the target, but maybe next time."
While picking up pumpkins in the pumpkin patch, one lucky guest found a hidden surprise. The winner received two tickets to Super Bowl LVII and was cheered on by fellow guests and players and embraced by Juszczyk.
"I love to come out here and see the kids," Juszczyk said. "Running around in the corn maze here and picking up some pumpkins. I'm sure they bring me more joy than I'm giving them, I promise. It's too much fun to see the smiles on their faces and to be a part of the whole thing."
The fun-filled day was a perfect bonding opportunity, not just between the teammates, but with their local community.
49ers players joined guests from Best Buddies, Special Olympics, Camp for the Stars and Stanford Autism/DD Research Program for a Halloween party.