Here are the top 49ers headlines for Thursday, February 18.
49ers 2021 Free Agency Tracker
John Lynch and Kyle Shanahan have major decisions looming. For the second-straight year, the 49ers front office enters the offseason with the goal of keeping their once-championship contending roster intact. That objective comes with a host of challenges. For starters, the 49ers could be working with less than anticipated as the league's salary cap is expected to take a hit due to lost revenue as a result of the COVID-19 pandemic.
Equally as troubling, the 49ers entered the offseason with a whopping 38 players set to hit the open market once the NFL free agency period begins on March 17. Read More >>>
Happy 100th Birthday Ken Casanega!
Born and raised in The Bay, Ken Casanega is a member of the original 1946 team, a World War II veteran and the oldest living 49ers alumni.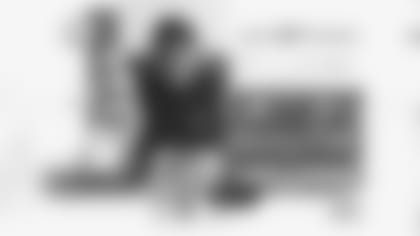 2020 NFL Rookie Report Card: Ranking Each Team's Class
"The 49ers only made five selections, but the two first-rounders sure look like keepers. Let's start with Brandon Aiyuk, who doesn't always get the national adulation he deserves. In a loaded rookie receiver class that featured record-setter Justin Jefferson and four other guys who eclipsed 800 receiving yards (CeeDee Lamb, Tee Higgins, Chase Claypool and Jerry Jeudy), Aiyuk feels like something of a forgotten man. Not to the good folks over at Pro Football Focus, who ranked him as the eighth-best rookie in the entire draft class, but to the football-watching public at large. Maybe this socially distanced existence has me creating straw men from an isolation chamber, but it just doesn't feel like Aiyuk gets the hype of some of his higher-profile WR classmates -- and I'm here to fix that! Like Deebo Samuel, Aiyuk is a perfect fit for Kyle Shanahan's catch-and-run scheme. Remember the hurdle touchdown against Philadelphia? Dude's electric with the ball in his hands. Put some respect on the name! Oh, and stop disrespecting Javon Kinlaw. Yes, he was essentially taken with the first-round pick San Francisco acquired in the DeForest Buckner trade. No, he didn't come close to matching Buckner's production this past season. This is OK. Kinlaw still has work to do in the technical aspects of his game, but he flashed disruptive ability on a weekly basis, routinely detonating O-lines with brute strength and rare athleticism. And shoot, look at the big man delivering a pick-six! Patience is a virtue, especially when it comes to 6-foot-5, 319-pound freaks."
Top 15 Rookie Classes According to NFL.com
Indianapolis Colts
Tampa Bay Buccaneers
Cincinnati Bengals
Minnesota Vikings
Cleveland Browns
Los Angeles Chargers
Washington Football Team
Kansas City Chiefs
Dallas Cowboys
Carolina Panthers
San Francisco 49ers
Los Angeles Rams
New England Patriots
New York Jets
Denver Broncos