San Francisco 49ers quarterback Brock Purdy knew who he was from a very early age.
He grew up surrounded by sports with his father's background as a professional baseball player. Shawn, Purdy's father, was first drafted in the minor leagues in 1987 by the Pittsburgh Pirates. As a young athlete, Purdy had the option to follow in his father's footsteps.
"He played baseball and he was a really good baseball player," Shawn Purdy said on 95.7 The Game. "He was a shortstop and a pitcher and he loved it. But, he just had a passion for football."
Despite the initial inclination towards baseball, Purdy's fascination with football took root at the tender age of five, sparked by watching Tim Tebow and the Florida Gators.
"I would sit on our coffee table at home and just watch and be so fascinated with the hype of the game and the environment," Purdy said on the 49ers "You've Got Mail" podcast. "I wanted to play in an environment like that. Watching the Gators when I was young, it definitely got me going on the football trend."
Purdy's parents shared that he always had a football in his hands and all he ever wanted to be was a professional quarterback. When he started tackle football at the age of 12, his coaches would ask what position he'd want to play and he'd quickly respond, "Quarterback." They'd ask, "If not quarterback, what other position?"
For Purdy, it was no question. He was set on playing quarterback.
Shawn, a devoted fan of Dan Marino and the Miami Dolphins, played a pivotal role in shaping Purdy's football journey. Learning to throw a football from his dad, Purdy adopted Marino's quick release and even chose the iconic number 13 for his jersey as a symbolic nod to the quarterback he aimed to emulate.
Purdy didn't let go of the dream he had when he was just five years old. He was steadfast on his passion for football, from junior high all the way to the pros.
"When you have kids you always ask them what they want to be when they grow up," Purdy's mother, Carrie, said on the Sports Spectrum podcast. "You know, pharmacist, doctor or whatever. At five years old, I asked Brock 'what are you going to be?' It was football player. In junior high, 'Brock, you got a backup plan?' And it was, 'I'm gonna be a football player, mom.' In college, Brock said, 'I'm going to school for business, but I'm going to be a football player.'
"He never, ever wavered from playing in the NFL, ever."
Life came full circle for Purdy on December 4, 2022, when the 49ers played the Dolphins at Levi's® Stadium and he took over as the starting quarterback for San Francisco. Starting the season as the team's third-string QB, stepping in to face his family's favorite team with Dan Marino in attendance added a surreal touch to the moment.
"I remember asking Brock how many home games he had left," Shawn said. "When he said the Dolphins, I was like, 'Oh dude, you're going in that game. That's just the way life works.' Just joking, you know. 'If you're gonna go in, it'll probably be the Dolphins.' And then, sure enough it unfolded... You just pinch yourself."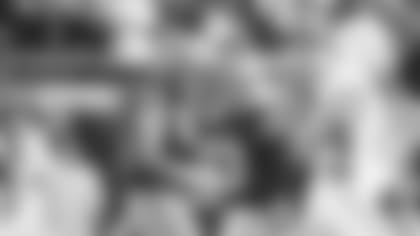 With 17 career starts, 4,272 passing yards, 35 total touchdowns and a 108.9 QB rating under his belt, Purdy enters the second half of his sophomore season remaining faithful to living out his childhood dream.
"I knew that Brock was never going to give up," Shawn said. "I knew that Brock was going to give it his all.
"I remember he'd have that football under his arm just wanting to be in the TV. He would always say, 'I'm going to do that one day,' and I believed him. He's always loved what he's done in football and it's just surreal for us to see it unfold right before us."