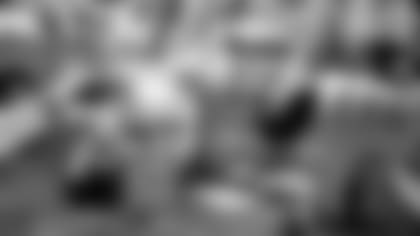 49ers.com's 2012 pre-draft series continues by profiling a versatile Georgia offensive lineman, who has played at a number of positions on the offensive line. **
Teams will have to make a tough call on Georgia offensive lineman Cordy Glenn.
Sure, there will be decisions made when comparing Glenn's value to other draft prospects with respect to a particular team's need. But with Glenn, 32 NFL clubs will have to decide what position best fits the 6-foot-5, 345-pound lineman, who played all over the line in the competitive Southeastern Conference.
"I'm naturally a big, girthy wide guy," said Glenn at the 2012 NFL Scouting Combine, summing up his noticeable physique.
Though he's one of the larger talents in this year's crop of future NFL players, Glenn has plenty to offer pro teams besides size.
"I'm pretty athletic," noted the All-SEC first-team left tackle, who played at left tackle and both left and right guard positions for the Bulldogs. "Hopefully I can be pretty good at it on the next level."
While the tackle position stands to be more lucrative at the pro level than playing guard, Glenn remains optimistic about his chances of sticking at tackle. But in any case, he's prepared to do what's asked of him when joining the NFL.
"I'm just hoping to get drafted," said Glenn, a personable player, who was named as a third-team All-American by the Associated Press after he started in all 14 of Georgia's games last season.
Glenn's position versatility (49 starts: 28 at left guard, four at right guard and 17 at left tackle) and positive outlook (named as one of Georgia's team captains in 2011) make him all the more attractive to NFL clubs.
Don't let the 345 pounds fool you.
Glenn ran a 5.15, 40-yard dash, including a time of 1.76 in the all important 10-yard split. Combined with 31 reps at the 225-pound bench press, Glenn's unique skill set stood out at the combine compared to linemen.
Strength, however, is what makes Glenn most desirable.
"I'd say my best attribute would probably be my power," said Glenn, who is growing as a technician on the offensive line. "I might work on pad level or hand placement. There are a lot of little things I can work on and get better at."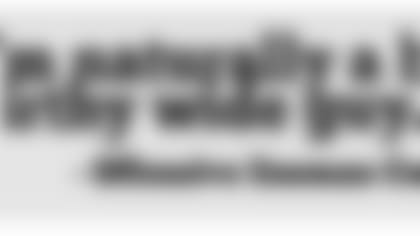 Still, teams will have to do more examination of the results from his March 5 pro day and ask themselves if Glenn's 36-inch arms will detract him from playing the tackle position against some of the premier defensive talents in the NFL.
In a positive development, Glenn flashed his ability to perform against top talent throughout his four-year collegiate career and once more in a strong showing at the 2012 Senior Bowl. Glenn continued that momentum at the combine and now hopes his consistent performance at his recent pro day will propel him into the first round of the NFL Draft.
Glenn's size appeared to give him an edge against opposing pass rushers.
"People try to bull rush me," he said, "but I'm pretty good at sitting it down. I just have a big, wide frame, so it's not a problem for me."
So while collegiate defensive ends go through potential conversions to outside linebackers in the NFL, the same can be said for offensive tackles in college like Glenn.
Deciphering whether a player is agile, or physical enough to play tackle is a critical decision for teams to make.
If Glenn's drafted high, it's possible that team envisions him as a tackle. If he's in the top 50 picks, guard might be more of a suitable spot.
Going in the top 32 selections isn't lost on Glenn either.
"Obviously I want to be picked in the first round," he said. "I'm just trying to impress the coaches and do everything I can to make that happen."
As a freshman, Glenn once blocked for Detroit Lions No. 1 overall pick quarterback Matthew Stafford. With the Lions holding the No. 23 overall pick, perhaps Glenn and Stafford team up once more.
"It was a good experience," said Glenn, who started in 10 of 13 games as a freshman who kept Stafford upright. "He was a great leader. Coming in as a freshman, he made it easier for me."
But no matter which team Glenn ends up playing for, the ultimate goal as an offensive lineman is to make things easier on the signal caller.
With size and strength, Glenn hopes to be the man for the job.