Over the course of the season, we will feature a select photo from each game taken by a member of the San Francisco 49ers photography staff in our "Worth 1,000 Words" series.*
Week 8 vs. Dallas Cowboys: Pregame of "Dwight Clark Day"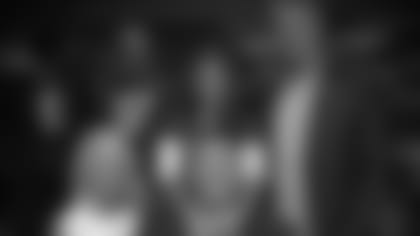 Shot by: Terrell Lloyd, Senior Manager of Photography Services
Subject: Dwight Clark and wife Kelly, Joe Montana and wife, Jennifer
Location: Levi's® Stadium
Lloyd:"As part of the 'Dwight Clark Day' festivities, the 49ers held a reception in the stadium in honor of Dwight amongst his friends, family, alumni and others. All of the former players and alumni are in the background chatting and reminiscing about the times they once took the field. But specifically, those conversations were about Dwight Clark as a friend and teammate and what he means to the 49ers organization.
"Joe Montana wanted to get a photo with his former receiver. It was a great opportunity for Joe's wife Jennifer, and Dwight's wife, Kelly, to see each other and remember this moment and their history one more time.
"It was a very emotional time for a lot of people. What made it even more special was for Dwight to share that moment with all of his teammates from the 1981 Super Bowl team who came back to see him. Just as he said during his speech, he really wanted to see his teammates one more time, and they all came back and showed up for him. It was special."
Lloyd has served as the lead photographer of the San Francisco 49ers since 1996.