Wide receiver Bryant Johnson passed up an opportunity to take a multi-year offer at the start of free agency last year, instead opting to take a one-year deal in San Francisco where he reunited with his former Cardinals wide receivers coach Jerry Sullivan.
"I came here with the intentions of being able to help out the offense," said Johnson. "Watching the team the year before, offense was a part of the game they had struggled in, and so I thought I could come in and be helpful."
After playing primarily in the shadows of Pro Bowl receivers Anquan Boldin and Larry Fitzgerald, Johnson desired the opportunity to show what he could do if given the chance for significant playing time.
With the veteran Isaac Bruce used sparingly in minicamp and the OTA's, Johnson took the lion's share of reps throughout the spring, and looked impressive.
"I was really excited when we signed him because in playing against him for a few years, he always made big plays," said cornerback Shawntae Spencer back in training camp. "For a player with his size, you wouldn't think he could move that fast, but he's real smooth in and out of his breaks and he's tough to defend. It's tough to know what route he's going to run because he makes them all look the same."
Early in training camp, Johnson's deceptive route running often made some of the defensive backs look just plain silly, causing defensive back coaches Johnnie Lynn and Vance Joseph to harp on the importance of staying low.
"You can't play a guy like BJ upright," said Joseph. "He'll get in and out of his break and if you aren't low, he'll lose you."
Unfortunately, Johnson lost a step when he pulled his hamstring during camp practices against the Oakland Raiders.
He played a few series in the final preseason game against San Diego, catching a 23-yard pass over the middle from Alex Smith on the first play of the game. A few plays later, his 10-yard grab set up a long Joe Nedney field goal.
His hamstring was still bothering him and he missed some practice time that week, but Johnson started in the season opener against his former Arizona team. His 3 catches for 48 yards led the 49ers receiving corps that week, a performance he followed up with 6 catches for 78 yards and a touchdown the next week against Seattle.
But his production fell off the next few weeks as he continued to feel tightness in his hamstring, and then injured his groin.
"I felt like it was going to be a big year, but then I sustained a hamstring injury in camp that was nagging me throughout the year and I guess from overcompensating for it, it started to create other injuries for me. I tried to play through them even and help out the team the best I could, but I didn't feel like I was playing the way I was capable of playing. They were using me sparingly throughout the games leading up to the bye."
On his Tuesday off-days, Johnson either traveled back to Arizona or had his trainer fly in to the Bay Area, undergoing acupuncture and extra rehab to help expedite his healing process. He spent his bye week back home in Arizona following similar protocol.
"I definitely felt like I was doing everything I could outside of what I was doing here in the training room, but I guess sometimes those things just have to take their course and you have to go through the healing process. It was something that happened, it was unfortunate, but I had to go through and I learned from it. I think I turned the corner after the bye because I was able to get more treatment and rest up and I came back feeling much better."
Johnson had lost his starting spot to rookie Josh Morgan prior to the bye, but he reclaimed his role when the team traveled to Arizona for the Monday Night game.
He finished out the second half of the season with 29 grabs for 338 yards and two touchdowns, while his last grab of the year – a 24-yarder set Nedney up for the game-winning field goal in the season finale against the Redskins.
"After the bye I felt like I played the way I was capable of playing. I feel like finishing the year I made all of the plays that came my way, and I think I had two, maybe 3, drops all year, so I think I did a good job of taking advantage of the opportunities that came my way."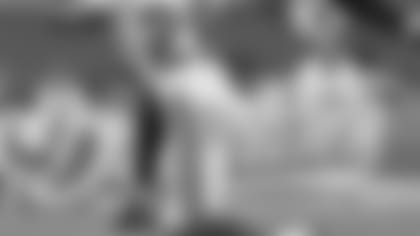 His 45 catches for 546 yards and three touchdowns on the year secured him the number two spot for catches and receiving yards behind Isaac Bruce, a player Johnson enjoyed learning from.
"Isaac is very smooth," said Johnson. "When I first came, you would not be able to tell he's been playing for 15 years. Throughout minicamp, otas, training camp, it doesn't look like he's a younger guy. He has young legs, and is level of competitiveness is different than most guys. He comes to work every day, enjoys work, doesn't complain, just works. It was a tremendous pleasure to be around him."
It's a relationship that Johnson hopes will continue in the future.
"I think we've got a talented receiving corps, and I definitely think the team is headed in the right direction. When Coach Singletary took over, it just seemed like guys really responded to his style of coaching and his leadership and I would definitely like to be back. I know things didn't go the way we all wanted them to go but I think we made some strides towards the end of the year, and we have something to build on next year, and I would like to be part of it."
And like the 49ers, Johnson believes his best football still lies ahead.
"I definitely feel my best year has yet to come. I would love to come back here and be able to display that, but I don't know what is going to happen. It's tough. It's similar to last year when I became a free agent, not knowing really where you are going to end up but you have to prepare yourself for different scenarios. I just hope the whole free agency thing can be eliminated by being able to re-sign here so that I can have a home here. We'll have to see what happens."