By Joe Hession, 49ers Museum Historian
As Joe Perry burst through tacklers while playing for the Alameda Naval Air Station Hellcats, John Woudenberg watched spellbound as if he had uncovered a 49ers gold mine.
It was 1947 and the 20-year-old Perry was serving out the final months of his three-year enlistment with the U.S. Navy. Woudenberg, the 49ers starting right tackle from 1946 to 1949, was moonlighting as a Hellcats assistant coach. He notified 49ers owner Tony Morabito of his discovery. Back in the day when the 49ers front office staff consisted of six people, the team owner frequently lent a hand as a scout, bookkeeper and sideline helper. He was eager to take a look at Perry.
It turned out to be a short exercise in scouting. After two games Morabito was convinced he was watching something special. In the first game, Perry scored five times on five carries. In the second, he ran for two touchdowns in the first quarter.
Perry soon would be the first Black man to wear the 49ers scarlet jersey. And his encounter with Morabito would foster a unique friendship that spanned the early days of integration in pro football.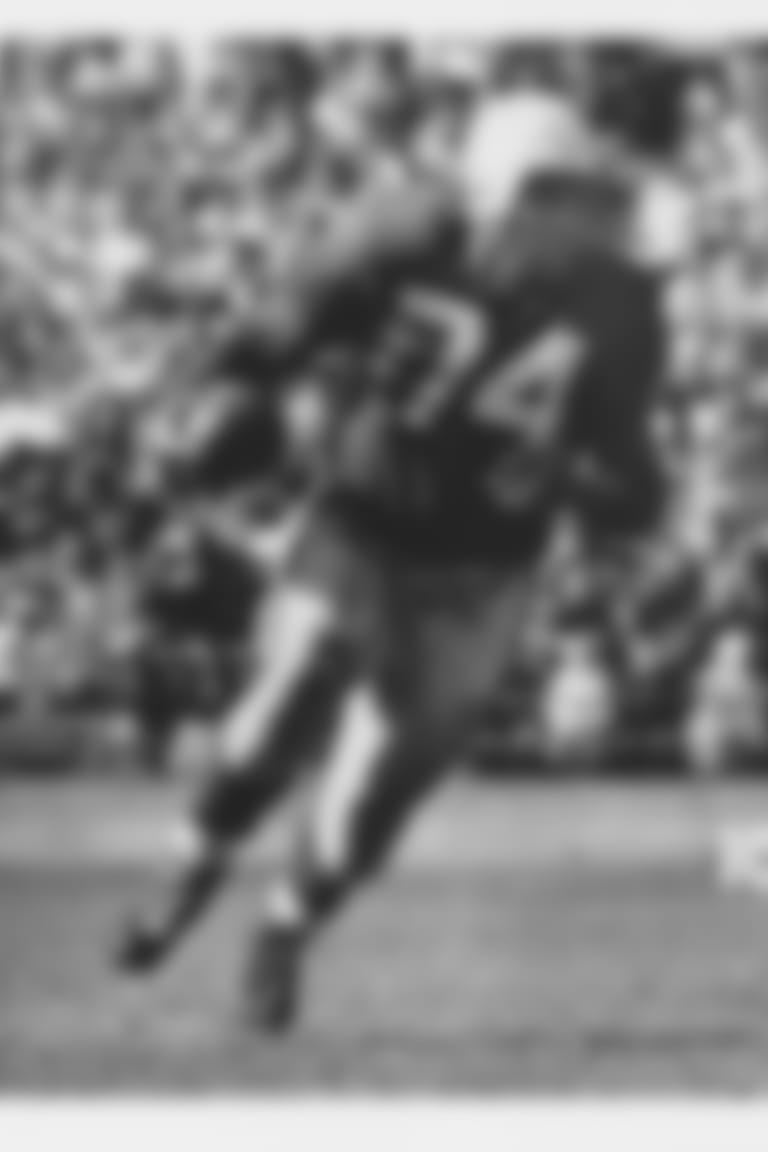 Anthony J. "Tony" Morabito was the quintessential San Franciscan, a man pleased by his hometown's physical charm and cultural diversity to the point of snobbishness. He was born to Italian immigrant parents, Pasquale and Grazia Morabito, in 1910 and spent his early years in North Beach, the city's lively and fraternal Italian neighborhood. Baseball ruled the streets in those days. San Francisco's bustling playgrounds spawned a bevy of major league Hall of Famers including Joe DiMaggio, Tony Lazzeri and Joe Cronin.
Morabito got his first taste of football while attending St. Ignatius College Preparatory, which was located on Stanyan Street just a stone's throw from the 49ers future home field at Kezar Stadium. He matriculated to Santa Clara University in 1927 and continued the Jesuit education that teaches social justice and equality. As a freshman at SCU, Morabito had a brief football tryout, but an injury ended his playing days. Nevertheless, Morabito's love for football was firmly entrenched and it remained a life-long passion.
In the 1930s and 1940s Morabito made his money in the lumber hauling industry, capitalizing on the rapid expansion of housing in California, especially in the Bay Area. He ran his business out of a warehouse near the Embarcadero, not far from the San Francisco Giants current home at Oracle Park.
As his business grew, Morabito dreamed of securing a professional football franchise for San Francisco. In 1944 he approached the National Football League with a proposal, his second attempt at launching a team in the established league. This time he was rudely rebuffed by Commissioner Elmer Layden who said, "Sonny, you better go out and get a football first before you come back."
The rejection stoked the competitive fire in Morabito. He was more determined than ever to bring pro football to his hometown. He caught wind of a new league in the works and in June of 1944 attended a meeting in Chicago of prospective team owners for the All-America Football Conference. Morabito posted $25,000 to start a franchise. The league began operation in 1946.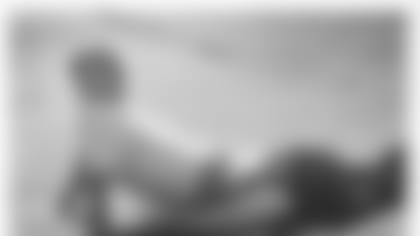 The original 49ers franchise was almost entirely a homegrown San Francisco operation. Lou Spadia, a graduate of Mission High School, was brought in to help with the day-to-day operation. Morabito recruited a large number of players and coaches from the San Francisco area, particularly at Santa Clara University, his alma mater. Included in that group were coaches Buck Shaw and Al Ruffo, and players Alyn Beals, Jesse Freitas, Ken Casanega, Dick Bassi and Eddie Forrest. The 49ers adopted the crimson and white team colors of the Santa Clara Broncos. Finally, they secured Kezar Stadium as their home field and held team practices at the Polo Fields in Golden Gate Park.
Morabito took pride in his team's hometown makeup. He considered the newly organized San Francisco 49ers, filled with locally raised athletes and stars from his alma mater, as his family. It was a trait that Joe Perry would soon find attractive.
Fletcher Joseph "Joe" Perry, the son of Laurah and Fletcher Lee Perry, was born in Stevens, Arkansas in 1927. Fletcher Lee, a solidly built Cherokee Indian and Black man, earned a living as a miner before moving the family west to Compton, CA.
In Southern California, Joe Perry found a new world and a variety of opportunities. At David Starr Jordan High School his intellect was piqued and he began to shine academically. Perry's scholastic achievements allowed him to skip a grade and graduate from high school at the age of 16. He contemplated a career in engineering.
Perry was blessed with a multitude of athletic gifts. His speed, power and competitive grit led him to Jordan High's football field. His mother considered it a rough and dangerous game. She encouraged him to participate in one of the other sports he excelled at like basketball or baseball. But Joe Perry was born to play football. The eager young freshman earned a spot on Jordan High's varsity roster, then immediately became a starter. Perry showed he was more than a speedy running back. He could pass, he could kick, and he was an excellent receiver. His all-around play attracted attention in Los Angeles and as a freshman he was named to the third team all-city squad as a tailback.
In 1944, Perry took his diploma and considerable athletic skill to Compton Junior College. He played one year of football at Compton, recording 22 touchdowns. When he was not playing football, Perry competed with the track team, posting a 9.7 in the 100-yard dash. Then military duty called.
With World War II in full swing Perry enlisted in the United States Navy and served as a coxswain aboard ships in the Pacific. As he neared the completion of his military obligation he was transferred stateside to Alameda Naval Air Station. There he showcased his football talent with the Hellcats, one of the Bay Area's premier military teams.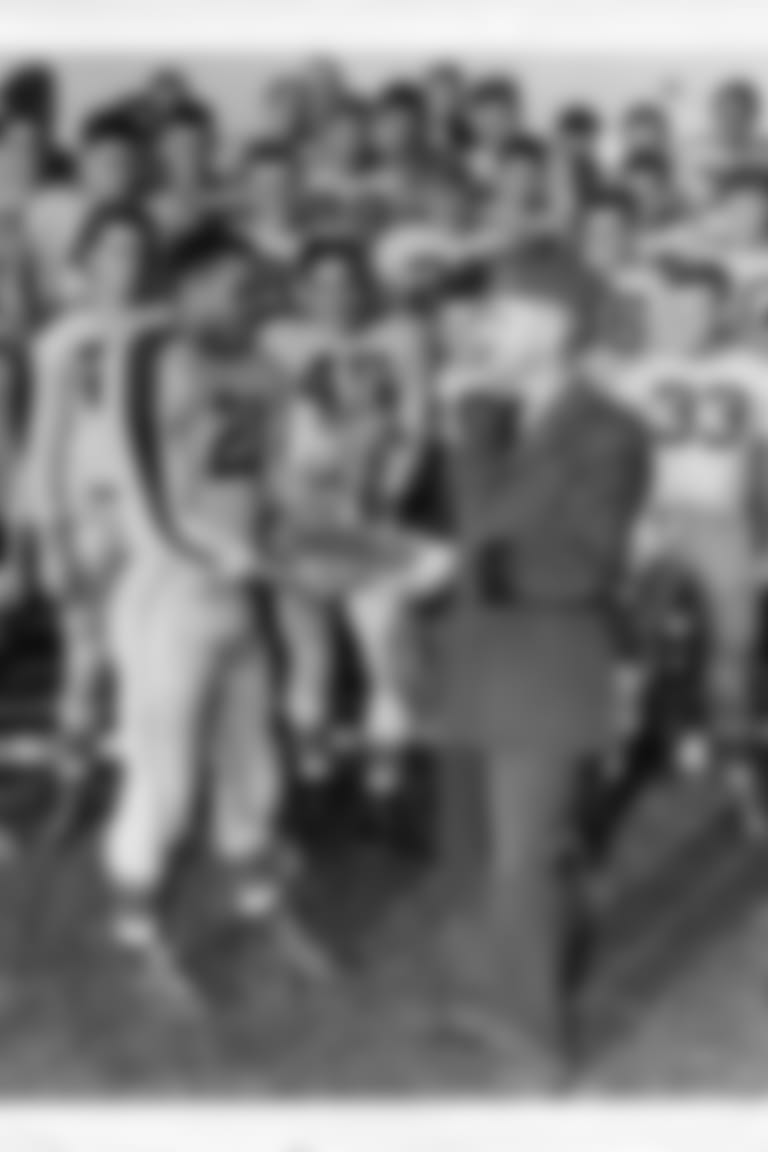 When Morabito caught his first glimpse of Perry at Alameda NAS in 1947, the integration of professional sports was a curious notion, whispered about in private seclusion. Jackie Robinson, Major League Baseball's first African-American player, grabbed headlines that year after his debut with the Brooklyn Dodgers. But in pro football the number of Black players had actually declined.
Prior to 1933, several professional teams employed Black players. Fritz Pollard, a future Pro Football Hall of Famer, was a star quarterback and running back with several midwestern teams. Then, between 1933 and 1946, Black players faced a curious systemic lockout.
Change began to take place in 1946, but at a glacial pace. The All-America Football Conference's Cleveland Browns set in motion the wheels of progress by signing Marion Motley and Bill Willis. Also that year, the Los Angeles (née Cleveland) Rams of the NFL inked Woody Strode and former UCLA star Kenny Washington in order to play in the publicly-funded Los Angeles Memorial Coliseum. Tony Morabito followed his instincts and sought out Joe Perry.
Perry and Morabito sat down at their first meeting in 1947 as two men interested in fostering a personal relationship. They chatted about food, music, restaurants and San Francisco's night life before football became part of the conversation. Perry later described the uncanny bond he felt with the 49ers team owner.
We hit it off immediately. Tony was like a second father to me. Football wasn't always the top priority with us. I liked the closeness and family-like feeling we had." Joe Perry
They became quick friends but had yet to finalize a football deal. Perry considered other contract proposals, including a much higher payday from the Los Angeles Rams. Perry's final decision centered on trust rather than economics. He had built a soulful rapport with Morabito. He cherished the human interaction rather than the financial gain.
"Tony and Joe sealed the contract with a handshake," Joe's widow, Donna Marie Perry said recently. "Even though the Rams offered more money, Joe trusted Tony. While Tony was alive (he passed away in 1957) they never had a signed contract. They just shook hands and that was it."
Perry saw Morabito's 49ers franchise as more than a football team. It was a community. The atmosphere Morabito created appealed to Perry. He wanted to be included.
"I had a bond with Tony," Perry said. "He was Italian and did things family style. We had team barbecues and meals. In training camp, there were piles of food on the table and you just served yourself."
Perhaps Morabito, a first-generation American who willed his way to success through determination and hard work, saw a little of himself in Perry's relentless spirit. Maybe his Jesuit upbringing fostered a sense of social justice and inclusiveness. One thing is certain. Morabito considered Perry an intelligent and ambitious competitor equipped to battle the racism and dark forces he would soon encounter on the gridiron.
"Tony was protective of Joe," Mrs. Perry said. "He wanted him to be successful off the field too. He told Joe to always wear a coat and tie in public, to be polite and act like a gentleman. Joe was a gentleman anyway, but Tony watched out for him."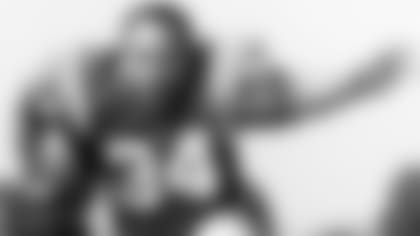 Morabito's belief in Perry paid off immediately. On the opening day of the 1948 football campaign Perry recorded his first carry with the 49ers. He took the handoff from quarterback Frankie Albert and raced 58 yards for a touchdown against the Buffalo Bills. It was just the beginning. Perry's football journey would lead him to the Pro Football Hall of Fame, but it was a difficult trek filled with unexpected hurdles.
"I was the first Black to play football here (in San Francisco)," Perry said. "It was rough as hell. There were a lot of unpleasant things that happened. Lots of nasty things were said on the field. You could imagine what they were. It was probably worse playing football instead of baseball, like Jackie Robinson did, because football is such a physical game."
Under the pile of sweaty tacklers Perry endured his share of physical torment. He had his eyes gouged and limbs twisted while tolerating a steady stream of unseen punches.
Perry did not back down. Knowing his words and actions were being watched and scrutinized Perry picked his moments carefully. One of his vicious yet legal straight arms generally was enough to put an opponent on notice
"The 49ers were great. They backed me up," Perry said. "If one person was in a fight, the whole team was in a fight. We were like a big family. That was part of the Morabito influence."
Road trips often involved three to four week marathons with a succession of games in eastern cities like New York, Buffalo, Baltimore and Chicago before the club returned to San Francisco. From 1948-1951 Perry generally shared accommodations with Verl Lillywhite, a running back from Los Angeles who attended the University of Southern California.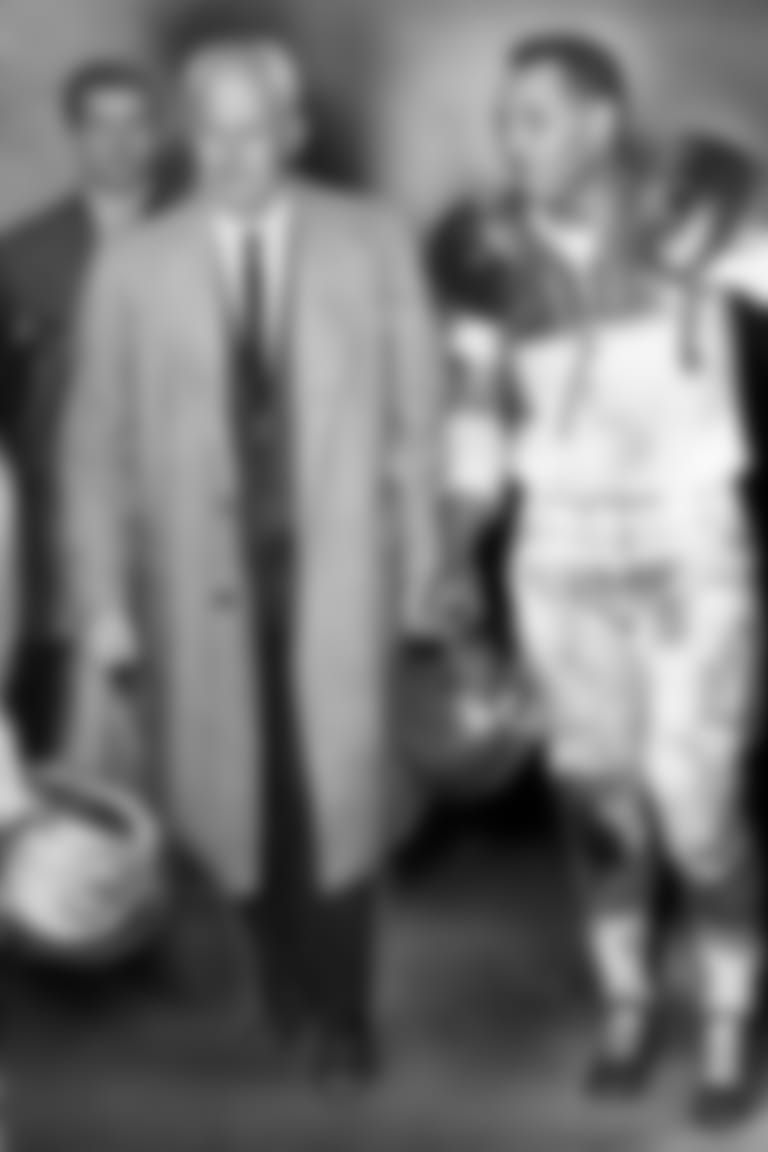 "Joe and Verl were like brothers," Mrs. Perry said. "They knew each other. They played against one another in junior college."
And they were almost assuredly the first interracial roommates in NFL history. Mrs. Perry was quick to mention that the Hollywood film Brian's Song created the image that Gale Sayers and Brian Piccolo were the first Black-White roommates.
"That just wasn't true," Mrs. Perry said. "Joe and Verl were roommates almost 20 years before that."
Franklin Mieuli, a colorful and gregarious local media producer, acquired a minority ownership in the 49ers in the early 1950s. Rather than lounging in a hotel suite on the road, Mieuli looked forward to sharing a room with Perry.
"Joe and Franklin Mieuli were close," Mrs. Perry said. "Franklin was a character. He would call Joe 'roomie' when he saw him. They both liked music. Joe was a DJ at a local radio station and they shared the same taste."
Road trips through a handful of cities became particularly problematic. Jim Crow Laws often raised its nasty head in cities like Baltimore and Washington D.C. where Perry was banned from restaurants, and hotels prohibited him from staying with white players.
Morabito did his best to provide support. He set up private lodging for Perry with local families, or found accommodations where he and Perry could share a room together. Morabito always kept a watchful eye on Perry, reminding him to keep his temper in check, according to Mrs. Perry.
The racist attitudes he encountered on the road finally boiled over one night at the Lord Baltimore Hotel, the 49ers living quarters for games in Baltimore, Maryland.
"Joe went into the dining room to eat with his teammates and the staff wouldn't serve him," Mrs. Perry said. "He just lost it. He tore the place apart, turned over a table. He had some harsh words for the staff and they finally fed him."
Perry became the first NFL player to post back-to-back 1,000 yard rushing seasons in 1953 and 1954 when the league played just 12 games each year. That accomplishment was not lost on Morabito. He rewarded Perry after the 1953 campaign with a $5,090 bonus, $5 for every yard (1,018) gained.
Perry went over the 1,000 yard mark in 1954 by posting 137 yards rushing in a Week 11 trouncing of the Green Bay Packers at Kezar Stadium. At a postgame interview reported in the San Francisco Examiner, Morabito said, "There never was anybody like Perry. He keeps doing his job better than anybody I've ever seen. He always wears the same sized hat. I insist he's the finest man I've ever met."
In 1954, Perry was the first Black man and the first 49ers player to be named the NFL's Most Valuable Player. Morabito recognized those achievements at a 1955 preseason contest at Kezar Stadium with "Joe Perry Day." Prior to the game Perry was showered with gifts including new kitchen appliances, a television, golf clubs and a complete bedroom set. He celebrated his special day by rushing for 116 yards in a win over the reigning NFL champion Cleveland Browns, then hired a truck to haul away his new cache.
From 1954 to 1956 Perry was a vital cog in one of the NFL's greatest backfields. He teamed with Y.A. Tittle, John Henry Johnson and Hugh McElhenny in what became known as the Million Dollar Backfield. All four men are enshrined in the Pro Football Hall of Fame. Tittle was a seasoned quarterback when he lined up with Perry for the first time. He found Perry's speed a shocking revelation.
He was so quick to hit the hole. If you hesitated on the handoff Joe would fly right past you. We called him Joe the Jet. Y.A. Tittle
Midway through the 1957 season the 49ers were playing the Chicago Bears at Kezar Stadium when a report filtered down from the press box that Tony Morabito had died of a heart attack. The shocking news that the club's 47-year-old owner was gone left Perry and the rest of the 49ers stunned.
"At halftime Chicago was ahead 17-3," Perry said. "We got word that Tony had died. The mood turned pretty somber. You could hear people crying, that's how much people loved the guy. I was upset but played the second half. We made a great comeback and ended up winning."
Morabito's wife, Josephine, and his brother, Victor, assumed majority control of the franchise, but Tony's death signalled a change. By 1959, Perry began to feel the wind blowing in a new direction. Red Hickey relieved Frankie Albert as the 49ers head coach and Perry's work load began to diminish. He signed with the Baltimore Colts in 1961 and after two seasons in Baltimore was ready to hang up his cleats. Vic Morabito persuaded Perry to return to San Francisco to retire with the 49ers.
"He came back out of respect for Tony," Mrs. Perry said.
Perry suited up with the 49ers in 1963 for one last season. His jersey number 34 was retired by the Niners in 1971.
During his 14 years with San Francisco, Perry collected an incredible array of awards and records. He rushed for 8,378 yards in the National Football League and another 1,345 in the All-America Football Conference, averaging over five yards per carry. He posted 71 rushing touchdowns and 12 more as a receiver. Occasionally, Perry filled in as a placekicker and connected on six of seven PAT attempts.
After 16 years of professional football, "Joe the Jet" recorded more rushing yards than any player in history, although Jim Brown surpassed Perry as football's career rushing leader in 1963. Despite his tremendous football success and the road he paved for athletes of color Perry remained grounded. Tony Morabito summed up his humility when he said about Perry, "He always wears the same sized hat."
"Joe didn't think of himself as a social pioneer or a big star but he was a hero in the Black community," Mrs. Perry said. "We socialized with a lot of Black athletes - Deacon Jones, Ollie Matson, Joe Morgan. They looked up to Joe. They had a lot of respect for him and what he did."
The NFL recognized Perry's accomplishments by naming him to its 1950s All-Decade Team and as a member of its 50th Anniversary All-Time Team. He also earned a place in the Bay Area Sports Hall of Fame and the Edward J. DeBartolo Sr. 49ers Hall of Fame.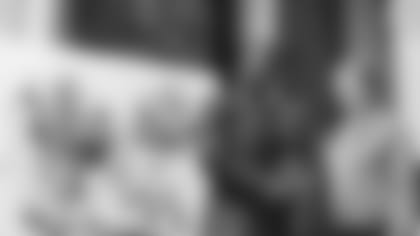 In 1969, Perry received football's ultimate honor when he and Leo Nomellini were the first 49ers enshrined in the Pro Football Hall of Fame. Perry's presenter at the induction ceremony was Josephine Morabito, Tony's widow. When it was Perry's turn to speak he acknowledged the people who helped shape his remarkable life.
"My only regret is that two people, my mother and Tony Morabito, are not here to accept this for me today," Perry said.
Tony Morabito, Joe Perry, and their special relationship play a significant role in the celebration of team history in the 49ers Museum. The Morabito Theater, showcasing the feature film of the 49ers story, bears the name of the team's founder. At the entrance to this space is an oil painting of Morabito, painted by noted artist Margaret D. H. Keane. A companion painting of Joe Perry, also done by Keane, is slated to go on display next to Tony's. Both works were donated to the Museum by Mrs. Donna Perry and had been displayed side-by-side in the Perry household for many years.
As inductees of the 49ers Hall of Fame, Morabito and Perry are each represented with a statue of their likeness in that gallery. There are also several artifacts related to their illustrious careers, including one of Perry's Pro Football Hall of Fame blazers. These artifacts are enhanced by still images and film clips projected onto the gallery walls to further illustrate the impact they had on the 49ers individually and together.
The San Francisco 49ers organization continues to acknowledge Perry's contributions with the Perry-Yonamine Award, presented annually to the player who exhibits an exceptional commitment to promoting unity within the team and in their community. The award is voted on by the players and celebrates two former 49ers who promoted those values in their lives. Part of the award celebration includes distributing three monetary grants to organizations making a positive impact in their respective communities.
Click here to learn more about Wally Yonamine: Pro Football's Nisei Pioneer