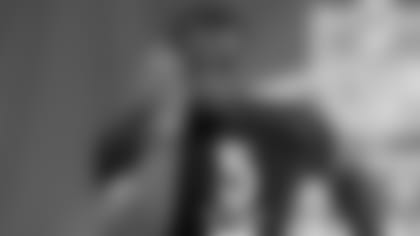 His feelings on the Butkus Award:"That would be hard to describe. To play at Wake Forest and even be mentioned with the Butkus Award winners is amazing. That day, I saw Mr. Butkus at the campus was amazing. It was a day like no other. He seemed excited to meet me. When he first met me, the first thing he did was tell me that I was just a great person. He was glad the committee gave the trophy not just to a great linebacker, but to a great person."

His thoughts on almost leaving after his junior year:
"That was a big issue for me as a junior. I talked to my mom and I told her I was concerned about our financial situation in Fayetteville, whether we could make another season. She gave me her word she could and she told me that my senior season would be the best one for her to enjoy and for me to play in. She was able to maintain and she's doing great now."

His education and career plans after the NFL:
"I just received my degree this past December in sociology. I built a great relationship with coach Grobe at Wake Forest and I realized that coaching college football was what I wanted to do. When I'm done playing football I want to go back and help young men in a pivotal point of their lives and help them get through school and be successful players and people."

His thoughts on wanting to be the top overall pick:
"Don't we all? We all want to be the no. 1 pick overall, but it's all going to go on what Detroit needs, as far as their personnel. It would be great to go no. 1 overall and Detroit knows that in Aaron Curry, they'd get a great linebacker, a great person. What more could you ask for?"

How good is Wake Forest linebacker Aaron Curry?
So good he didn't even play in the Senior Bowl because his agent told him that his body of work in four years of college was so impressive there wasn't much left to prove to the scouts.
So good he won the Butkus Award as the nation's best linebacker in 2008 by totaling 105 tackles (16 of which were behind the line of scrimmage), two-and-a-half sacks and recovering three fumbles.
So good he might just be the top pick in the upcoming draft and the first linebacker selected no. 1 since the Atlanta Falcons selected Aundray Bruce out of Auburn 21 years ago.
Curry, the 6-foot-1, 254-pound 'backer was one of the most talked about prospects going into the NFL Scouting Combine and left Indianapolis with even more buzz.
Curry had the best results in the 40-yard dash (4.56) and in the vertical jump (37-inches) by any linebacker at the Combine. He also finished in the top five of his position group with 25 reps of the 225-pound bench press.
Some consider Curry the safest pick in the entire draft because he posses the skills to play linebacker in either a 3-4 or 4-3 scheme.
"It doesn't matter to me where they want me to play," Curry said at the Combine. "I have the ability to rush the passer in the 3-4 on the outside. I have the ability and the strength to play inside in the 3-4."
Curry's diverse skill-set could potentially be a good fit for the first overall pick of the Detroit Lions, the same team his father, Reggie Pinkney once played for in the late 1970s. While his father and he were not close during Curry's childhood, the two speak monthly.
"It is ironic to know that my dad played there some years back," he said.
More than any football player past or present, Curry has the utmost respect for his mother, Chris and older brothers, Brandon and Christopher. All three are represented on his body with tattoos, symbolizing his love for them. Despite going through hardships while Curry was in college, the family stuck together which allowed him to pursue his dream of playing in the NFL.
"One of the toughest feelings I had was coming home from school and not having anywhere to stay," he explained of the rough times he experienced when he was coming back home before his junior year at Wake Forest. "My mom had been evicted and to know that any given moment anything can be stripped from you like that (was tough).
"That was one of the biggest turning moments of my life, where I realized I had to do something – football was it. I stayed with one of my best friends, my brothers stayed with their best friends and my mom stayed with my great grandma until we got things better."
Things will certainly get better for Curry and his family, once his name is called on draft day.
"The first thing on the (shopping) list is whatever my mom says, house, car, anything she needs," he said.
With many teams eyeing Curry on their own shopping lists, the supremely talented linebacker wants them to know exactly what he's made of inside.
"I want them to know that my personality and my character is contagious. I'm a hard-worker on and off the field. I love the game of football and the environments I've been in – everybody (around me) has experienced that. They realize that when Aaron Curry steps in the weight room – he's serious. He's working hard and he's going to go until the whistle blows. You're going to have drag Aaron Curry out of the weight room, off the practice field and out of the film room. That's just the type of person I am. I have some dreams of doing some special things as an NFL player."