In this edition of the NFC West Report, 49ers.com recaps Week 6's action within the division.*
*
Decision:38-13 win over the Houston Texans.
Offense:Quarterback Sam Bradford's third touchdown pass gave the Rams a 24-6 lead in the third quarter.
Defense: Outside linebacker Alex Ogletree intercepted Texans quarterback T.J. Yates, returning the ball 98 yards for an insurance touchdown.
Stock up:Rookie running back Zac Stacy continued to emerge in his second straight start, compiling 79 yards on 18 carries.
Stat:Not since 2003, the last season St. Louis won the division, had the Rams beaten a team by 25 points.
Quote:"We ran the ball more times than we threw it," Rams coach Jeff Fishertold StLouisRams.com, "and it's worked for us the last couple of weeks."
Ahead: St. Louis visits Carolina in Week 7.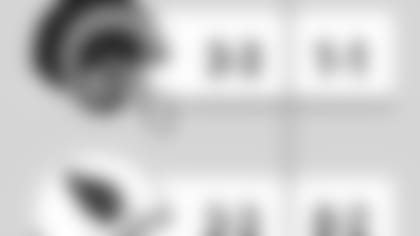 Decision:32-20 defeat to the 49ers.
Offense: Feast or famine continued to color quarterback Carson Palmer's days as a Cardinal -- he threw two interceptions and two touchdown pass, including a 75-yard pass-and-catch connection with Larry Fitzgerald.
Defense: Arizona lost arguably its best player on the unit, defensive end Calais Campbell, to a scary injury late in the game, perhaps just when they needed him most.
Stock up:Safety Yeremiah Bell had trouble covering tight end Vernon Davis, but he impressed with a goal-line interception on a deflected pass from 49ers quarterback Colin Kaepernick.
Stat:The Cardinals went 5-16 at Candlestick Park over the years.
Ahead: Arizona hosts Seattle on "Thursday Night Football" in Week 7.
Decision:20-13 victory over the Tennessee Titans.
Offense: Running back Marshawn Lynch racked up 155 all-purpose yards, including a single-game career high 78 through the air.
Defense:Safety Earl Thomas caught one interception, and his coverage on another play helped cornerback Richard Sherman grab his own pick.
Stock up:Rookie defensive tackle Jordan Hill recorded his first NFL sack.
Stat: Quarterback Russell Wilson has fashioned an 11-0 record when playing at home, making him the league's fourth signal-caller ever to win his first 11 games at his own ballpark.
Quote:"We kind of made it rough on ourselves today," Seahawks coach Pete Carroll  **told Seahawks.com**. "We made enough mistakes to make it a close game."
Ahead: Seattle visits Arizona on "Thursday Night Football" in Week 7.