In his very first "In the Huddle with 11" online column, starting quarterback Alex Smith reviews Sunday's preseason game against the Oakland Raiders.
I felt like the game against Oakland was just a very flat performance, just like coach said.
It didn't help that the first play put us in the hole and then we went three and out. We just didn't get our rhythm going on offense.
I threw it to Bryan Gilmore on the first snap of the game and was trying to get it out quick and the ball sailed on me. I just threw a bad ball but that should always be a forward pass regardless. I've got to drop more and make certain it's going forward so at the very least it's only an incomplete.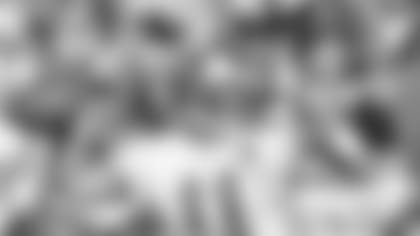 On the one interception I threw that Michael Huff got, Arnaz Battle and I weren't on the same page. I was thinking differently than he was, but it still wasn't a clear picture and it was tight and if I don't throw that, we could have just gone with that play again later. Instead I anticipated too much and let it go.
Then I had to chase down Huff which was different because as quarterbacks we haven't been live in so long. In practice every day if there is a turnover we practice taking an angle but you don't physically make it, you just get in position. I took the angle and when he was about 10 feet from me, it kind of hit me that I actually have got to make this tackle and it's open field. I was just trying to not look like a fool. I just dove at his legs and I think I got my arm on his legs and he fell. Thanks to Tony Parrish for holding them on that one with his interception in the end zone.
We also had a delay of game penalty which didn't help us any. We were already at 3rd and long and that just put us even more out of reach. We were a little late coming out of the huddle and the play had motion, but I really thought I got it off on time but they called us for that. That's something will take care of next week.
In comparison to last week it wasn't that everything went perfect for us then either, but we minimized mistakes in that first game by not turning the ball over and throwing it away, whereas when you try to force things you can put yourself in a hole that's hard to get out of.
That's what really stood out to me when I watched the film by myself this morning. I've got to make sure I minimize those kinds of mistakes.
Looking at it there were a handful of plays I'd like to have over again. At the end of the half, but I'm glad it happened preseason instead of regular season. I think I was just trying to do too much. I felt it was down so I pressed to do too much in reality when I could have just thrown it away.
I think we had only 35 offensive plays whereas last week we held the ball for much longer and controlled the time of possession, we didn't have any turnovers, and we just ran a smoother operation.
I don't get to always see everything that's going on with the defense because as soon as we come off the field, we go over what happened on the drive, but I do try to watch them as soon as we've reviewed our stuff. I thought they actually played well since they were really on the field a lot. They played well in goal line and held them to some field goals and got that interception.
We did run the ball well and that was a positive, especially because we got some positive yardage on several plays where they had really overloaded the box. That was something that I did think we did efficiently. Also Antonio Bryant had that nice catch on the deep ball. I wish we'd gotten a few more of those.
For me personally, my last play was a pick which was just not smart. It doesn't leave a good taste in your mouth when that's the last play you go out on.
I'll really be excited to just get back out there against Dallas. I'm glad it's a short week and that we get to rectify our mistakes sooner rather than later.