This offseason, the SAP Performance Facility, the site where 49ers have practiced since 1988, underwent a partial makeover following the opening season of Levi's® Stadium just 17 feet from the facility's front door.
A painted wooden sign had long been the centerpiece over a display the organization presented for decades to facility visitors and employees alike. Each spring when the 49ers regular season schedule gets released, helmets for all the 49ers' opponents are positioned in chronological order for that season's schedule.
As part of over 1,200 prizes awarded in just the first season, Faithful 49 presented by Esurance is giving away the one-of-a-kind wooden keepsake to one member in the program this fall.
Instead of hotel points or airline miles, Faithful 49 rewards fans with "yards," and fans can cash them in for 49ers experiences. Redemptions have included everything from signed and game-worn gear, to field passes, Red Zone Rally passes, VIP tours and all-you-can-eat lunches in the official team café.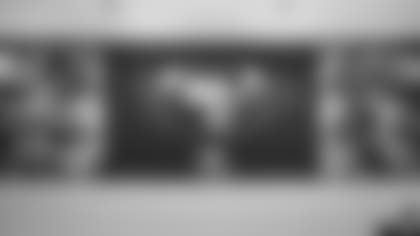 Each season the grand prize is a trip for two to an away 49ers game. The trip, fit for any 49ers Faithful, comes complete with airfare, two game tickets, accommodations in the team hotel, and transportation.
For the current 49ers signage sweepstakes, each member will be allowed an unlimited number of submissions for this reward, at 100 yards per entry. The more submissions one enters, the better chance a fan may have to take home this artifact of 49ers history. Not a member yet? Sign up at Faithful49.com.
As members gain yards, they can choose to make purchases with their yards, save for higher value items, or try their luck in an auction or sweepstakes bid. The best part: yards never expire, and as long as members keep engaging in Faithful 49, their yards will always continue to accumulate.
This program also has a competitive edge. Similarly to the way the players compete for spots on the 53-man roster, members compete each year. The Gold status top 4,949 members unlock benefits such as exclusive prizes and discounts at Levi's® Stadium or our 49ers Team Stores. The elite group ranked in the top 49 receive Red status and vie for a personalized custom letterman jacket, field passes to a 49ers game, and more surprises!
Start earning yards to show your pride: visit Faithful49.com to register online and get yards today!