Robert Saleh stared down a four-foot putt. He took a few extra seconds to make sure he had the read just right.
"Just putt it already," Kyle Shanahan groaned.
"No, man," Saleh fired back. "This is worth a dollar."
There was always something on the line when those two hit the links during their time on the Houston Texans coaching staff in the mid-2000's. Saleh was keen to note that the matchups were largely one-sided.
"I took all his money," Saleh joked. "He paid my rent for a couple months. He lost a lot of money to me on the golf course."
Their friendship began long before Saleh and Shanahan reunited with the San Francisco 49ers in 2017. Shanahan, who had just been hired as the 49ers new head coach, brought in Saleh to be his defensive coordinator. The reunion was Saleh's latest stop on what had been a 15-year journey through the collegiate and professional coaching ranks.
But before Saleh took the plunge into the coaching world, he first had to quit his desk job. Flash back to 2001 when Saleh had recently finished his four years at Northern Michigan. He played tight end on the football team and graduated with a degree in finance. The former – although Saleh had always been bright and good with numbers – carried more influence.
Still, Saleh couldn't turn down an offer from Comerica Bank world headquarters right out of college. He returned home to Dearborn, Mich., where most of his large family resides. Many of Saleh's relatives are in the real estate industry. So what happened when their clients needed a loan? They sent them to Saleh.
"I had connections afforded to me," Saleh said point blank. "If you needed a loan, you would have come to me."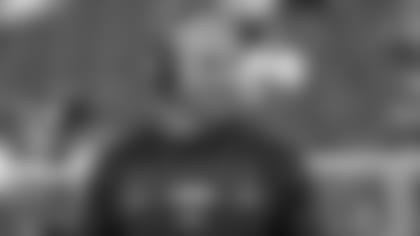 Saleh knew he wasn't being fulfilled, though. The money was great, sure, but life as a corporate lender didn't provide much else for a 22-year-old fresh into the workforce. Saleh recalled how his father, Sam, faced a similar conundrum back in his youth. Sam played college football at Eastern Michigan and received an offer to join the school's coaching staff following graduation. Instead, Sam went back to Dearborn to join the family business. It's a decision that paid off financially, but Saleh shared that his father always felt a degree of regret for not pursuing coaching as a career.
Saleh felt the urges, but it wasn't until two planes brought down the World Trade Center that he decided to forgo the sure thing and take a leap of faith to pursue his passion. Saleh's brother was in the second tower on Sept. 11, 2001. Fortunately, he made it to safety before the building collapsed. Even so, one of the darkest days in American history provided a stark reminder that life can be fleeting. Saleh ditched finance for football just a few months later.
He spent two seasons from 2002-03 at Michigan State as a graduate assistant while getting his masters in kinesiology. Saleh then made the 66-mile drive north from East Lansing, Mich., to Mt. Pleasant, Mich. He sat outside the Central Michigan football offices for an hour and a half until head coach Brian Kelly arrived.
The two had crossed paths before. Kelly recruited Saleh out of high school to come play at Grand Valley State. That familiarity helped Saleh land a graduate assistant role under Kelly in 2004. Saleh made a few valuable connections during his time with the Chippewas. The first was former 49ers left tackle Joe Staley, who was in the middle of a transition from tight end to tackle. The second, and more important at the time, was Tony Oden. Oden was only at CMU for a month before jettisoning off to the NFL with the Houston Texans. But he and Saleh became fast friends and kept in touch.
Saleh's next move, albeit a brief one, was to Georgia in 2005. That's because a month into his time in Athens, Ga., Oden came calling with an opportunity in Houston. Saleh broke into the NFL with the Texans in the summer of 2005. He joined Houston's coaching staff as a coaching intern and made a whopping $5 an hour. That was beaucoup bucks as far as Saleh was concerned, because $5 an hour turned into $7.50 an hour with overtime. And at 110 hours per week? That came out to around $25,000 annually ($2,083 per month). That's Bill Gates-type dough compared to the $600 a month he made at Michigan State, $800 a month at Central Michigan and $900 a month at Georgia.
"I thought I was loaded," Saleh joked. "I was rolling in it."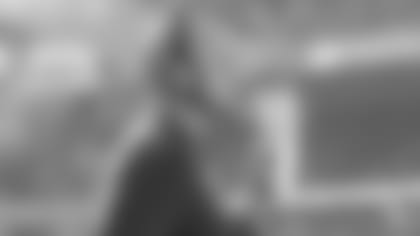 The benefit to Saleh was that Houston hired him to a year-long internship shortly before training camp. So when Dom Capers got fired following a 2-14 season in 2006, Saleh was able to stick around for a few months through OTAs. Then Texans general manager Charley Casserly had taken a liking to Saleh and suggested to new head coach Gary Kubiak that he retain the young coach. Kubiak obliged and hired Saleh as a defensive quality control coach.
He spent three years in that role before being promoted to assistant linebackers coach in 2009. In 2010, Saleh got his first taste of the often-harsh reality of professional football. Kubiak decided to fire defensive coordinator Frank Bush, which meant the rest of the defensive coaching staff went with him.
All of a sudden, Saleh was unemployed with his first-born son just three months old. Saleh had no income to sit on while he looked for work since QC coaches aren't given multi-year contracts. Some doubt crept in when a trip to the 2011 Senior Bowl in Mobile, Ala., presented zero leads.
Money, while a concern, wasn't Saleh's main stressor. He could always return to Dearborn and get back into the finance industry. But Saleh wanted to remain in football – something that seemed less likely with each passing week. He told himself back in 2002 that if he ever found himself jobless at 30 then he'd call it a day. He was 31 when the Texans let him go.
"Nobody gave me the time of day at the Senior Bowl," Saleh said. "I thought it was over. I thought that was it."
Then Saleh caught wind that the Seattle Seahawks were in the market for a quality control coach. Problem was, Seattle's entire coaching staff went on vacation shortly thereafter. Saleh anticipated that at some point during those 14 days, someone would call in a favor for their son/nephew/friend/friend of a friend/etc., and the job would be filled before he even had a chance.
"That was the longest two weeks of my life," Saleh said. "My wife was panicking. I was trying to hold my composure."
But Saleh did get the job, and he spent the next three seasons (2011-13) in Seattle as a defensive quality control coach. Defensive coordinator Gus Bradley and linebackers coach Ken Norton Jr. took Saleh under their wings immediately. They were the first individuals to take a sincere interest in Saleh's development as a coach.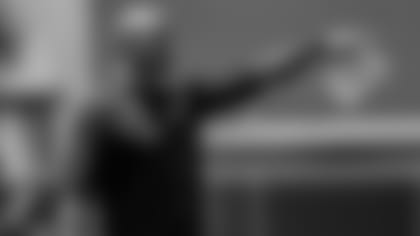 "I realized I didn't know anything," Saleh said.
Seahawks head coach Pete Carroll urged everyone on his staff to really understand themselves and what they wanted to be about – both as a human being and as a football coach. It's vital to carve out your own style rather than regurgitate someone else's philosophy. That's the only way to make an authentic connection with your players.
"The thing I learned in Seattle is that if you try to be someone else, if you try to steal from someone else and that's the way you live, then you're really not helping players," Saleh explained. "It's all fake. Therefore, you cannot be your best as a coach. You can teach so much greater when you're in tune with yourself."
Saleh had his trial run as a position coach in 2013. Norton Jr. took a two-week leave of absence after his father passed away midseason. Norton Jr. returned on gameday, but it was Saleh's job to get the linebackers prepared during the week. That experience gave him the confidence that he was ready for the next rung up the coaching ladder.
Bradley, who departed to be the head coach of the Jacksonville Jaguars in 2013, provided Saleh with that opportunity in 2014. He spent three seasons as the Jaguars linebackers coach until he came to another crossroad in 2017. Bradley had just been fired following Jacksonville's 3-13 season in 2016. Saleh got the axe as well.
Shanahan called and inquired about Saleh's interest in becoming the 49ers linebackers coach. Meanwhile, Bradley, who became the Los Angeles Chargers defensive coordinator, urged Saleh to join him in Southern California. Saleh went back to Shanahan and floated the idea of interviewing for defensive coordinator, a job that San Francisco was yet to fill. Although the two had kept in touch since their time together in Houston, Shanahan still didn't know much about Saleh as a coach. He'd heard good things, but was his former colleague ready to be an NFL coordinator?
The 49ers head coach told Saleh that he needed to lock him in as linebackers coach before entertaining a discussion about the DC role. Saleh slept on it. He'd always been one to trust his intuition. Saleh also thought back to Carroll's wisdom of creating his own path as a coach. The next day, he accepted San Francisco's offer and informed Bradley that he wouldn't be joining the Chargers staff.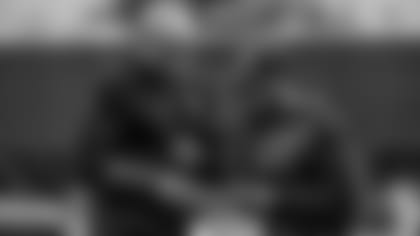 "You want to talk about one of the harder things I've had to do – it was separating from (Bradley)," Saleh said. "His teaching ability and all that he's done for my family – that part was hard. I also felt like it was something that I had to do in order to see if I could do it on my own."
Saleh continued to prod Shanahan for a crack at being his defensive coordinator. Shanahan had long admired Bradley's defensive scheme, so much so that Bradley was one of his top choices for DC. But if Bradley was Mr. Miyagi, then Saleh was the Karate Kid. Saleh was confident that he knew the scheme better than anyone bar Bradley.
"Why don't you just interview me? I'm not asking you to hire me, but just interview me," Saleh remembers stating his case to Shanahan. "I was a good QC. I was a good linebackers coach. I'll be a good defensive coordinator."
Shanahan finally agreed to an interview. The two spent four hours poring over game film. Shanahan hammered Saleh with questions regarding the intricacies of the scheme. He quickly realized that he'd underestimated Saleh's expertise.
Bradley originally built the system back in 2011 during the lockout. He was the architect. Saleh was the scribe, taking meticulous notes as if he were witnessing Thomas Edison construct the first light bulb.
"I was able to answer every question that Kyle had," Saleh said. "I was able to explain what we can do differently – what we could add to the scheme without disrupting the three-deep aspect."
Shanahan was convinced and made the relatively unknown Saleh his defensive coordinator. Saleh explained that his subtle tweaks to the system can only be discerned when taking a deep dive into the film. When pressed on the specifics of those nuances, he opted to keep those close to the vest. Saleh did publicize his two mantras: "All gas no brake" and "Extreme violence." Players latched on to both and even sported rubber wristbands with the slogans written on them.
The 49ers new regime took their lumps in the first half of Year 1, though. San Francisco opened up 2017 with an 0-9 record and endured a streak of five-straight losses by five points or less. Injuries mounted and rookies were thrust into prominent roles. But Shanahan and Saleh stayed firm to their philosophy. They saw progress. So did the players. That made it even sweeter when things clicked down the line.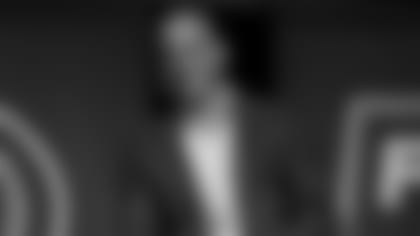 San Francisco saw their once league-worst defense do a complete 180. In his third season with the 49ers, Saleh boasted the league's top-rated passing defense, holding opponents to just 169 yards per game, and a unit that sat second in total defense, allowing just 282 yards per game. San Francisco's defensive unit was the strength of that team that led San Francisco to its seventh Super Bowl appearance.
What was nearly as impressive was San Francisco's production on defense the ensuing season while dealing with a league-leading number of injuries. In the first two weeks of the season, the 49ers were without both of their starting Pro Bowl pass rushers, as well as their All-Pro cornerback. San Francisco continued to shuffle players throughout the year as the team finished the season with a league-high 19 players on Injured Reserve, including a handful of contributors from their 2019 Super Bowl run.
Still, Saleh headed a unit that managed to finish fifth in the league in total yards allowed, fourth in passing yards allowed, seventh in rushing yards allowed and fourth in rushing scores allowed despite the downpour of injuries. According to ESPN.com, San Francisco's defense has allowed the third-fewest passing yards per game since Saleh's arrival in 2017.
It didn't take long for Saleh's up-and-coming success to garner buzz from around the league. Following San Francisco's NFC Championship season, Saleh was a candidate for the Cleveland Browns head coaching vacancy, now occupied by former Minnesota Vikings offensive coordinator Kevin Stefanski. A year later, his name continued to circle among the coaching ranks.
Of the seven head coach openings around the league at the close of the regular season, Saleh was a candidate for six vacancies.
It was announced this week that the New York Jets agreed in principle for Saleh to become their 20th head coach in franchise history. The former defensive coordinator expects to turn around a Jets team whose defense ranked 26th in points allowed and 24th in yards allowed and takeaways in 2020.
Looking at Saleh's history, he is eager for the challenge. He's got faith in his direction, but more importantly, he has faith in himself. That self-confidence has gotten him this far. This is Saleh's most prominent opportunity since leaving the finance world behind 19 years ago. Everyone knows the sarcastic saying, "you better not quit your day job." Saleh is assuredly glad he did.
Written by Joe Fann. Contributed by Keiana Martin.
Article modified 1/21