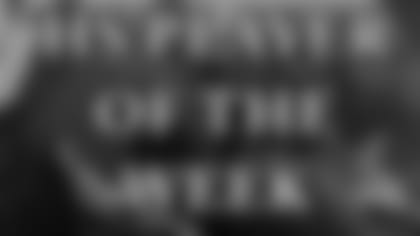 49ers Name Steven Fanua of Milpitas H.S. Player of the Week
---
The 49ers High School Player of the Week Award for week five goes to linebacker Steven Fanua from Milpitas High School.
This past Friday, Milpitas beat Los Gatos High School 42-35.
At 6'1/2" and 215-pounds, Fanua recorded 15 tackles and 3 sacks in the win. In his high school career, he has 475 tackles. He is currently considering Cal, BYU, Colorado and Arizona State, and has scholarship offers from numerous Colleges.
"Steven is an outstanding person with a great work ethic," said Kelly King, Head Football Coach of Milpitas High School. "He is the first one at practice and the last to leave. He works hard in the classroom as well. He is our team captain because of his leadership abilities."
Fanua, a Senior with a 3.0 GPA is also involved in track & field. In 2006 & 2007 he was named the DeAnza League Defensive Player of the Year. He has also been named to the CCS all section team twice.
For being named 49ers High School Player of the Week, Fanua will receive a certificate signed by 49ers Head Coach Mike Nolan, a 49ers hat and t-shirt, two tickets to a 49ers home game and recognition on 49ers.com. At the end of the season Fanua will be invited to the 49ers Training Facility to accept a wooden football trophy from 49ers Head Coach Mike Nolan.
2008 HS PLAYER OF THE WEEK WINNERS:
Week One: Rob Atkinson from Harbor High School in Santa Cruz
Week Two: Emre Titizer from Lynbrook High School
Week Three: Zeke Sanders from Santa Cruz High School
Week Four: Cameron Marshall of Valley Christian High School
Week Five: Steven Fanua, Milpitas High School