The 49ers lost a defensive struggle to the Panthers, 13-7, early in the 1995 season. San Francisco would visit Carolina, then a member of the NFC West, five weeks later, with revenge on its mind.
"It was one of those games as a defense where we weren't going to allow it to happen again," Eric Davis, a cornerback on that team, said this week. "I remember (safety) Tim McDonald making every defensive call. He took over the game-plan and made every defensive call and we beat them, 31-10. I remember that fondly."
Now as San Francisco's radio analyst and despite his allegiance to Carolina, Davis wouldn't mind seeing history repeat itself.
The 2013 iterations of the 49ers and the Panthers, both 12-4 through Jan. 1, meet a second time on Sunday as part of the NFC's Divisional playoffs. The latter escaped the former, 10-9, in Week 10 in similar fashion: a defensive battle between teams with an odd number of similarities.
"They're exactly the same ball club," said Davis, referencing the squad's up-and-coming and athletic quarterbacks, dependable running games and forceful defensive fronts. "They are built the same. They have the same mentality."
This is something Davis, the ex-player can appreciate. The onetime NFL defensive back was drafted and developed in San Francisco and was a first-team All-Pro his final season for the 49ers in '95.
As a free agent the ensuing offseason, he reluctantly found a new home with the Panthers, where he would be joined by coach George Seifert in 1999.
"It was a very difficult decision; they taught me how to be a 49er, how to win a certain way," Davis said. "Once I realized there was no way I was coming back, that it just wasn't going to happen... it came down to, 'Where do I see the closest thing, from the ownership down, to what I had experienced in San Francisco?
"I did visit other teams; I had gone to Philly, Detroit and Denver before making up my mind. Carolina offered me the closest thing to what I'd seen. The mindset, the desire to win, the approach to winning was how I had been taught."
A season later, his first of five in '96 for Carolina, Davis and the Panthers hosted the 49ers on Opening Day.
"I remember telling the guys in the defensive back room, 'If you want to know what it's like to be a championship team, a championship contender, when these guys come out of the locker room, I want you to see the way they walk into the stadium,'" Davis recalled. "It wasn't about bravado. I wanted them to truly see what it meant to know that you truly belong. Our guys got it."
The Panthers would win that game, 23-7, and during the rematch at Candlestick Park come December, Davis' first time on the opposite sideline, he intercepted Steve Young to seal a 30-24 victory. Both teams would finish the '96 campaign at 12-4.
With that, 49ers.com looks back at three *49ers *victories in the all-time series...
Stats: Aside from the Davis- and McDonald-led defense, which yielded only three first-half points, the 49ers were piloted by, who else, but Steve Young... San Francisco's signal-caller was 31-of-45 passing for 345 yards and two touchdowns, plus a touchdown run... This represented and still represents the largest single-game point differential (21) in 17 meetings between the two teams... The 49ers racked up 26 first downs to the Panthers dozen... Wideout Jerry Rice's 121 yards receiving went a long way toward that disparity... But no player had as much affect on this one than McDonald, who also intercepted quarterback Kerry Collins, returning the ball 35 yards to set up a score.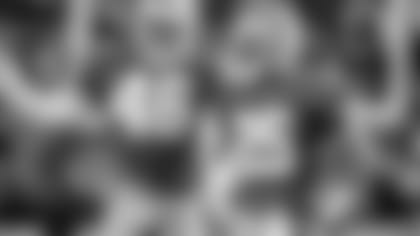 Stats:The Panthers outscored the 49ers, 21-7 after halftime to force overtime... Wade Richey's 23-yard field goal in the extra period gave the 49ers victory... The two offenses combined for 436 rushing yards... Garrison Hearst's 79-yard touchdown run in the third quarter gave San Francisco enough of a cushion to withstand Carolina's comeback... The 49ers would finish this season 5-1 over its final six games and 12-4 overall, advancing to the NFC Divisional round.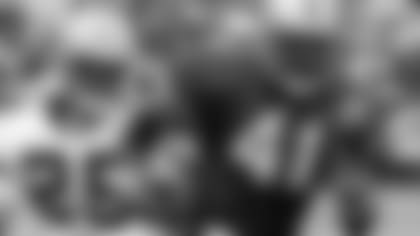 Stats:Another overtime victory three years later, this time on a 26-yard Jose Cortez three-pointer... Jeff Garcia would finish the game 34-of-54 passing for 305 yards and three touchdowns to overcome two interceptions... Wideouts Terrell Owens and J.J. Stokes combined for all three touchdowns, 15 catches and 171 yards overall... 49ers-turned-Panthers defensive tackle Brenston Buckner snagged one of Garcia's interceptions and sacked his former teammate twice.
49ERS.COM SUGGESTS:______