Joe Staley is another 49ers veteran to spend time off the field with his younger counterpart. Staley and 49ers first-round pick Mike McGlinchey attended Game 3 of the Western Conference Finals at Oracle Arena on Sunday.
Recall McGlinchey's first day in Santa Clara. While on a tour of the 49ers team facility, Staley went out of his way to greet McGlinchey in the team cafeteria. An image of the interaction garnered plenty of social reaction.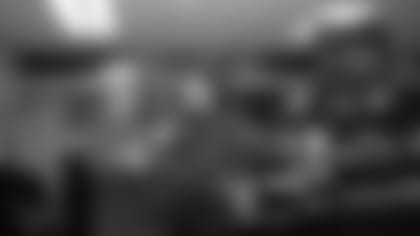 San Francisco used the ninth-overall pick to grab McGlinchey, who is expected to be an immediate starter at right tackle. Down the road, he's potentially the heir apparent to Staley at left tackle. McGlinchey discussed the opportunity to learn from the 12-year veteran last month following the NFL Draft.
"Joe's obviously one of the most accomplished tackles in the NFL and has been for a long time," McGlinchey said. "It's going to be an unbelievable opportunity to play across from Joe and learn from him and the kind of guy and player that he is. I mean, his reputation exceeds him and he's deserving of all the credit that he has and very, very excited to get to work with Joe and learn from him and hopefully elevate my game to the level that he's been playing at for a long time."
Staley and McGlinchey witnessed the Golden State Warriors smash the Houston Rockets, 126-85. Click here for the clip where you can catch Staley and McGlinchey mingling with fans pregame.
We'll be keeping an eye out to see if this power couple makes an appearance tonight at Game 4.