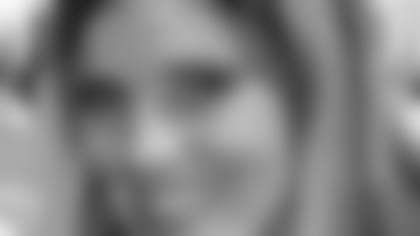 Over on our social networking site, 49ersfaithful.net, we have a few official team bloggers including two of our players in Manny Lawson and Marcus Hudson. All this week, 49ers.com writer Chrissy Mauck will also blog from the Senior Bowl.**
Another day of double practices (one for each team) is in the books. I shot some great broll at the North practice of some of the California kids out here that unfortunately was ruined by some problems with the play heads of my camera.
A large group of kids came out to watch the practice and the Cal kids brought them to their feet. Wide receiver Lavelle Hawkins went up in the air to bring down a high deep ball touchdown pass and then also flashed his run after the skills catch on another explosive catch and run. Obviously they don't take the backs to the ground, but Justin Forsett also had a few nice, explosive runs by juking his defenders. He's a small running back, but he showed some good vision and burst out there this morning.
During the South practice, I mainly shadowed Coach Nolan as I had him wired up. I missed a lot of the action, but there were a couple of fights that Coach had to break up, one involving Newberry offensive lineman Heath Benedict of Newberry.
"Aw man, I'm just a small kid from a small school," said Benedict. "I've got to prove myself and that I won't back down out here."
Nolan attended the morning practice with GM Scot McCloughan to scout out at the opposition. He had a lot of tips from the morning to pass along to his assistant coaches, and to the players.
I noticed a few bodies missing from the South practice. Wide receiver Limas Sweed was there but in sweats and not practicing. I didn't notice LSU WR Early Doucet out there either, who is apparently out with an injury.
Trent Dilfer arrived at the stadium in time for our practice, having just flown in as he'll be doing the game this Saturday with Rich Eisen for the NFL Network. I plan to get him on camera with TV49 on Thursday. Following practice, Dilfer caught up some with former offensive coordinator Jim Hostler, who is down here on the job search. I certainly hope something comes to fruition for him as I think very highly of him as a coach.
Another former coordinator, special teams coach Larry Mac Duff, who left last year to take a job back on the college level, has also been around this week, and it's been nice to see him.
Oscar Lofton, our area scout who retired last year after the draft, also came down on Monday for practice. Oscar is looking great after having his knee replaced, and will be getting the other knee taken care of in the upcoming weeks.
During Nolan's nightly press conference, he was asked about Tulane running back Matt Forte. Nolan was complimentary of the back, saying that the 49ers are always looking for someone who could help take some of the load off of Pro Bowl running back Frank Gore.