HERTFORDSHIRE, UK – When Mike Singletary and Vernon Davis visited London in July to help promote the NFL's 2010 International Series, both were taken back by England's passion for American football.
Now that the 49ers have officially arrived in London to play in front of 85,000 fans at Wembley Stadium this Sunday, Davis is feeling even more positive about the experience he and his teammates will go through.
"I can't wait, I know my teammtes can't as well," Davis said. "Some of the guys haven't been over here to see London, period. I know they couldn't wait to get over here. We're here now and we've got work to do."
The 49ers arrived in London early Monday morning after a direct flight from Charlotte following a 23-20 loss to the Carolina Panthers. Without much sleep on the plane, players were back in the film room this morning, learning from mistakes in time for their Halloween meeting against the Denver Broncos (2-5).
"We can't let that loss get to us," Davis said. "We have to keep moving, keep our heads up and do what we have to do."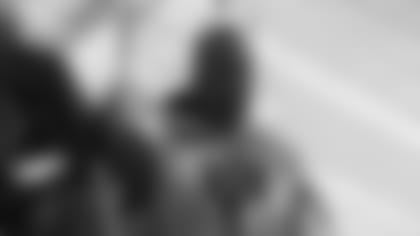 With the Panthers loss somewhat fresh in their minds, coaches and players did their best to soak in the serene sourroundings of their London training compound as they settled into their temporary new home.
"This has really come at a great time for us," Singletary said. "I think we're going to take full advantage of it, get the things done that we need to get done to get on track Sunday, and head into the bye week and get ready for the rest of the season."
Defensive captain Joe Staley has a similar mindset as his head coach. Although the 49ers aren't where they want to be record-wise, Willis said the big stage of the Wembley Stadium will bring the best out of the 49ers.
"We're 1-6 so it's not the same vibe we once had, but there's a lot of fight in this team," Willis said. "Hopefully we'll give them a show to remember."
Questions remain as to who will be the 49ers starting quarterback, Singletary said the team would review X-rays on Alex Smith's left (non-throwing) shoulder and see what the doctors prognosis would be before making any final decisions.
And while the trip might be new territory to several members of the 49ers, it's old hat for defensive line coach Jim Tomsula, who broke in the coaching ranks at the age of 28 with the London Monarchs of the defunct NFL Europe League.
"It's great to see old friends," Tomsula said. "It's really exciting with what the NFL's doing with the game here in London. For all of us that were involved in the NFL Europe league, being here representing the NFL has a special meaning for us."
Tomsula spoke highly of his relationship with the London press. He also reflected about an impressive 31-yard interception return for a touchdown against the Panthers that was supplied by one of his pupils, defensive tackle Ray McDonald.
The defensive line coach was pleased with McDonald's supreme effort to score, but said plays like that underscore what coaching is all about for him.
"When you have the kind of guys that we have, it excites you when they have success," Tomsula said. "When they do anything right like that they've been working on and then they hit it in the second quarter of the game for example … those are the things I really enjoy.
"It was great for Ray and great for the team. It was exciting for all of us, but we have to add to that and finish."
The 49ers get a chance to do just that this Sunday against the Broncos.
If that happens, the passion Singletary and Davis saw for the 49ers in July should only expand.