Just when one thought it was safe to stick a fork in the 49ers offense, 49ers starting quarterback Shaun Hill and his unit came alive, scoring back to back touchdowns to overcome a 16-3 fourth quarter deficit and steal the game away from the Rams in an improbable comeback.
"I don't know if I've ever played that bad, especially for so long," said Hill who entered the fourth quarter with a 4.9 QB Rating. "Things just happened. I can't explain it, but everybody hung in there, fought to the end, and we were able to win."
After watching his quarterback throw three interceptions, even head coach Mike Singletary had given up on Hill, telling backup JT O'Sullivan to get ready.
But something in Hill's eyes convinced the 49ers head coach otherwise.
"I talked to Shaun and told him, 'Shaun, I want you to sit down and I'll come back to you. But right now I need you to gather yourself,'" said Singletary. "And he looked at me and he had this look in his eye, he said, 'Coach, don't do that. I can do this. I can do this.' I said, 'Well, let's get your team together and let's get ready to go get it done.' And that's what he did."
It was with an even seven minutes left in the game before Hill started to really get things done, marching his unit on an 11-play, 80-yard drive that he finished off with a three-yard touchdown pass to Isaac Bruce. Bruce's touchdown reception marked his 1,000th career catch, and trimmed the Rams lead to within six with just barely over four minutes remaining.
Rams running back Steven Jackson had already cleared the 100-yard rushing mark, but the 49ers defense prevented St. Louis from simply running out the clock, instead granting the offense another opportunity to get the ball back with a quick three and out defensive stop.
The go-ahead drive, which began at the 33, started off shaky again for Hill, who was sacked for a 7-yard loss. But, a St. Louis neutral zone infraction and an 8-yard toss to Bruce, which moved him into the number two spot on the all-time receiving list, led to a more manageable 3rd and 4 play. Hill converted that one with a 13-yard completion to Bryant Johnson just inside Rams territory at the 48.
Receivers Josh Morgan and Jason Hill both went after a deep ball from Hill in the left corner of the end zone on the next play, with the rookie coming down with the 48-yard touchdown reception.
"Me and Jason really don't know what happened," said Morgan. "I just saw the ball in the air and went to go get it. We needed a big play so I went to go get it."
Following the extra point by Joe Nedney to secure the 49ers with a one-point lead, St. Louis still had 1:22 to work with and all three of their timeouts.
A deflected ball by Walt Harris on a 4th and 9 play ended up in Donnie Avery's diving grasp as he fell out of bounds for a first down at the 49ers 45-yardline, but Pro Bowl linebacker Joe Staley took away three yards on the next down by tagging Jackson in the backfield for a loss. Cornerback Tarell Brown then sealed the deal by stepping in front of a poorly thrown pass for Avery at the 38-yardline.
"We know that we didn't start out strong like we wanted to, but our whole thing is just finishing strong," said Willis. "Finishing strong as a defense today, Tarell making the interception, guys across the board, we knew that we didn't play our best, but we played the best when it counted the most. With Tarell getting that interception it was like, 'Thank you Lord.' It was a sigh of relief."
The offense initially gave the 49ers a 3-0 lead at the end of the first quarter, but a forced fumble and recovery by safety OJ Atogwe started off a streak of three straight turnovers by the Rams defense.
That kept the 49ers defense on the field for more than twenty minutes in the first half hour of play as St. Louis built a 13-3 halftime advantage.
The Rams scored only one touchdown in the game, but it was an ugly one. Keenan Burton slipped behind Walt Harris and Michael Lewis to get wide open in the end zone for a 30-yard strike from Marc Bulger, which punctuated an 8-play, 80-yard drive late in the second quarter.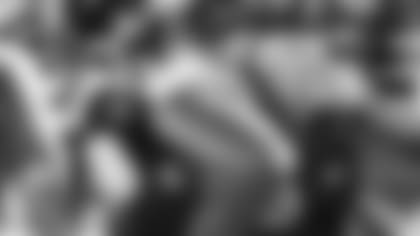 "It was just a miscommunication in the secondary. Everybody has to be on the same page," said Harris of the blown coverage. "It was one of those games where we put ourselves in a big hole. We knew we needed to start fast and jump on them early, and that was something we didn't do. Guys were still confident. We knew what we had to do and it was just matter of correcting a few things here and there."
The 49ers starting quarterback applied the same philosophy to his struggles.
"I tried to portray to Singletary that there were some funky things going on out there, and that we were fine and I just needed to make some plays," said Hill. "I fessed up to the things that were my fault. And I felt like we'd be fine, we just needed to stay the course."
Hill speculated that he put too much pressure on himself to perform live in front of more than forty family members and friends.
"I don't know if I've ever prepared harder for a game," said Hill. "I really wanted this one, really bad. I wanted to play great. First of all, I had a lot of respect for the way they've been playing. Second of all, I just had so many friends and family here, this is close to where I live in the off-season and I just wanted it so bad. That's probably why I tried to make a play to Vernon Davis on the first interception. For me, it's so important to play within myself, to react to the game and not try to do too much and I think maybe at times, that was what was going on."
Hill completed only 8 of 19 passes for 89 yards while throwing a single game career-high three interceptions during the first three quarters, but he was 10 of 15 for 127 yards and two touchdowns for a 132.5 fourth quarter QB Rating.
"I just knew if we stuck with it, and kept going…it's a 60 minute game plus if you go into overtime, and we signed up until the last bell," said Hill. "I just felt we were very close to some things. Nobody gave up, and we stuck in there until the end. We stayed the course and I was able to go ahead and pull it out. It wasn't easy. It wasn't the way we drew it up, but they are definitely not going to take it away from us."
Game Notes: Safety Michael Lewis left the game briefly with a stinger. Tackle Barry Sims started in place of Adam Snyder at right tackle. Snyder suited for the game, but didn't play after exiting last week's game in Miami early with an ankle injury.