Playing against a divisional rival to start your season is one thing. Playing on the road against the defending NFC Champions is another. But 49ers head coach Mike Singletary is not worried about the circumstances surrounding his team's season opener this Sunday against the Arizona Cardinals.
"It couldn't come sooner," Singletary said on Wednesday. "But to be honest with you, I really don't care who it is. I think the most important thing for us to do is continue what we've strived to do all offseason."
Singletary has been intent on turning the 49ers into a physical football team ever since he was named head coach following the 2008 season finale. At his introductory press conference, Singletary promised his first training camp as 49ers head coach would be one to remember.
And he certainly didn't disappoint.
From "Nutcracker" drills, to constant two-a-day practices in full pads, Singletary used training camp to prepare his 53 players for the upcoming season and instill his style of play in each individual.
With the grueling training camp practices and four preseason contests in their rear view mirror, the 49ers are eager to start competing in live game situations, rather than playing just for a series, quarter or a half of a game in some cases.
"It's a great challenge," second-year wide receiver Josh Morgan said of the season opener. "To be honest, I don't think Coach Singletary would have it any other way. It gives us the opportunity to show everybody what he's been preaching to us at training camp and everything he expects out of us. It's our chance to show him that we're ready."
That same enthusiasm for the season opener can be seen on all of the faces of the 49ers players.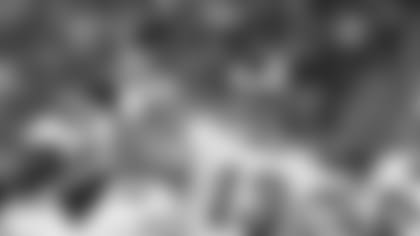 "I'm excited," starting quarterback Shaun Hill said. "They are wearing the NFC crown right now. Until somebody knocks them off, it's theirs. But I'm excited for the opportunity and I think everybody is ready to go."
Likewise, running back Frank Gore has been chomping at the bit to get the season underway. Considering his lack of carries in the preseason (7 for 26 yards), the star running back is anxiously awaiting his first legitimate action of the season.
Gore looked to be in great spirits on Wednesday with an ear-to-ear smile on his face at times as he fielded questions in the 49ers locker room.
"Man, I feel like I'm a kid," Gore said of his excitement for Sunday. "I hardly played in the preseason games, and I've been busting my behind all of training camp. I'm just very, very excited."
Gore and the 49ers offense will be looking to establish Singletary's physical vision early and often on Sunday as a collective unit.
"I know they have a little bit of swagger from going to the Super Bowl last year, but knowing what we've accomplished all offseason, I think we're ready to play together as one," Gore added.
It's no secret the 49ers will lean heavily on Gore's shoulders come Sunday.
Last season, Gore rushed for 96 and 99 yards in the teams' two meetings. However, Gore's efforts weren't enough to defeat Arizona in two close contests.
In fact, the 49ers and Cardinals last four meetings have been decided by ten points or less. Two years ago the roles were reversed as the 49ers swept the season series prior to being shutout against Arizona last year.
"In my two years here, every game has come down to a couple of points," left tackle Joe Staley said. "They were hard fought battles and we're expecting the same thing this year. It's going to be a good test for us."
Staley won't have to account for Arizona's top defensive linemen in Darnell Dockett who lines up across from right tackle Adam Snyder, but he will have his hands full on his own side with emerging defensive end Calais Campbell.
But no matter who lines up in front of Staley and company, the emphasis for them on Sunday is simple: establish a physical brand of football and set the tone for the upcoming season.
"We want to come out and be able to run our plays the way we want to run them," Staley said. "At times, we're going to see an eight-man box, and when that happens, we're going to have to be able to run our plays."
If the Cardinals do plan on playing eight men close to the line of scrimmage, Pro Bowl strong safety Adrian Wilson is the player the 49ers offensive line will have to account for.
"No. 24 is the guy who makes them go on defense," Staley added. "He's a good run-fit safety and he makes a lot of plays for them."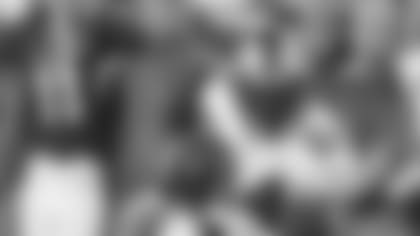 Wilson will also be active in covering the 49ers playmakers. But it's not a one-man show in the Cardinals secondary. Joining Wilson, is free safety Antrel Rolle and two talented cornerbacks in second-year man Dominique Rodgers-Cromartie and free agent signee Bryant McFadden from the Pittsburgh Steelers.
"They're very athletic and they can make a lot of plays," Morgan said. "With Rodgers-Cromartie and McFadden, both of them are tall, rangy guys who can make up ground. Even if they do get beat, they have the speed to make it up."
Whether it's winning battles in the trenches or one-on-one matchups on the outside, the emphasis on the 49ers is out-competing their opponent.
"We want to out-compete them in everything we do," tight end Vernon Davis said.
If the 49ers are able to do that, they will be off to a good start on making a similar leap to the playoffs like the Cardinals did last season.
"I think we have been ready to compete for that for a while," Hill said of the team eyeing a division title. "Now I think we are finally ready to turn the corner and go for that. It is in our sights, it is in our goals."
On Wednesday, Singletary announced the 49ers injury list as the team begins a new season. Wide receiver Brandon Jones (shoulder) and outside linebacker Ahmad Brooks (knee) have been ruled out of action.
For the Cardinals, wide receiver Anquan Boldin sat out of Wednesday's practice with a hamstring injury, but head coach Ken Whisenhunt expects him to play on Sunday.
Also for Arizona, wideouts Early Doucet (ribs) and Sean Morey (ribs) and third-string quarterback Brian St. Pierre (back) were limited in practice.