The 49ers opened its doors to youth football players from around the Bay Area at their second annual O-line/D-line Camp presented by the U.S. Army on Wednesday, July 18 at their facility in Santa Clara.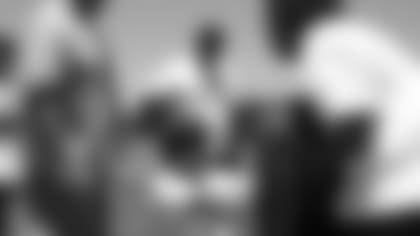 en to high school student's grades 9-12, the camp focused solely on the offensive and defensive line play. The day consisted of both classroom and on-field training and is designed to stress the fundamentals while also polishing skills and techniques of line play.
"We had Bay Area high school football players and coaches on hand," said Ryan Myers Youth Football Representative. "The kids were listening, taking notes and were very excited to be here today, which was fantastic because we wanted them to leave with a wealth of knowledge."
The youth football players had a full day at their favorite team's practice facility as all players received back packs, T-shirts, key chains, a football and tickets to a preseason game and a certificate of completion.
Offensive line coach George Warhop and defensive line coach Jim Tomsula also offered personalized instruction for players, breaking down tape from the 49ers practice to the high school students along with giving instruction on how to be the best at their position.
High school coaches that brought a group of five students were able to participate as well. Several schools took advantage of this unique opportunity including Stagg High School in Stockton, who used the camp as an incentive for their players to get better.
"Our coaches said the hardest working lineman would be able to come here as a prize," said Juanito Riberto, a football player at Stagg. "He chose me and I was fired up. It shows you that hard works pay off."
Riberto said the day gave him confidence that he could carry the skills he learned at the camp to his team's football season.
"We went over schemes and drills," Stagg said. "It showed me that we do the same things they do at practice. I was excited to get on the field and show my stuff."
Current 49ers players got in the action as Brian De La Puente, John Booker, Walter Curry, Damane Duckett, Alan Reuber and Isaac Sopoaga interacted with the youth players offering both encouragement and instruction.
Sopoaga in particular appreciated the chance to impart his knowledge on the youth at the camp.
"It is a great and beautiful opportunity for them to be here so they can learn," said Sopoaga. "These kids here are lucky to be able to take part in something like this. Where I grew up in American Samoa, we didn't have this. I didn't learn football until my last year in high school."
Both participants and instructors enjoyed themselves equally and the team is looking forward to hosting future camps.
"What we had today is a great experience for these kids to learn football." Sopoaga surmised.
Youth football programs teach children the importance of teamwork, goal-setting and how to live a healthy lifestyle in a fun and educational environment. The 49ers make every effort to provide programs and activities for youth and coaches throughout the San Francisco Bay Area. To register for future camps, check out the youth football section under Community at 49ers.com.