It was easy for 49ers kicker Joe Nedney to get his teammates in a calendar photo shoot.
All he had to do was bring some dogs from Canine Companions for Independence (CCI) with him.
"You'd be amazed by the amount of dog lovers out there," Nedney said. "All of the sudden you tell somebody, 'We're doing a calendar and you can put your dog into it too,' and they get excited. It really was a neat idea and things fell together. That is how we got the calendar with CCI."
On Tuesday, September 29, 2009 at the Silicon Valley Animal Control Authority in Santa Clara, the 49ers held a release party for their CCI calendar. Hundreds of Faithful lined up to show their support for the team, and many being dog lovers themselves, liked having common ground with their favorite football players.
"It's cool to see some people that you idolize and see a little bit about the shelter," 49ers Faithful Mike Baron said. "It is nice to come out here and support organizations like this."
Nedney, quarterback Shaun Hill, linebacker Parys Haralson and guards Tony Wragge and Tony Pashos spent several hours signing calendars and interacting with fans. But most importantly, they were showing their love for animals.
"The 49ers have teamed up with CCI to show our support and get involved with the community like we always do," Wragge said. "Everybody is a dog lover, just like the 49ers."
CCI is a non-profit organization that enhances the lives of people with disabilities by providing highly trained assistance dogs and ongoing support to ensure quality partnerships.
"It is a great event, everybody seems really excited to get their calendars autographed and enjoy the dogs and see the assistance dogs," said Jeanine Konopelski, director of marketing for CCI. "We are happy to be able to do this event with the Silicon Valley Animal Control and the 49ers."
Hill's month in the calendar is September, Nedney's is November and Wragge's is July while Haralson made the cover.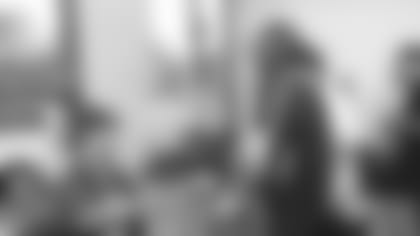 However, Haralson's teammates aren't sure why the star linebacker is on the front.
"I'm happy for Parys that he made the cover, I'm not at all bitter about it," Hill joked. "I think it was because my dog had its tongue out, that's probably why I didn't make it."
Wragge guessed that Haralson paid somebody off.
And Nedney, who claimed to be "a little upset" that he didn't make the cover himself, said Hill would have made it but he had a bad hair day during the photo shoot.
But Pashos, who isn't in the calendar and wasn't on the team at the time of the shoot, said his teammates are just lucky they took the photos with cute dogs or none of them would be calendar material.
The 49ers found that incorporating their love of pets, their respect for the shelter and CCI would be a natural fit in their ongoing commitment to connect to the Santa Clara community. The event also incorporated the RESPECT campaign; showing respect for families by demonstrating their adoration of pets and to socialize with fellow pet lovers.
All proceeds from calendar sales go directly towards CCI. Calendars can be purchased at cci.org.
CCI was founded in 1975 and is a non-profit organization that enhances the lives of people with disabilities by providing highly trained assistance dogs and ongoing support to ensure quality partnerships. CCI is the largest non-profit provider of assistance dogs, and is recognized worldwide for the excellence of its dogs, and the quality and longevity of the matches it makes between dogs and people. The result is a life full of increased independence and loving companionship.
The Silicon Valley Animal Control Authority (SVACA) has been going strong since 2001 and have since opened a state-of–the-art 17,000 square-foot facility for business in 2006. Since their inception, the purpose and mission has been to ensure the well-being of both animals and residents in the Santa Clara community by delivering high-quality, responsive and cost-effective animal control services. Not only does the group enforce animal control laws, promote responsible pet ownership through outreach and education, but they also provide compassionate service to animals and their owners.The Silicon Valley Animal Control Authority serves the residents of three cities: Campbell, Monte Sereno and Santa Clara.
Hill, Haralson, Nendeny, Pashos and Wragge weren't the only 49ers who spent their day off in the community on Tuesday.
Guard Chilo Rachal made a visit to the James Boys Ranch in Morgan Hill, Calif., to share his life story and provide the young men at the correctional facility with encouragement and advice about how to get their lives back on track.
Rachal spoke to more than 70 boys throughout the day about his rough upbringing in Compton, Calif., and the adversity he faced throughout his childhood. He reminded them about the necessity of making positive changes to their lives now so that they can succeed in the future.
Many of the boys in the Ranch were in gangs, and Rachal recalled how he nearly got caught up in that lifestyle until he turned his focus towards football.
"I was so caught up in the fast life, just getting through day-to-day, and thinking for the moment and not the future," Rachal told the boys. "Then I applied myself. And once I applied myself things started working out for me."
James Ranch Deputy Chief Kathy Duque said Rachal's words made a big impact on the boys because she knows they can relate to him.
"It gives a really great perspective because what these kids are missing in their lives are positive role models," she said. "I just can't tell you how wonderful it is to have someone like Chilo come out and talk to the kids. It makes a big difference."
Schoolin' Some Youngsters
49ers Linebacker Joe Staley visited Fair Oaks Elementary School in Redwood City, Calif., on Tuesday to coach a pedestrian safety clinic.
At the clinic, Willis talked to the children about safe ways to walk to school and the necessity of wearing bike helmets. Willis even modeled several helmets before signing autographs for the kids.
The event was part of the FedEx Air and Ground Players of the Week program, which encourages NFL fans to vote for outstanding players throughout the season. The program promotes pedestrian safety programs nationwide.  
Willis also helped FedEx announce a $10,000 donation to the Safe Kids Santa Clara/San Mateo County coalition for pedestrian safety improvements around the school.