For the latest installment in our pre-draft 49 in 49 series, 49ers.com will spotlight Louisiana State wide receiver Rueben Randle, who proved himself as a top NFL prospect during his junior year in 2011.
Rueben Randle got quite the crash course for the NFL during his three years at Louisiana State. Sure, playing week-in and week-out in the powerhouse Southeastern Conference helps, but Randle didn't need to wait until Saturdays to get his work in.
The talented wide receiver, listed at 6-foot-2, 210 pounds, got a heavy dose of NFL talent every day in practice throughout his college career. Scrimmaging against cornerbacks like Morris Claiborne, a projected top-five pick in April's NFL Draft, and Patrick Peterson, who was taken No. 5 overall by Arizona last year before making the Pro Bowl, can only make you better.
"I went against (Claiborne) in practice every day," Randle said at the 2012 NFL Scouting Combine. "He's a very good athlete. Very competitive, very long and fast and strong. He worked me each and every day in practice and we got the best out of each other. "
In a draft class that's full of talented receivers, Randle has established himself as one of the best wideouts available. Many mock drafts have listed San Francisco as a possible destination for Randle, as the 49ers hold the No. 30 pick in the first round this year.
Following two seasons of modest production, Randle hauled in 50 catches for 904 yards and eight touchdowns during his junior year in 2011, earning First-Team All-SEC honors from the league's coaches.
With his combination of soft hands, size and speed (4.55 in the 40-yard dash), Randle is an intriguing athlete for NFL teams to consider. From the sounds of it, he's not lacking in the confidence department either.
"I just feel like I've had that playmaking ability all my life," Randle said. "I'm very confident in the things that I do and I just want to express myself to those teams that are looking for a playmaker that they can depend on me to make those plays. I just feel confidence in my ability; I'm going to do whatever it is to get it done. I'm just going to continue to work on my craft so I can get it there."
And while he may not have the same pre-draft hype attached to his name, Randle said he models himself after Detroit Lions wide receiver Calvin Johnson.
"He's a big-body receiver," Randle said. "Makes a lot of plays deep down the field and also yards after the catch. I try to model myself in that kind of way."
Though he didn't have a consistent passing quarterback throughout his junior year, Randle still established himself as one of the best big-body targets in the country. He totaled four games of at least 100 yards receiving, including a nine-catch, 134-yard performance against Arkansas.
Randle also averaged 18.1 yards per reception, while notching one catch of at least 30 yards in eight different contests.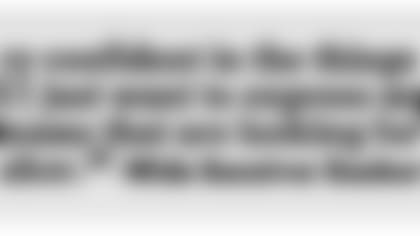 Regardless of who drafts him this year, the talented wideout said he will do whatever it takes to grow his game at the professional level.
"If a player can't really adjust to the different system that he gets drafted to, I'm pretty sure it's going to be a struggle for that guy," Randle said. "You've got to be pretty versatile with the things that you learn."
Randle appears to have inherited his athletic prowess from his father, who encouraged him to get involved with sports at an early age. Though his father traded his football cleats for baseball spikes by the time he got to high school, Randle said, "I heard he was a great athlete. He tries to say he was better than me."
Friendly family competition aside, Randle's father instilled an important football skill in his son early: blocking.
Randle proved to be a hard-nosed downfield blocker at LSU throughout his career, especially in his final season. For a blue-collar offense like the one in San Francisco, Randle's physical style of play would surely be appreciated.
"It's key," Randle said. "My dad taught me since I was little, if you want to be a receiver you've got to be able to block, too. It's not all about catching. So you don't be a selfish player. Blocking is something that makes a difference downfield. You want a big run, you've got to block down field."
With 33 wins in three years and an SEC title under his belt, Randle made the call to forgo his senior year and enter in the 2012 NFL Draft.
"It was a family decision," Randle said. "I just felt like I was really making that step maturing on and off the field and feel like I was ready to move on to the next level."