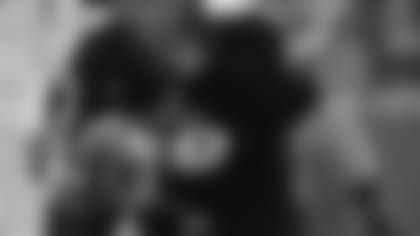 Our pre-draft series continues with a profile on a standout talent from the Big East.**
According to a report from Matt Barrows of the Sacramento Bee, a college prospect with NFL ties will be visiting the San Francisco 49ers over the weekend.
The prospect, Cincinnati tight end Travis Kelce, could potentially be a replacement for outgoing 49ers tight end Delanie Walker. San Francisco's former No. 2 tight end signed a contract with the Tennessee Titans at the start of free agency. The departure has opened opportunity for more playing time in Greg Roman's tight end-friendly offense.
Enter Kelce, an under-the-radar prospect who did not participate in drills at the NFL Scouting Combine. Kelce, the younger brother of Philadelphia Eagles guard Jason Kelce, missed the combine due to a sports hernia. He did, however, work out for scouts on April 4.
The 6-foot-5, 250-pound tight end ran a 4.64 and a 4.69 according to reports. The time of 4.64 would have placed Kelce as the third-fastest tight end at the combine.
The Bearcat prospect also added a 35-inch vertical jump, showing he could be a valuable red zone threat in the NFL.
Kelce used that athletic ability throughout his collegiate career and even more so as a senior. Kelce set a Cincinnati single-season record for tight ends with 45 catches and 722 receiving yards. He also tied the record for touchdown receptions with eight scoring catches.
Kelce's statistics are impressive for his position, but he knows he has a lot to live up to thanks to his brother's early success in the league.
Is he the best Kelce brother when it comes to playing football?
"That's a bold statement," Travis Kelce said at the combine. "Jason was noticed as one of the better rookies coming in and he started his entire rookie season.
"I'm going to have quite a few things to live up to my rookie year."
Travis Kelce has leaned on his brother throughout the process of being evaluated by NFL clubs.
"He just told me enjoy the process," Travis Kelce explained. "Have fun with it, but at the same time tell everybody the truth, tell everybody what you think of yourself and what you think of the whole process itself."
Kelce was suspended from the Bearcat football team for an unspecified rules violation in 2010. Since then, however, he's battled back to enjoy a productive collegiate career.
He's also proved to be a tough football player, battling through various injuries at Cincinnati.
Kelce ruptured his lower abdomen three weeks into his senior year and battled the injury to produce single-season school records. He also played through shoulder injuries in college and stayed on the field for his team.
Kelce's believes that toughness sets him apart from other tight ends in this year's draft.
"I think teams want to have a guy on their roster that's going to keep playing knowing that the team needs them on the field," he explained.
Kelce's sports hernia injury lingered during his combine training, but it didn't stop him from posting his impressive 40-yard dash times.
The standout tight end was also able to catch a game-winning touchdown to help Cincinnati defeat Duke in the 2013 Belk Bowl. Kelce caught an 83-yard touchdown pass with 44 seconds left in the game to win his final collegiate contest.
"Talk about a way to go out," Kelce said. "It was unexpected. I'll go through the play itself. It was a seam route, I was running down the hash and I was about 20 yards downfield and I looked around and noticed I was open. I turned over my shoulder and the ball was in my lap."
Kelce vividly recalls big plays from his college career, but knows he'll have to add strength as he starts his professional football career. More importantly, he wants to use this offseason to regain his health so he can produce in the NFL.
"Mentally, I'm fine. I'm as confident as I'll always be." Kelce said. "Whether or not I get injured, I'm going to bounce back and I'm going to be ready to go. I've had injuries before and shown I can get through that and be able to play at a high level and be able to excel and produce at a high level."