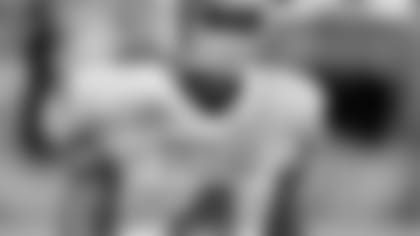 49ers.com's 49 in 49 pre-draft series continues with a look at a defensive back coming from a school known for producing top-flight defensive talent.**If you've been following NFL Draft hopefuls closely this offseason, you'll catch a theme when it comes to the prospect commonly ranked No. 1 at safety.
In almost every case, you'll see Texas' Kenny Vaccaro atop the list provided by any draft prognosticator.
The 6-foot, 214-pound senior enters the upcoming draft with plenty of attention after a successful collegiate career at one of the nation's most prestigious football schools.
It also helps having the speed and toughness needed to play all over the defensive backfield. Vaccaro, himself, believes he can offer plenty to one of 32 NFL teams.
He can hit and he can cover.
"I think I can bring a lot to a team being versatile and being able to play a number of positions," Vaccaro said at the NFL Scouting Combine.
In today's NFL where safeties are asked to play coverage roles while supporting the run game, Vaccaro feels he can fit the mold of both roles.
At Texas, he lined up at strong and free safety, plus played a cornerback-like role in nickel and dime defenses for a team that won nine games and defeated Oregon State in the Valero Alamo Bowl.
Vaccaro, however, played cornerback mostly in practice where he'd take on the challenge of matching up against speedy teammates as a test.
That competitive mindset helped Vaccaro earn a starting role as a sophomore in college. He then continued to take on more responsibility each season. Vaccaro could have left school as a junior, but figured more seasoning would help his ultimate goal of being a dominant force in the NFL.
All the experience helped him produce a career-high 107 tackles as a senior.
Vaccaro added two interceptions, two forced fumbles and one fumble recovery in his final year of college ball. Because of the production, Vaccaro declined invitations to college All-Star games, most notably the Senior Bowl.
With so many highlights and impact plays on game tape on his side, Vaccaro could be a high selection in the upcoming draft. The need for game-changing safeties remains critical for NFL clubs. In 2012, Alabama product Mark Barron was chosen No. 7 overall by Tampa Bay. Notre Dame safety Harrison Smith was taken 22 picks later by Minnesota and was a first-day starter for the Vikings.
Vaccaro, a first-team All-Big 12 selection, would like nothing more than to follow in those footsteps.
"I think people are starting to appreciate safeties more, now that tight ends are turning into freaks and controlling the middle of the field. You've got to have a safety who can cover and come up and hit."
Vaccaro is confident he can lead a defensive backfield as well.
"I can be a quarterback of the defense and bring that athleticism on the back end," said the UT standout who aims to be the seventh former Longhorn defensive back drafted in the top 50 selections since 2006.
Asked point-blank if he's the best safety available in this year's draft, Vaccaro didn't openly boast. Instead, he offered a succinct take on his skill set.
"I think I bring the most to the table."
At the combine, Vaccaro ran a respectable 4.63, 40-yard dash and showcased his all-around talent with 15 reps of the 225-pound bench press to go with a 38-inch vertical jump.
Even better, Vaccaro led all combine safety prospects with a 4.06, 20-yard shuttle.
Now, it's just a matter of finding out if he'll lead all safeties as the quickest to shake Roger Goodell's hand at the draft.