The 49ers coaching staff let pre-snap movement slide a little bit during Friday's first camp practice, but head coach Mike Nolan wasn't having it on Saturday.
After a few jumps by the defense and false starts by the offense, Nolan huddled the group together and explained to the players that the guilty party would lose their set of reps.
"He's just trying to get the point across that mistakes aren't acceptable," said defensive end Ray McDonald. "That's why we've been losing the past couple of seasons –because we've had so many mistakes on the field and we've lost games because of them. So, I think he's trying to get it across that it's not acceptable, and it's embarrassing having to run off the field because you messed up even before the play."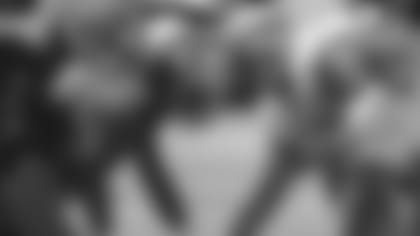 Several starters unfortunately fell victim to Nolan's rule, like defensive end Isaac Sopoaga and starting guard Adam Snyder. After moving on the first play of his series with the one's, Snyder lost out on his next five to his backup Brian De La Puente. Snyder then took De La Puente's place with the two's, taking all six reps with that group, followed by the next set of six back with the one's.
It also made it steep for players who are in stiff competition for prominent roles, as well as rookie and first-year players who typically get few and far between reps as is.
"I think it serves its purpose because it gives the guy behind you a chance to go in and show what he can do too," said defensive tackle Attiyah Ellison. "You don't want to be the guy losing the reps because you've got to prove yourself, and I don't think it looks good if you are a starter jumping offside and the guy behind you can stay on. It's all about discipline."
The meted out punishment proved to be a double edged sword because the offenders weren't the only ones suffering.
Center Eric Heitmann has only rookie Cody Wallace backing him up, so when Wallace moved, Heitmann had to go right back to work and lost his breather.
Putting a heavier load on a teammate can't possibly go over well, and Nolan's new rule should quickly nip the pre-snap penalties in the bud.
Seen or Overheard

Open practices typically provide a lively atmosphere, but fans, coaches and players alike froze during the morning session when a loud boom and pop was heard. The cause of the alarming noise was a transformer that blew at the power plant next door to the 49ers practice fields.
A good rule of thumb in the work place is to refrain from discussing politics or religion, but Michael Robinson, Ashley Lelie and Bryant Johnson were overheard debating both issues during the field goal period.
Guard David Baas went out of his way to walk over and talk to rookie Cody Wallace during the one-on-one drills with the defensive line. Baas offered up a few tips on the rookie's feet placement.
"It's part of my job," said Baas. "It's only going to help us and make us better so if I see something that I've learned since coming in, I think you should help them along. It's just something we have to do."
Highlights

Linebacker Jeff Ulbrich recovered a Frank Gore fumble in team for the only turnover of the morning.
Wide receiver Dominique Zeigler notched a few nifty grabs in the morning session, including a nice diving sideline catch towards the end of the final team period.
One bobbled snap and two penalties (one offense, one defense) had another highlight play on offense taking a long time to come to fruition, but eventually the o-line provided ample protection for Shaun Hill to take a seven-step drop and fire one to Robert Jordan on a skinny post. Jordan extended for the ball and made the catch for a happy ending to the series.
**49ers running back Frank Gore is one of the best in the league at getting into the second level on Sundays, and making guys in the secondary come off looking just plain silly.
Maybe that's in part because his own daily opposition makes him work so hard for it.
The 49ers secondary and their coaches Vance Joseph and Johnnie Lynn take their role in run support very serious.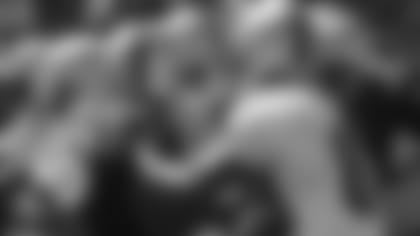 Above photo (Mark Roman, Arnaz Battle) is an exact scenario that the defensive backs worked on earlier in their individual period. In this play, Gore opted to cut back inside of the block from Battle.
"We're the last line of defense," said cornerback Walt Harris. "There's a lot of things we do in the run game that might not get noticed, but when it breaks free, we are the last line and if we do miss, everyone notices then. So, we don't want to get beat and embarrassed. We have to do our job and cover, but we also have to make tackles against the run."

Harris and company worked during their individual period on Saturday on a defensive shed drill that is designed to keep them prepared for their role in run support.

"It's a drill that puts us in a situation where we are out on the corner and you are just trying to contain the run play," explained Harris. "Receivers are going to come out and try to block you for the running back to get on the outside, so as a corner out there you've got to maintain leverage, get off the wide receiver and make the tackle."

Coach Joseph said he and Lynn expect a few things out of their players during the drill.

"You've got to have power, have leverage, and get your hands inside so that you control the block," said Joseph. "If they have their hands inside of you, they are controlling it. So, we tell them to get their hands inside so they can get rid of the receiver and make a nice angle tackle."

Rookie cornerback Reggie Smith received some admonishment during the drill for not being physical enough with his hands.

"Coach Lynn said I have to throw my hands instead of just dropping them," said Smith. "Otherwise he said I'd get in team and people like Arnaz Battle would hold me up all day."

Timing also plays into it.

"You've got to wait for him to make his move and see if he cuts in or out, and then throw him so you can get to the ball," said rookie cornerback Reggie Smith.

Throw too soon to the outside, and the running back can cut inside and is sealed by his blocker. Throw too soon to the inside, the running back bounces outside and sure enough there you are getting blazed and humiliated on ESPN.

"We tell them to wait until the runner gets head up and he crosses the receiver's back," said Joseph. "That's when you throw and make the play."

Safety Mark Roman is one defender who doesn't allow too many plays to get past him, and apparently he felt the same way even when playing on offense. Roman played receiver during the drill and twice took on Keith Lewis, who had zero success in shedding the 49ers starting safety.

Tackle Damane Duckett's knee buckled during a one-on-one pass set against the rush of linebacker Tully Banta-Cain. Duckett sat out the remainder of practice, but looked to be moving around okay on his own two feet.

Running back DeShaun Foster collided knee's with a defender on a screen pass, but seemed to be okay as he left the field after practice.

Tackle Joe Staley missed practice again and remains on the Non-Football Injury list due to a foot infection from a bug bite. Staley got an IV on Friday and spent the night at the hospital to get some rest.

Wide receiver Ashley Lelie left practice early with a calf strain, while G Jeb Terry missed a portion of the morning practice due to cramping,

Guard David Baas (pectoral) and DT Aubrayo Franklin (calf/Achilles') remain on the PUP list.

QB Track

(stats are entirely unofficial and were kept by 49ers.com)

During the first team session quarterback Alex Smith was 5-of-8 with most of his attempts consisting of shorter throws. In the same period, Shaun Hill completed 6-of-8 passes. His two incompletions came on a short throw to Arnaz Battle and a deep ball. His completions ranged from short throws, to an intermediate throw to Delanie Walker on a slant, to a longer route over the middle to Robert Jordan.

In the next team session, Smith hit on 4-of-7 passes. One of those incompletions was a good throw and a drop by fullback Zak Keasey, while the next two were great plays by the defense. Cornerback Walt Harris showed good closing speed to knock down Smith's slant pass, while cornerback Nate Clements broke up a pass to Bryant Johnson. Hill was 2-of-4 in his final team period. Jordan almost made a play on the one incomplete, while the timing between Hill and Thomas Clayton appeared a bit off on the next. Hill also dodged a heavy pass rush and reached the corner for a positive yardage quarterback scramble.

The 49ers held a special teams practice on Saturday afternoon, and will resume for two practices on Sunday.