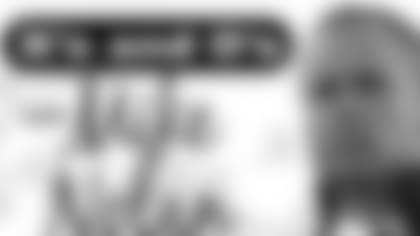 As the team gets ready to head to New Orleans later today, head coach Mike Nolan made sure to get to questions from our fans first. If your question wasn't chosen this time, try again! Coach Nolan will be back next Tuesday with more answers.**


Q: Hi coach, congratulations on Detroit! Moving on with the theme of ONE game at a time. who is the biggest threat this week? Reggie Bush or Drew Brees? Will you use a SPY in this game? (Joe Staley) Best of Luck, GO NINERS - Laurie in Ottawa, CanadaA: They are both good football players. Reggie Bush lines up in the backfield, and at wide receiver. He is very active in the Saints offense. He continues to be an important part of every play, sometimes even just as a decoy. You do need to be aware of where he is at all times. Drew Brees runs that offense very well. He has great vision and is extremely effective on third-downs. As for a spy, that would give away our game plan so you'll have to watch the game. I was asked though this week if our defense is put together better to stop the Saints this year. I told the reporter that we will see on Sunday.
Q: Coach, I think it is great when we kickoff to open a game and get the defense fired up. This also ensures we receive the ball to open the 2nd half. We kicked off in Seattle and against Detroit and won. Has this crossed your mind? - Richard "Chris" Mondragon, SrA: Winning the coin toss and deferring until the second half is a new rule that was put in place this season. Each game is different. When we were on the road in Seattle, we won the toss and deferred because on the road against Seattle in a hostile place I felt it was best to maximize our second half possessions. It is a conversation I have with my coordinators during the week. All kinds of things can factor in to the decisions like game conditions as well as the health of the team. Like all elements of our operation, we will do a thorough study as the season goes on and after the season to see what has worked around the NFL in terms of the new rule.
Q: First off coach, thank you for bringing the excitement of watching Niners back! I have been a fan since I was 9 years old and my dad told me to watch this rookie quarterback, Joe Montana. I think since your hire you have been doing a great job. I look at the talent that you have assembled these last few years and believe we have a playoff caliber team. Now for my one area of concern – every time the team gets on a roll, our offensive coordinator gets hired by another team and goes on to have success there. What guarantee do we have that Mike Martz will be with us next season? Thanks Coach!- Jerome Martinez Santa Fe, NMA: Mike Martz's immediate concern is putting our offensive game plan together to beat New Orleans, so at this point and time that is a hypothetical question. We've gone through three seasons offensively and have not been as successful as we hoped. We lost two to head coaching jobs. As we progress and mature on offense my hope would be that we are in a better position to handle any changes that may come. If something like that happens down the road it would hopefully mean that we have had success this season.
Q: Hello Coach, with Alex Smith on IR and playing a backup role, as well as, about to make 9 mil in salary next year, the probability of him being released or traded is on the horizon, to say the least. Would it be possible (or has it even been talked about) for him to take a pay cut and remain with the team? If JTO has became as good as he is with 1 year of Martz offense under his belt don't you think Alex would be twice as good? Not to knock on JTO I think he's doing phenomenal, but the comparisons when it comes to talent and potential is undeniable. Wouldn't it make more sense for both sides for Alex to stay take a pay cut and stay in the same system, than it would for him to take a pay cut and learn another new offense with a new coordinator? Just my thoughts coach. I want to thank you and the team for doing an outstanding job! Keep Rollin' 'cause I am! -Still Rollin' - Ric Alvarez, SSgt USMCA: Thanks for your question, and your service to our country. We will cross that road when we get there. I am excited that Alex Smith wanted to continue to go to meetings and work with us every day. Usually injured reserve players come in to get their treatment and rehabilitation and then leave. Alex and I spoke at length at the time of his injury and he said that he wanted to be around here for everything. Alex goes to meetings and goes to practice and watches, and I think it's a great decision. It's like I said all along before Alex got hurt, I think Alex has great trust that the system that's in place is one that he can flourish in as well. And he's excited about that. It's very disciplined and detailed, and that's kind of the way he thinks, and I think he believes it gives him a chance to be successful.
Q: Hi Mike, what happened to Tully Banta-Cain? I thought he did great the last two preseason games then all of a sudden he is not playing at all. He was getting to the quarterback with sacks back to back games, please give me an answer, Thanks Go Niners!! - Paul A. BorjaA: Tully is a good football player and did play well in the preseason. We do feel good about some other players at his position though. It is always a tough decision, and we can't get everybody up on the 45-man roster on the day of the game. He keeps working hard. The season is young.
Q: Hey Coach Nolan I have a question about the 53 man roster. I wanted to know why can't all 53 players suit up for a ballgame? Matthew RosarioA: Back in 1993 when the NFL put together its new collective bargaining agreement, they looked at all of the teams' rosters and figured that an average 53 players on each team were being paid. In those days, a player with an injury could go on injured reserve for four weeks and not count against the roster.
Part of the new collective bargaining agreement included a clause to increase the roster to 53 players, but the NFL decided to keep the same roster count they had before for the day of the game, which means teams had to de-activate eight players. Also, now if a player goes on IR, it is for an entire season and the player cannot be back on the field playing with your team that year.
One of the hardest things as a coach is to tell the guys that are healthy enough to play that they will be inactive. It is unfortunate, but we have to follow the rules.
Q: Hi Coach Nolan. Why is it that we are not seeing Manny Lawson on the Field as much? And what is the reason that we are allowing so many rushing yards? Thank you Coach. - Amrinder. Santa Clara, CAA: Manny is a starter on our team and has played well this year. There are no issues with Manny. We used a sub package against Seattle to combat their pass attack and he did not play on defense. But he made an impact on special teams in that game. He's got a lot of playmaking ability in him and wherever you put him in the game, he has an ability to make a play It is still early in the season. You will see Manny do some good things for us this year.
As for your second question, I don't want to dismiss the rushing yards we have given up. We should be sound enough to do both, but sometimes you commit more to the pass than you do the run or vice versa. From a defensive standpoint, we've got to do a better job of just using our techniques and doing our responsibilities within that to stop the run. I'm very confident we'll do that. We'll work on it constantly.
Q: Hey Coach, congrats on the victory this past week and thanks for taking my question. I was wondering about Roderick Green and how or if you plan to use him a little more maybe as a DE, since it seems like he really has a knack for getting to the quarterback. Or is he too light to play that position since he's naturally a linebacker? Thanks again! -Will, San Francisco.A: Roderick starts for us on our third-down packages, and we do use him as our right defensive end in our sub package. He is also involved in some special teams. His strength is his initial quickness and his natural pass rushing ability. He is capable of playing on first and second down but his strength is rushing the passer. For now, he works as a backup in our base defense on first and second down.