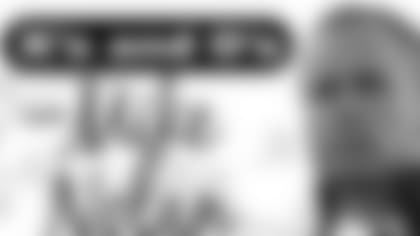 Head coach Mike Nolan is back with his latest round of X's and O's. Find out his answers below, and be sure to send in your questions for consideration. **
Q: Hey Coach, the Niners are built to run a 3-4 defense, but you will often switch up to a 4-3 to suit your personnel needs. From a play calling and X's and O's standpoint, are there any advantages to running this type of hybrid defense? Can it open up any new doors in the playbook? -Chris PenoyerA: If you use the 3-4 as your base defense you can switch to a 4-3. If you are just a 4-3, then it is harder to go to the 3-4. We are a blend of both. We were 50-50 last year. Our defense is based on the talent we have and what our players' capabilities are. The purpose is to utilize our best players and match up against opponents' players, and that I feel assists us in making plays.
So, whatever our players allow us to do determines what style of defense we play. Opponents will look at us and say we are a 3-4 and some will say we are a 4-3. To be honest with you they're both right and wrong. You could say it's a hybrid 3-4 defense. That would probably be the most accurate way to say it. A team that is similar would be New England. Other teams play the 3-4, but they aren't quite as hybrid. They do a lot of things within it, like Pittsburgh does a lot of blitzing, but it's a 3-4 most all of the time, it's never assumed that it's 4-3.
Q: We have not seen a quarterback sneak for a while now. Of course I am no head coach, but I feel it is valuable on short yardage situations. Has the offense under Mike Martz practiced one (a quarterback sneak) at all? -Richard "Chris" Mondragon, Sr
A: Our goal-line and short-yardage situations are an area that needed to improve, and we have added some wrinkles and schemes that I think will help. Certainly Mike Martz is prepared for those situations. The quarterback sneak is like every other play you have and it must match with two things 1.) The situation and 2.) Is the player able to do it? Some players are better suited than others.
Q: Hey Coach, I just wanted to say first of all I'm very pleased with what you have accomplished with our team and I'm very optimistic about this season. My question is about the other OLB on the other side of Manny, who's going to be our starter? Tully Banta-Cain had a great pre-season and Parys Haralson seems nicked. And how about Dashon Goldson at free safety? He's exciting and seems to cover more ground than Mark Roman. -Thanks, T.A.
A: If we are in a 3-4 then Parys Haralson will be the starter. He entered the lineup last year when Manny Lawson went down and did well. He is a tough guy, and like Manny he converted from a college defensive end to a linebacker in the NFL. Tully has pass rush ability. I hope after adjusting to our defense last year as well as his first year as a starter that Tully will continue to get better and showcase his pass rushing skills. To be fair to him, he was battling through an ankle injury that plagued him for much of the year. Dashon had a great camp. Mark Roman will continue to start at free safety, but Dashon will be involved in our nickel and dime packages. He started to get involved midway last season and showed he can play at this level.
Q: I was wondering why coaches in the NFL, particularly offensive coaches, do not do a better job of tailoring their systems to suit the talents of the better players on the team? I know that to a certain extent this is done (and that during your time with the 49ers, you have done this on defense) but I would like to understand why it is not done more prominently? What are your thoughts? -Thanks. Roger, Montreal, CanadaA: That does occur. In fact, Mike Martz on several occasions has said that the players on the field will take you where you go. It's always about tailoring a system to the personnel. That's what I like about Mike Martz's offense. It allows you to move in the direction of the strength of the personnel, whether it's in the running game or the passing game, or the tight ends, backs or with a particular receiver. It's not a rigid system where you're looking for a type of player at any position. It allows you to look at the type of players that you have and get them in the situation where they can take advantage of it.
Q: Coach,Dominique Zeigler made amazing catches in camp, why was he let go? Also, why was Thomas Clayton let go? Clayton showed he has the burst speed the strength and a little awareness that with some work can be a great back to have on the roster, why not him?-Epyon Peacecraft
A: Obviously, we have an offense, defense and special teams that we have to consider with our 53-man roster, and not just the receiver position. So, it really comes down to how many of them we feel we need to have the best team and who makes up the best team. Like I said, if we had six or seven receivers or six or seven running backs that made up the best 53, we'd have six or seven receivers and running backs. Dominique was on our practice squad last year and did well in practice. He had a chance to be with us during the entire offseason program and had opportunities in training camp and in the preseason due to injuries. He was eligible for the practice squad again this year, and we will continue to work with him.
Thomas Clayton is also a guy who was with us on the practice squad last year. He continues to improve. We signed him to our practice squad again this year. Many players in this league that went on to have great careers began on the practice squad. Those players are not counted out. They are with us, and we will continue to coach those guys.