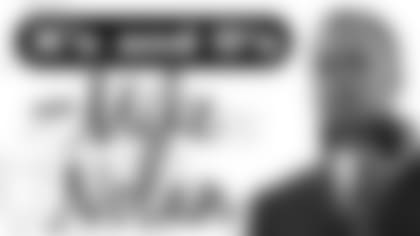 Here's our tenth round of X's and O's with Mike Nolan. Thanks again to all of our fans who sent in questions. Coach Nolan will not be answering questions again until training camp resumes in July, as he'll be making a trip to visit our troops with the USO.**
Q: Hi Coach, I would like to ask how you feel about celebrations after plays during the game. I'll admit to being 'old school'. I believe that celebrations are for when you run off the field after a win. I would like it if the 49ers would set a new NFL trend of handing the ball to the ref after a TD, running to the huddle after a tackle for loss, sack or interception/fumble recovery, and letting the ref signal when it's a first down. I would call it bringing back 'Old School Class' to the game. What do you think? Would the players of today buy into it? Thanks - Mike Eldridge, Reno, NV.
A: I know this, there is such tremendous adrenaline flow during the game by the players, that the excitement that comes along with a big play is shown by everyone in different ways. The game needs to be fun, the game needs to be exciting, and guys need to be able to show themselves and let out some of that adrenaline that is flowing, so when a player does get excited, to me, it's okay as long as it is within the rules that are set by the NFL. You cannot celebrate with another player, or use anything on the field as a prop, whether it be the pylon or the football or the goal post. You can only celebrate with your own body. I'm not opposed to it. I think it is part of the game. Like I said, the game needs to be fun and guys need to enjoy what they do and as long as it doesn't take away from the team or the objective of the team, I think it is fine.
Q: Coach, it seems like you've added more players with special teams experience this offseason to give our offense better starting position. Was that a focus going into free agency and the draft? Also, is it more important to have special teamers that can contribute at their listed position, or to have position players that can contribute on special teams? We appreciate the hard work and believe it will pay off this season. -Issac J.
A: Last year we were the very best in the league as far as positive field position created by the special teams. We were in the top five in nearly category of special teams and it was a real strength for us. It is critical to win ball games and often times field position can be won by your special teams. Obviously your defense and offense have something to do with that, but special teams gets it started. We were very good with that a year ago and we will continue to add good players to our roster with the hopes that they become starters on offense and defense but in the meantime if they can contribute on special teams, they can make us a better team. Special teams is about field position. The better players we get, whether they become starters or special teamers, makes us a better football team.
Q: Coach Nolan, first of all thank you for responding to fan questions, I think it is a great way for fans to interact with yourself and the 49ers. My question is about the receiver situation. Will there be ample opportunity for young guys to get some PT? I know the fans are excited about the bigger names that you were able to bring in during the off season in Isaac Bruce and Bryant Johnson, but what about Jason Hill or Cameron Colvin from Oregon? Is there any chance we will get to see what they have to offer, and how are they coming along? Thanks again Coach Nolan. - Matt Budd, San Mateo, CA
A: First off, I think it is critical that we strengthen our wide receiver position with experienced players unless we have a young player who shows the ability to push one of our guys out. Right now, the starting three would more than likely be Bryant Johnson, Isaac Bruce and Arnaz Battle. I think you want your very best players out there, not just your young guys. Now the next group of guys are fairly young. Although some of them do have some playing experience in the NFL, it's not that much. That's players like Ashley Lelie, Jason Hill and then this year's addition of Josh Morgan. Those three players are three young guys who need to contribute in the area of wide receiver position and if they beat one of the first three out that i mention, then it makes us a better a team. We are always looking for younger guys to push the older guys, but more importantly, we want them to take their jobs because they are better, not just because they are young guys with talent for the future.
Q: Hi, Coach Nolan, we get some coverage on the 49ers in the Sacramento Bee but not nearly enough for news starved Niner fans. We were wondering how Frank Gore is coming along and if this is going to be another on of "his years". We are big fans and have been for a long time! Good luck and GO NINERS! - The Snavelys, Sacramento, CA
A: I guess you mean is it going to be another 1,000 yard or better year for Gore, and I hope it is more than that. He had nearly 1,700 years two years ago rushing the football and had over 1,100 last year. I think this year he'll have an outstanding rushing year, but also another great pass receiving year. He's been one of our leaders in the passing game the last two years as well. It is our expectations and our hopes that Frank Gore has another outstanding year, and hopefully his third consecutive. I think that rests on our entire offense and staying healthy, because our scheme is very fitting. Coach Martz has the ability to utilize players like Frank, similar to a Marshall Faulk who was the NFL MVP under Martz. So it's our expectations and hopes that Frank has an outstanding season and is a big part of our winning.
Q: Coach Nolan, suppose you have prepared, all week, for a particular offense / defense. On Sunday, the opponent presents something entirely new. In the off season, do you anticipate this happening? Are your players prepared to react with schemes / plays to make a smooth transition and deal the unexpected? Or do you continue to pound away with what you prepared for during the week even though it is totally ineffective? - John Cooper, Hayward, CA.
A: First off, your offense, defense and special teams have a core of things that they do and it is extremely important that they get very good at the core. That starts with getting your best 11 players on the field. Then, you game plan against your opponent on what you do best versus they do best and then you try to figure out a way you can win the ballgame based on those things. At the same time, you must have enough preparation and time given to things that may not be expected, but that could occur in the game. It's extremely important that you are prepared for those things as well. That's a great example when people talk about halftime adjustments. Sometimes you can't wait till halftime. You have to make them in the first quarter or even the first series so that you don't get too far behind the 8-ball. It is extremely important to have two things. You have to have a plan that fits your players extremely well from a scheme point. The next one is something you can do with your own players to defeat your players that may be a little bit outside of the box from what you typically do week in and week out. You don't ever want to sit there and take it in the shorts doing what you do, unless you think you are that much more talented than your opponent. In the NFL, it's very rare that anyone is that much more talented than their opponent that they can just do what they do week in and week out and win a ballgame. Most teams, and every team I've ever been associated with, you have to do what you do best that matches your personnel and then you must have a plan to take away what your opponent does best, and sometimes that takes you outside of your comfort zone but that is what it takes to be successful in the NFL.
Please submit your questions via email to xandowithnolan@niners.nfl.com  and then check back once camp gets underway to see if your question was selected!