Thanks to all of our fans who sent in questions over the last few days for our very first X's and O's with Mike Nolan. We tried to select a variety of questions for Coach to answer, but if your question was overlooked, try again! Coach will be answering questions every Friday!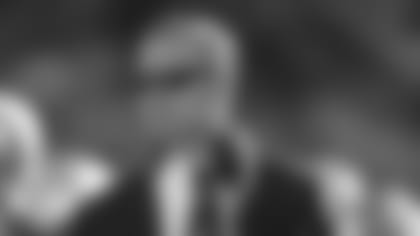 Q: I was wondering if you ever considered putting Adam Snyder in the mix for the starting RT job? In 06 he was great at the tackle position when people were hurt and has pretty much done well when ever he has had a chance to play. Snyder also has prototypical size for the position. - God bless and thanks for time! - Wayne Link, Newark, NJ**
A: Hi Wayne, yes, we have considered that. Adam Snyder has done an outstanding job since he's been here and he's played across the board on the offensive line except for center. We do think his best position is at guard, and in particular at left guard which is why we've put him there. At this point with Joe Staley and Jonas Jennings playing our tackle positions, we felt it would allow us for the first time really in the last few years to put Adam at guard and leave him there, and put him at his best position. I would agree that he's done a great job wherever we've put him thus far and he could play the right tackle position if it was necessary, but at this time we feel he's best suited at left guard, and that's why we've put him there.
Q: Hi Mike, Just wondering which of the new NFL rules changes you liked the best, and which one you think will make the most difference in the game? I always hated the "force-out" rule on a catch, so I'm glad to see that one go away. Also, will you be able to wear your suits on any Sunday you wish this year? - Thanks, Michael Secor
A: I personally like the force out as well, and the facemask changes that have been made. The force out, they've taken all the grey out of it. You are either in bounds with both feet or you are out. No more judgment for the officials and that's what I like about that rule, as well as the facemask rule. The facemask is either 15 yards or no facemask at all. They were both judgment calls and enough of the time, they were not accurate and teams were penalized. Anytime you can eliminate the judgment of the official and take the grey area out and just make it clear cut, than I think we have a better game. I think those are two rules that have been improved.
They will continue to allow me to wear the suits at all eight home games during the regular season. For road games, I can wear the suit but not the jacket. I'll have to wear a Reebok coat over the top of it and not the sport coat.
Q: Is there ever a chance an NFL defense will play a 3-3-5 defense as a base defense? Why or why not? Thank you, Mark Deniz
A: Obviously there are 11 guys on the field and the predominant defenses that are played today are either a 3-4 or a 4-3, but I will say that if you look at our Cincinnati game, we played something very similar to a 3-3-5 which you are referring to. It's very rare in the NFL and basically it stacks three players on top of three linemen, leaving five defensive backs in the game. I think this is something you can do without a tight end in the game, but with a tight end in the game most defenses in that particular configuration would be out-flanked to the side where they didn't cover up the tight end. It has a place in our game, but I don't think it's an every down defense.
Q: In the 2007 season Brandon Moore led our defense in sacks and tackles but last year he didn't see the field much except for on special teams. Is he going to play next to Joe Staley as the other MLB spot now that Derek Smith is gone? Cadie and Kevin Palmer
A: I believe that certainly your mention of Patrick Willis and his ability to come on this year was part of the reason why Brandon became a back up player. Brandon did have a very good season a couple of years ago and going forward, he'll have an opportunity to compete at the opposite linebacker position next to Patrick. Brandon is a good football player. He's also a good special teams player. I believe he'll have the opportunity to come in and compete and if I were Brandon, that's all you ask for. You want to know, "do I have an opportunity to compete for a job," and Brandon will have that this year.
Q: What will you say to those that say you were short sighted in trading up last year for a second 1st round draft pick; in effect, swapping this year's picks with the defending Super Bowl champion Patriots (#29 overall)?  - TishaA: My answer is simply this: I thought so last year, and as a matter of fact in looking back over it, I still think it was a very good decision to trade up. We drafted two of the top ten players from a year ago. Patrick Willis, without question as Rookie of the Year was one of them and after taking a look at the rookies who played last year, Joe Staley was also one of the players we felt was a top ten player. We feel very good about it. We'd obviously like to draft higher than 29 but at the time, we felt very confident we had gotten a good player, and we felt his quality of play as a rookie proved that. I believe going forward it will continue to prove to be a very good decision.
It's a little confusing but at the time the Patriots were not the Super Bowl defending Champions, the Colts were, and we gave our first-round pick for this year to the Patriots in order to move up to get Staley. We didn't know what that pick would be, but they do get to pick 7th based on our finish. We were able to land back in the first round for this year later in the draft last year by making a swap with the Colts, and so we will have their pick at 29th overall.
Nonetheless, it was an opportunity to get a very good player and we got that player. We now have a proven veteran to help us out going into this year and I don't see it as being a short sighted move at all.
Q: Coach Nolan, I am wondering if there is a good possibility of re-signing Larry Allen. I realize that he is up there in years but then again, I think there is a way a having him as a high quality player and a teacher. You must admit the line has struggled. From a true and dedicated fan of 29 years! – Bob O'Brien
A: Bob, the answer is that we will probably not know much about Larry's status until sometime after the draft. Larry still has gas in his tank as far as playing goes and he's been a great asset for us the last two years. It's somewhat in Larry's corner. We'd love to have him back if he wants to continue to play but it's up to he and his wife and their decision as far as what the future brings. He's been a high quality player and a great mentor to the young guys for us, but those discussions will probably take place in May and June.
Q: Coach, one of the topics that came up a few times last year was the possibility of Bryant Young retiring, and often the younger players on the team commented on what a great "locker room presence" he was. Now that BY has in fact retired, who do you look to on the team to step into that roll and be the guy that the new players coming in look to? Joe V.T.
A: I don't know if you ever replace Bryant Young and I would hope he'll continue to be a resource for us at the 49ers, but from a players' standpoint, I believe we have a very strong locker room leadership presence in players such as Justin Smith who we just signed, Nate Clements, Michael Lewis and Manny Lawson. Manny doesn't have a lot of years of experience, but he's got great leadership skills. I think we have great quality in our locker room throughout our entire roster. We might not have guys with as much experience as Bryant Young, but they provide a lot of leadership and quality presence in our locker room. Thanks for your question Joe!