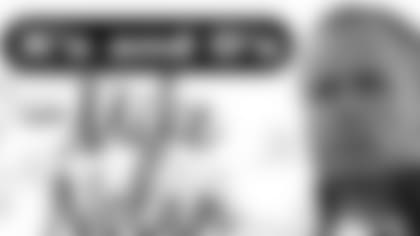 Head coach Mike Nolan and his team will leave later today for New York to play the Giants on Sunday, but first, here are his answers to some questions from our fans in this latest X's and O's with Mike Nolan. If your question wasn't chosen this time, try again! Coach Nolan will be back Thursday with more answers. To ask a question, send it to xandowithnolan@niners.nfl.com ** 
Q: Hey coach, true 49ers fan here, growing up with a mother who worked for Eddie when he lived in Canfield, Ohio. My question is how do you feel knowing that a couple head coaches have been fired already this season due to not getting the team going? A lot of people say they like where the team is going, and as great as the offense is playing, what about the defense? Do you like where the team is going? We have a tough schedule coming up and if you don't get our team winning, our defense playing tighter and JT protecting the ball more, are you afraid you could be out of a job before the season is over? Believe me, I've been standing behind you and your father for a long time but would like to see above .500. One last thing, does the defense watch tape of what, say the Browns did defensively to the Giants or the Cardinals to the Cowboys - both upcoming opponents or do they watch and see what the offense does? - Thanks, Lawrence. Ohio
A: All of my energy is focused on getting our team prepared for this Sunday's game against the New York Giants. If I put time, thought and energy into by own job security then I am wasting time that can be spent getting our 53 players ready for the Giants. That would be a distraction and a disservice to the 49ers players and fans.
As far as watching tape of what the Browns did against the Giants, absolutely we watch what they do. We go back from all of the games this season as well as prior years. We look at what other teams did and find out what works and what did not work. All of those things are elements that go into putting a game plan together.
Q: Coach, you missed a challenge early in the game, challenged another play that should not have been challenged. Do you ever look to change the challenge process you have with your coaching staff? Joe Fernandez from Sunnyvale.
A: We missed the one challenge in the first quarter, but we were in the lead 26-17 in the fourth quarter and failed to hold the lead. That is why we lost the game. Not because of our challenges. I even heard that someone was saying we did not challenge that play because I did not have my headset on. If I have my headset off it is because I am coaching our team. I always have a coach within two feet of me that would hear the communication from upstairs in the coaching booth and get my attention.
Our success rate on challenges is actually high across the NFL and in the top ten. We are at 44.8 percent, while the NFL average is 35.6.
Q: Coach, you have said that you are looking for the team to play better every week, but it seems to me the defense is not really doing a good job. My question is how come you don't apply a blitz more often? 3-4 defense is good but if the players are not quick and strong enough the system will not work. What are you going to do to correct the problems? Do you think you should change the players around? Tony Aranzamende
A: Our issues on defense are collective. Sometimes it may be a missed assignment or
sometimes it might be the wrong defensive call. We spend each week looking into what we can do better. We study how we hold our meetings, how we organize practice and what plays we are calling. If it was just one player breaking down, then it would be easy to fix. At the same time, we have done some good things that make me believe we will get it fixed. We do need to be more consistent though.
Q: Hello coach, first I would like to congratulate you on the season so far. The record might not show but you are doing a wonderful job in rebuilding this team. I've been a Niners since I started watching football. The offense looked pretty good this week; moved the ball well at times JT's going to be a great QB once everything comes together. You got Vernon involved this week I think he's going to be huge factor in the offense success. And of course my favorite RB Gore can't say enough about we he has brought to the team. Defense seems to be the TEAMS new direction and I love that "EXCITED." Watching this season has been nerve wrecking because we're always one stop away. I think we have all the right players in each position, the best LB in the league Pat "The Beast" Willis, and great set of CB Nate and Walt. The entire defense is solid. The issue is pressure on the QB's! Why don't we play more man coverage and get after the QB's like other teams do us? What about a 4-3 defense? - 49ers Forever mfloydap
A: We do mix up our defensive fronts and also play a lot of man-to-man in our different sub packages. We have been able to get some pressure on the quarterback, and the hope is that by mixing up our fronts and packages it will create pressure. What we need to be able to do is keep getting the pressure consistently. We have not been able to do that yet this season.
Q: Coach, in watching the games on tv, it appears that Isaac Sopoaga is much faster coming off of the ball than Aubrayo Franklin. I also noticed that according to the team roster he is a little bit bigger than Franklin. What are the things that you feel Franklin does better than Sopoaga that make him a better option for the NT when we are in our 3-4? Good luck this Sunday. Phil- St. Louis, MO
A: It is more a function of trying to get our best -11 on the field. We like having both Isaac and Aubrayo on the field at the same time. Isaac has great lateral range and movement that fits the defensive end position. Aubrayo is good at the point of attack, holding the center and taking on the double teams.
Q: Hey coach. It seems like every week us fans keep hearing from you, "Hindsight is always 20-20." Well, I say to myself, if the head coach keeps questioning the play calling after each game, shouldn't something be done about it in preparations for the following games? Questions are ]being raised every week about why we DON'T run the football more in the  4th quarter when we have a lead, or even down by a field goal. Games are won between the tackles, smash mouth style play! Offense sells tickets, defense and a strong running game, which we have, wins games and championships! You of all people should know that, coming from Baltimore. Why can't you and the coaching staff understand that?  Martz is here, and he is doing a better job than Hostler was, but in critical situations, he puts the game in the hands of JTO. No disrespect to him, but he is not the QB you guys praise him to be. Since week one, when it seemed like everyone turned the ball over, turnovers have been cut out completely by the rest of the team, except the driver of the ship, the person who is responsible for leading our offense, the QB. We are in week 7 now, these same mistakes can not keep happening. 9  turnovers in the last 3 games, 11 total. Unacceptable by anyone's standards. Stewart Brown- Bay Area
A: Certainly the turnovers have been costly and need to be fixed. Against Philadelphia this past week, we had them off balance for most of the game based on what we were doing offensively. The Eagles are a team that likes to blitz, yet they were forced to get away from that due to our offense. Since they were not rushing the passer, we felt we could get some big plays downfield and put the game away. We just missed on a deep pass to Vernon in the fourth quarter. When the play doesn't work you do look back and wish you did something different.
Q: Hi Coach Nolan, as a fan for many years and trying hard to have faith in this team, it has become evident that something is still wrong! With the big loss on Sunday, do you attribute it to the players, the coaches, or the philosophy? It is obvious that something needs to change, so where do you start? - Jason E. Smith
A: We're looking at the whole package. It's not like we're saying, 'Play better or we're not going to get better.' We need to look at every facet of the game. We look at everything to do with the preparation the entire week, from the game plan, the way we prepare it, and the time we use at practice. The confidence we need to get better comes from the preparation during the week not just on Sunday.