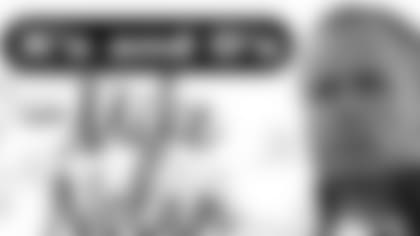 Head coach Mike Nolan and his staff are scurrying around today putting together their game plan for Sunday's game against the Eagles, but Coach still took a break to answer questions from our fans in this latest X's and O's with Mike Nolan. If your question wasn't chosen this time, try again! Coach Nolan will be back Thursday with more answers. To ask a question, send it to xandowithnolan@niners.nfl.com **
Q: Hey Coach, tough loss but I am baffled by the way we play on both sides of the ball. I see great talent but why are playing through J.T instead of through Frank Gore. There's no way he should get only 12 touches running the ball. I love the way you have put together a great team of young talent. The defense is aggressive and then it seems we just get vanilla, but where is the press coverage with pressure? I am lost. What is the identity of this team? Please get Mike Martz to run Gore and it will open up the passing game, not the other way! What are you trying to accomplish and what's the ultimate identity you are trying to achieve? Thanks again, Just a concern Fan! Terrance Stroman
A: I agree that we do have success when Frank Gore gets the ball, either in the receiving game or running the ball. I think we had a bad game against New England on both offense and defense. We had been moving the ball in all of our other games. I think it is important to note that Frank is currently leading the NFL in total yards from scrimmage and is third in the NFL in rushing yards, so we are making an effort to get him involved in the game. He had a third of the touches against New England. We just did not have enough plays.
Our guys are looking for answers when we lose. When you find some, obviously it's less frustrating than when you do not because you can see what it is wrong. I think the problems we had over the last two weeks are correctable. When our players looked at the film, they realized they did not get their tail whipped. That is when it gets real discouraging. In the last two weeks, we've made several errors on our own account that have hurt ourselves and changed the game's momentum. Some of those mistakes have been technique, some have been mental. We will work to get those issues fixed.
Q: Coach Nolan, why does it seem as if the defense is on their heels and out of position on 3rd down and 5 or more? Are there any plans to step the overall defensive pressure and play more man to man coverage? Looking back at this game and the game against New Orleans, why does it look like our corners and safeties are getting caught with their heads in the backfield, thus giving up big plays? Is there any way to help resolve this issue? Thanks, Rubin – Richmond CA
A: We have a good secondary that has been the strength of our team. We certainly have prepared the same way with the same intensity and the same focus over the last two weeks. But when we've gotten to the game the last two weeks, we've been a disappointment. Many of the errors are from a technique and mental standpoint. As we always do, we also analysis what we do from a defensive call standpoint. The problems are collective.
Q: Dear Coach, in my opinion our rush defense was exposed in the Seattle game. In saying that, and I mean no disrespect with this question, but do you think you have been out coached by New Orleans and New England? It seems as if our interior defensive line has no answer for the inside running game. We constantly get pounded up the middle and for big chunks of yardage always bringing up short yardage in second and third downs. I am just wondering what changes must be made before we go up against some very good running teams in the Eagles and Giants? Thank you for your time. Good luck with the next three games. I pray we turn our season around before the bye week. Regards, John – Ohio
A: I believe that people have been able to sustain the ball against us, yet they haven't had many big runs. But, they've been able to sustain and move the ball on us. We need to do a better job of stopping other teams. Obviously instead of them getting five and six yard runs, we need to hold them to the two and three-yard range. That is what we strive for. We did do that in the first few games. We need to focus on our assignments and technique and get off the field.
Q: Mike, It seems to me that our biggest problem is not having a dominant NT that draws a double team. Our linebackers are having a difficult getting to the QB on a consistent basis because of the extra blocker that offenses can use. Would it be at our best interest to put Sopoaga at DT and put either our first round pick at the end or Ron Fields? JOHNNY YARKA JR
A: Takeo Spikes had 14 tackles and Joe Staley had over 20 tackles against New England. Our inside linebackers are being kept clean enough to make plays from side to side. That happens because the guys up front are holding their own and allowing our linebackers to make plays. We had five sacks in the ball game. Three of the guys who got those sacks were linebackers. In fact, on the play where Justin Smith got his sack, he was lined up as a linebacker.
Q: Coach, I watch all the Niners games and have for the last several years but the last two games I've notice our defense has played very soft which I don't understand especially against the Patriots. The Patriots were getting first down after first down after first down on our defense which it definitely showed on the time of possession. Why didn't we adjust? Does the long pass to Moss for a TD lead us to play soft ALL game even though they were killing is on the shorter passes? Thanks for answering my question. Jose Estrada, Colorado Springs, CO
A: We did mix up our defense and bring pressure throughout the game. The Patriots executed better than we did. When our opponent executes better, none of what we are trying to do looks good.
Q: Why is it that when we have something going really good like bringing the pressure on the QB you go away from that and switch your defense? This defense that you built has the personnel for a 3-4 and you are going away from that and leaving all our talent on the bench. As a faithful 49er fan why are you not using our talent like Vernon Davis? The man is a animal and a talent at tight end that the league has never seen before use our weapons on both sides of the ball and we will WIN games if managed correctly. Thank You, Sam Daniel (FAITHFUL 49ER FAN)
A: We are in an out of a lot of converges and packages throughout the game. It comes down to execution or lack thereof.
Vernon is a complete tight end. He is one of the best, if not the best, blocking tight ends in the NFL. He plays a huge role in pass blocking and in run blocking. Those are two of three areas that a tight end needs to be considered successful. He is getting better as a receiver. Vernon is further along in his blocking skills, but he has the work ethic and the desire to become an excellent receiver. That is why he will get there. We are close with him. Every day after practice he stays out to work with our quarterbacks. That is encouraging. There is no question that he has the speed and that he is a force when he has the ball in his hands.
Q: Hey coach! It's got to be disappointing losing two games in a row despite having an exceptional offense. If the losing streak continues, what adjustments would you enforce to get the 49ers back on the winning side? Derek B. TX
A: Our focus is to look at the New England game, analyze what did not work and fix it so that we can get a win this Sunday against Philadelphia. That is where all of my focus and energy is at the moment.