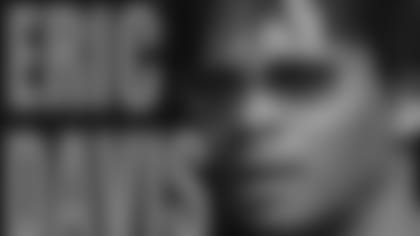 Catch up with former 49ers cornerback Eric Davis each week as he recaps Sunday's game. In this latest column, Davis breaks down what went wrong in the loss to New Orleans. **
49ers fans- don't panic! The Niners had a bad game. It's early in the season still, and hopefully the 49ers saw in themselves what I did this past Sunday. We are now a month into the season. The talent is there. No more discussions about what this year's team can't do. The offense CAN move the ball. The defense CAN play smash mouth, "big play" football. And, special teams CAN, and did in New Orleans, contribute in a positive way. The 49ers didn't lose to the Saints because there is a lack of talent on this squad. They lost because talented players got their butts handed to them. The 49ers record is 2-2, and that's EXACTLY what they are - a .500 ball club. Until they figure out that being successful in the NFL is not about being "good" but about being "consistent," the players are going to come up short. I know that they are working hard, and of course it matters to them all. However, a standard of play has to be set by the PLAYERS and met by them each and every game day. The 49ers lost to the Saints because the players didn't play at their highest level.
Football is a game of match ups. For me the 49ers matched up well on paper and should have been able to win most of them in the game. WRONG!! Key matchups - the Saint number one passing offense against the 49ers seventh ranked passing defense. I thought there was no way the secondary would allow Saints QB Drew Brees to have back to back 400 yard passing games. WRONG!! I thought there was no way a 49ers offense coming off of back to back 30 point games would not put up big points against a struggling New Orleans defense. WRONG!! I didn't think there was any way the offensive line would allow the quarterback to get hit nearly every single time he dropped back to pass. You can't win with that.
The 49ers secondary is as solid a unit as any in the NFL. Drew Brees attacked the secondary, putting constant pressure on them down the field, and they had a HORRIBLE day. Brees tested their technique and focus and they failed the test. Nate Clements is a solid, solid corner. Bad technique caused him to give up a deep ball. Nate is one of the best bump and run corners in the league, and he knows to stay square at the line of scrimmage and disrupt the release and timing of the receiver's route. He didn't do any of those things on the deep ball, and he got struck. Dashon Goldson was also beaten - again bad technique. For a receiver to run a double move, he has to make his second break on either his first step or third step after his initial move. Dashon didn't keep his eyes on the receiver through three steps on the break, and he was beaten on the double move. It's just a basic technique thing.
Unless you've played the cornerback position, I can't begin to tell you how difficult it is to stop the touchdown pass thrown on Walt Harris. The fade stop route is almost impossible to stop. It takes perfect timing even if you know it's coming. Walt was in great position. There wasn't much more he could have done. That play doesn't bother me, but the double moves and receivers getting behind the safeties can't happen. They are all better than that.
Pass protection has been a problem in a couple of games. So, as an offensive lineman you have to know that pressure is coming. The "Mike Martz'" offense is not the problem. Martz is not the one getting tossed around and flying through the air from his tackle position like a superhero. You have to hold your block. The line was consistently being beaten off the ball. The quarterback was hit almost every single time he went back to throw the ball. That has nothing to do with scheme. There is no way to sugarcoat it - the O-line just flat out got their butts kicked. They were getting smacked around and they did not do anything all day to stop it. At one point in the game JTO had been "hurried" by the Saints front on 23 out of 26 drop back passes. People, that's not good!
These linemen are a part of the Martz' offense and whether it's their job to protect him for one second on a three-step drop or four seconds because it's a seven-step drop, so be it. You have to do your job, period. The guy you line up against is either handing you your tail, or you are kicking his. That's the mindset on every single play. It was that way before I played, it was that way when I played, and it's that way today. Whichever team wins more of those individual battles wins the game.
JT O'Sullivan made some bad throws in the red zone. He didn't do the math. He saw his receiver had beaten one defender but lost a safety in coverage on one interception. He simply under threw the ball on another. Throwing picks in your own end zone are killers. There's a 14-point swing when you have an opportunity to score, but turn the ball over and your opponent scores. The offense put 30 points on the board the previous two games, and should have had that opportunity in this game against a not so great New Orleans defense. But, guys didn't make plays. O'Sullivan threw perfect spirals into the other team's chest. That's not coaching. That's not scheme. That's players not making plays on game day. The NFL is not about being good. It's about good players being consistent. He lost a fumble because he was scrambling for his life. Still, that's a ball he has to get rid of. He was trying to make a play, but he needs to "feel" players coming. That feel comes with experience. Throw it away, tuck it away, just don't turn it over.
There were some highlights. I felt that Joe Staley did a very good job. It seemed scheme wise they had him spying Reggie Bush and every time Bush touched the ball, Patrick was the first one to rally and get a hit on him. He looked like his old self and was around the ball all day. Joe Nedney did his job usual good work. Allen Rossum was able to provide big returns on a few occasions. Those returns don't happen without the other core members stepping up and sustaining their blocks and playing solid football.
You can't go on the road into a tough environment like the Superdome, play badly, and expect to win. Historically, it's been a tough stadium for the 49ers to go into and play well in. It's loud and it's hostile, but the 49ers went up to Seattle and beat the Seahawks,12th man and all. On Sunday they didn't play with the same confidence and swagger.
We saw last week against the Lions that the talent was there. We saw what this team is capable of doing. Don't panic. It's there. This is a division that can be won.
There is a silver lining. The 49ers are 2-2 and they are in it. They played two at home and two on the road. You've got to take care of home and go .500 on the road to give yourself a shot at the playoffs every year. Right now, they are in the hunt. They've shown they can play solidly in all three phases. Now, just do it.